A Delhi policeman who lost his job and his reputation when a video of him "drunk" was shared by thousands online has appealed to the country's Supreme Court after proving he was having a stroke.
Salim PK, who was fired by his constabulary the day after the footage went online, is seeking compensation for the media vilification he says was subjected to after the video emerged, according to the Mail Online.
The head constable said that despite the media furore around his suspension, there was little coverage of his return to work two months later when his medical condition was confirmed.
A video clip of Mr PK staggering and clutching handrails in a carriage on the metro, before falling to the ground, was posted to YouTube and viewed thousands of times in August last year.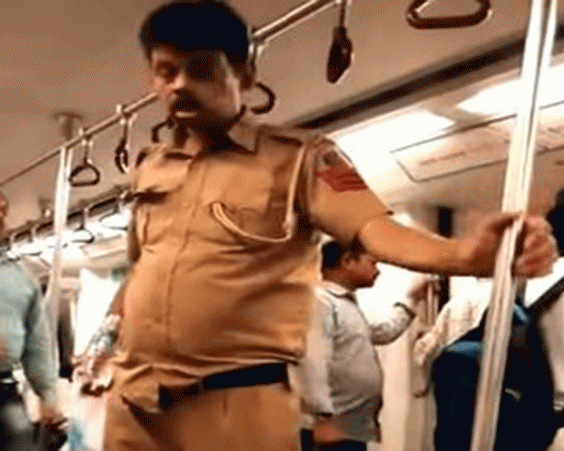 Mr PK's lawyer, Wills Mathews, told the Mail Online his client was fighting for the "right to live with dignity and reputation."
"When the video went viral and Salim was suspended, it made front page news. When he was taken back, not a single newspaper or TV channel carried it," said Mr Mathews.
"In the eyes of the general public, the petitioner was drunk in the metro and he is still under suspension."
Mr Mathews added that it was "humanly impossible" for the head constable to trace the source of the video since he was unwell and also caring for his wife, who became depressed and suffered a heart attack as a result of the national ridicule.
World news in pictures
World news in pictures
1/30 29 June 2016

A mother of victims reacts outside a forensic medicine building close to Istanbul's airport, a day after a suicide bombing and gun attack targetted Istanbul's airport, killing at least 36 people

AFP/Getty Images

2/30 28 June 2016

An injured woman covers her face as she is carried by paramedics into ambulance at Istanbul Ataturk airport, Turkey, following a blast. A triple suicide bombing and gun attack has killed at least 36 people, including foreigners, with Turkey's prime minister saying early signs pointed to an assault by the Islamic State group

REUTERS

3/30 28 June 2016

Caimans swim in an artificial reservoir in the San Jorge cattle ranch near the dried up Pilcomayo river, close the town of Fortin General Diaz, Paraguay. Apart from the lagoon, 18 wells have been dug to secure water sources for the reptiles

AP

4/30 28 June 2016

Women pose with guns in front of journalists in the Christian village of Qaa, where suicide bomb attacks took place, in the Bekaa valley, Lebanon

REUTERS

5/30 28 June 2016

French anti-riot police officer detain a man during a demonstration against controversial labour reforms in Paris

AFP/Getty Images

6/30 27 June 2016

Fishermen use a fire to attract fish on a traditional fishing boat in New Taipei City, Taiwan

REUTERS

7/30 27 June 2016

Members of Iraqi police forces celebrate on a street in western Fallujah, 50 kilometres (30 miles) from the Iraqi capital Baghdad, after Iraqi forces retook the embattled city from the Islamic State group

AFP/Getty Images

8/30 27 June 2016

A man pushes a tub carrying children as he gets them back home after school at a flooded area in Duchang, Jiangxi Province, China

REUTERS

9/30 26 June 2016

A LGBT member waves a rainbow flag during a rally staged by the LGBT community on Istiklal avenue in Istanbul. Riot police fired tear gas and rubber bullets to disperse protesters defying a ban on the city's Gay Pride parade. Authorities in Turkey's biggest city had banned the annual parade earlier this month citing security reasons, sparking anger from gay rights activists

AFP/Getty Images

10/30 26 June 2016

A burned out truck rests on a roadside after the Erskine Fire burned through Weldon, California

REUTERS

11/30 26 June 2016

Men flagellate during the Shiite Youm Ali procession in Islamabad, Pakistan

REUTERS

12/30 25 June 2016

A man raises his hands as he runs from the scene of a suicide bomb attack outside Nasahablood hotel in Somalia's capital Mogadishu

REUTERS

13/30 25 June 2016

A Ukrainian Forces soldier fires a heavy machine gun during a battle with pro-Russian separatists at Avdeyevka, in Ukraine's Donetsk region

AFP/Getty Images

14/30 25 June 2016

A man practices his contact juggling skills in Manila, Philippines

AFP/Getty Images

15/30 24 June 2016

A rider rears up on his horse while surrounded by a cheering crowd during the traditional Fiesta of Sant Joan (Saint John) in downtown Ciutadella, on the island of Menorca, Spain

REUTERS

16/30 24 June 2016

A man throws a bucket of water at a motorcyclist as residents join in a water-splashing frenzy to honor their patron St. John the Baptist's Feast Day in San Juan, Metro Manila, Philippines

REUTERS

17/30 23 June 2016

Migrant workers supporting Myanmar Foreign Minister and State Counselor Aung San Suu Kyi wave to her during a meeting at the coastal fishery centre of Samut Sakhon, Thailand

REUTERS

18/30 23 June 2016

A general view shows the financial district of Lujiazui in Shanghai

AFP/Getty Images

19/30 23 June 2016

A cat walks past Muslim women offering afternoon prayers at a mosque at the shrine of Sufi Saint Khawaja Naqashband during the holy month of Ramadan in Srinagar

REUTERS

20/30 23 June 2016

A test launch of ground-to-ground medium long-range ballistic rocket Hwasong-10 in North Korea

REUTERS

21/30 22 June 2016

Family members cry near coffins containing the bodies of Nepali nationals, who were killed when a suicide bomber struck a minibus in Kabul, lined up after being flown from Afghanistan at Tribhuvan International Airport in Kathmandu, Nepal

REUTERS

22/30 22 June 2016

Villagers carry banners which read "Plead the central government to help Wukan" (in red) and "Wukan villagers don't believe Lin Zuluan took bribes" during a protest in Wukan, China's Guangdong province

REUTERS

23/30 21 June 2016

A plane drops retardant on a wildfire as it attacks the flames on a hillside in the San Gabriel mountains near Monrovia, California

REUTERS

24/30 21 June 2016

Aymara indigenous hold up their hands to receive the first rays of sunlight in a New Year's ritual in the ruins of the ancient city Tiwanaku, Bolivia. Bolivia's Aymara Indians are celebrating the year 5,524 as well as the Southern Hemisphere's winter solstice, which marks the start of a new agricultural cycle

AP

25/30 21 June 2016

A resident making his way through a flooded area in a village in Poyang county, in southeast China's Jiangxi province

AFP/Getty Images

26/30 20 June 2016

Seagulls fly as the full moon rises behind the ancient marble Temple of Poseidon at Cape Sounion, southeast of Athens, on the eve of the summer solstice

AP

27/30 20 June 2016

An aerial view shows people practising yoga on a glass sightseeing platform ahead of the International Day of Yoga, on the outskirts of Beijing, China

REUTERS

28/30 20 June 2016

Dessana indigenous shaman Raimundo Dessana holds the Olympic Torch during a ritual at the Tupe Reservation in the outskirts of Manaus, Amazonas, Brazi

AFP/Getty Images

29/30 20 June 2016

An emu runs to escape an approaching wildfire as it burns near Potrero, California

REUTERS

30/30 20 June 2016

Wales' supporters cheer downtown Toulouse, before the Euro 2016 football match of Russia vs Wales

AFP/Getty Images
The 50-year-old had already suffered a major stroke - which his bosses were aware of - while part of a special security team in the city.
Despite being treated in hospital on numerous occasions and moving on to a desk job, Mr PK's protestations that he was not drunk in the recent metro video were not heeded, he says, and he was suspended.
After this stroke, the policeman was left paralysed on the left side and with a speech disorder.
He has now approached the Supreme Court to request compensation for defamation, a removal of the 37-second video, and for curbs to be put in place over potentially misleading video clips in the future.
Mr PK also requested that the Press Council of India, the Delhi Metro Rail Corporation and the Delhi government publish the correct facts with due prominence.
Social media has played a key role in engaging the Indian public, including after the gang rape of a student in the city in 2012, and more recently the arrest of a student by the government for "anti-India slogans" in February this year.