A Delhi policeman who lost his job and his reputation when a video of him "drunk" was shared by thousands online has appealed to the country's Supreme Court after proving he was having a stroke.
Salim PK, who was fired by his constabulary the day after the footage went online, is seeking compensation for the media vilification he says was subjected to after the video emerged, according to the Mail Online.
The head constable said that despite the media furore around his suspension, there was little coverage of his return to work two months later when his medical condition was confirmed.
A video clip of Mr PK staggering and clutching handrails in a carriage on the metro, before falling to the ground, was posted to YouTube and viewed thousands of times in August last year.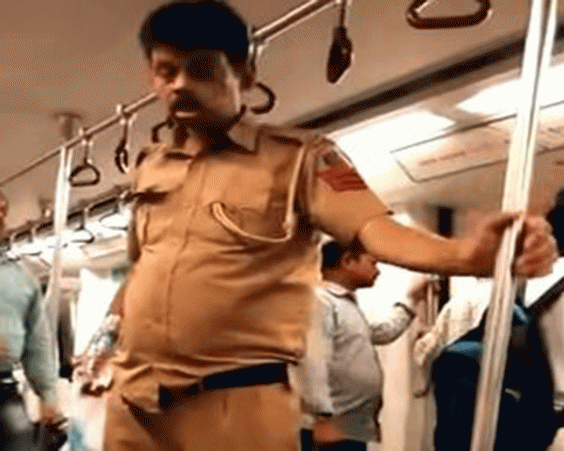 Mr PK's lawyer, Wills Mathews, told the Mail Online his client was fighting for the "right to live with dignity and reputation."
"When the video went viral and Salim was suspended, it made front page news. When he was taken back, not a single newspaper or TV channel carried it," said Mr Mathews.
"In the eyes of the general public, the petitioner was drunk in the metro and he is still under suspension."
Mr Mathews added that it was "humanly impossible" for the head constable to trace the source of the video since he was unwell and also caring for his wife, who became depressed and suffered a heart attack as a result of the national ridicule.
World news in pictures
World news in pictures
1/30 30 September 2016

Yael Pedazur, who works at the Peres Center for Peace, mourns besides the grave of former Israeli president Shimon Peres during his burial ceremony at Jerusalem's Mount Herzl national cemetery

AFP/Getty Images

2/30 30 September 2016

Children play with water from a burst water pipe at a site hit yesterday by an air strike in Aleppo's rebel-controlled al-Mashad neighbourhood, Syria

REUTERS

3/30 30 September 2016

Fighters supporting Libya's Tripoli-based Government of National Accord (GNA), set up drones in the coastal Libyan city of Sirte. Fighters use drones with camaras to spot Islamic State (IS) group positions in the District 3 neighbourhood of the city

AFP/Getty Images

4/30 29 September 2016

People are treated for their injuries outside after a NJ Transit train crashed in to the platform at Hoboken Terminal in New Jersey. Dozens are reported injured from the rush hour accident in the terminal that handles up to 50,000 passengers a day

Getty Images

5/30 29 September 2016

A rescue worker is seen next to an overturned car at the site of a landslide caused by heavy rains brought by Typhoon Megi, in Sucun Village, Lishui, Zhejiang province, China

REUTERS

6/30 29 September 2016

About 23 giant pandas born in 2016 are seen on a display at the Chengdu Research Base of Giant Panda Breeding in Chengdu, Sichuan province, China

REUTERS

7/30 29 September 2016

A man takes a photograph of a portrait of former Israeli President Shimon Peres, as he lies in state at the Knesset plaza, the Israeli parliament, in Jerusalem

REUTERS

8/30 28 September 2016

Rescuers evacuate residents through floodwaters brought by typhoon Megi in Ningde, eastern China's Fujian province. Typhoon Megi smashed into the Chinese mainland, killing one person, after leaving a trail of destruction and four people dead in Taiwan

AFP/Getty Images

9/30 28 September 2016

A CalFire firefighter surveys a hot spot in the Santa Cruz Mountains near Loma Prieta, California. The Loma Fire has charred more than 2000 acres and burned multiple structures in the area

AFP/Getty Images

10/30 28 September 2016

A civil police officer carries a girl to a safe place during the demolition of over 300 settlements of the Bukit Duri neighbourhood located on the Ciliwung river banks, in order to improve the riverside infrastructure planned by the government in Jakarta. Authorities ordered the slum residents to vacate their settlements built on riverbanks and for the residents to relocate to new flats, as the government is trying to clear the flood-prone area, where more than 900 homes were demolished a year earlier

AFP/Getty Images

11/30 27 September 2016

A woman eats and struggles with her umbrella against powerful gusts of wind generated by typhoon Megi across the the island in Taipei, Taiwan. Schools and offices have been closed on Taiwan and people in dangerous areas have been evacuated as a large typhoon with 162 kilometers- (100 miles-) per-hour winds approaches the island

AP

12/30 27 September 2016

Alstom employees stage a protest in front of its headquarters in St Ouen, north of Paris, asking not to close a plant in Belfort, eastern France, which employs 400 people. Alstom's situation is considered by many French politicians as symbolic of France's difficulty of keeping a strong industry at home

AP

13/30 26 September 2016

A man poses as he gathers with others at Bogota's Bolivar main square, to celebrate the historic peace agreement between the Colombian government and the Revolutionary Armed Forces of Colombia (FARC). Colombia will turn the page on a half-century conflict that has stained its modern history with blood when the FARC rebels and the government sign a peace deal. President Juan Manuel Santos and the leader of the FARC, Rodrigo Londono, better known by his nom de guerre, Timoleon "Timochenko" Jimenez, are set to sign the accord at 2200 GMT in a ceremony in the colorful colonial city of Cartagena on the Caribbean coast

AFP/Getty Images

14/30 26 September 2016

Tourists pose in front of the illuminated Eiffel Tower during an event to mark the Breast Cancer Awareness month in October in Paris

AFP/Getty Images

15/30 26 September 2016

A nail house is seen in the middle of an area covered by a dust screen in Hangzhou, Zhejiang province, China

REUTERS

16/30 26 September 2016

Students at the Durban University of Technology march as countrywide protests demanding free tertiary education continue, in Durban, South Africa

REUTERS

17/30 26 September 2016

Palestinian women throw sweets at the militants from the al-Nasser Brigades, an armed wing of the Popular Resistance Committees (PRC), while marching on their vehicles during a rally to commemorate the 16th anniversary of their group in Gaza

AP

18/30 26 September 2016

A supporter of Awami Ittihad Party (AIP), a pro-India party, is detained by Indian police during a protest demanding to hold a plebiscite, in Srinagar

REUTERS

19/30 25 September 2016

A dog wipes out during the Surf City Surf Dog competition in Huntington Beach, California

REUTERS

20/30 25 September 2016

Indian folk dancers from the Panghat Group of Performing Arts perform during a dress rehearsal for an event to mark the forthcoming Hindu festival 'Navaratri', or the Festival of Nine Nights, in Ahmedabad

AFP/Getty Images

21/30 25 September 2016

An artisan hangs decorative pieces at a pandal, or a temporary platform, for the upcoming Hindu festival of Durga Puja, in Kolkata, India

REUTERS

22/30 25 September 2016

Runners take the start of the 43rd Berlin Marathon in Berlin

AFP/Getty Images

23/30 25 September 2016

The Five-hundred-metre Aperture Spherical Radio Telescope (FAST) is seen on its first day of operation in Pingtang, in southwestern China's Guizhou province. The world's largest radio telescope began operating in southwestern China, a project which Beijing says will help humanity search for alien life

AFP/Getty Images

24/30 25 September 2016

Australian knight Philip Leitch (R) has a floral basket on his helmet smashed by an opponent at the St Ives Medieval Fair in Sydney, one of the largest of its kind in Australia

REUTERS

25/30 25 September 2016

A security guard working at the Cascade Mall places flowers at a makeshift memorial in Burlington, to the five victims killed in a shooting at the mall. The 20-year-old man suspected of killing the five people with a rifle at a Macy's makeup counter had a string of run-ins with the law in recent years, including charges he assaulted his stepfather

AP

26/30 25 September 2016

A man works in a rice field where rice crop is planted in a shape which looks like a map of China, ahead of China's National Day, in Shanghai, China

REUTERS

27/30 25 September 2016

Law enforcement officials inspect a boat overturned on a jetty, off Miami Beach. Authorities said that Miami Marlins starting pitcher Jose Fernandez was one of three people killed in the boat crash the day before. Fernandez was 24

AP

28/30 24 September 2016

Syrians await to receive treatment at a make-shift hospital following air strikes on rebel-held eastern areas of Aleppo. Heavy Syrian and Russian air strikes on rebel-held eastern areas of Aleppo city killed at least 25 civilians, the Britain-based Syrian Observatory for Human Rights said, overwhelming doctors and rescue workers

AFP/Getty Images

29/30 24 September 2016

A fire broke out on a tanker belonging to the Mexican state oil company PEMEX, causing no injuries, according to a company official, in the Gulf of Mexico off the coast of Boca del Rio in Veracruz state, Mexico

AFP/Getty Images

30/30 24 September 2016

Participants attend a competition of the 2016 XTRAIL Expedition at Kanas National Geological Park in Altay, China's Xinjiang Uygur Autonomous Region

REUTERS
The 50-year-old had already suffered a major stroke - which his bosses were aware of - while part of a special security team in the city.
Despite being treated in hospital on numerous occasions and moving on to a desk job, Mr PK's protestations that he was not drunk in the recent metro video were not heeded, he says, and he was suspended.
After this stroke, the policeman was left paralysed on the left side and with a speech disorder.
He has now approached the Supreme Court to request compensation for defamation, a removal of the 37-second video, and for curbs to be put in place over potentially misleading video clips in the future.
Mr PK also requested that the Press Council of India, the Delhi Metro Rail Corporation and the Delhi government publish the correct facts with due prominence.
Social media has played a key role in engaging the Indian public, including after the gang rape of a student in the city in 2012, and more recently the arrest of a student by the government for "anti-India slogans" in February this year.
Reuse content