A Burmese man who was separated from his family after being tricked into slavery has been reunited with them after 22 years away from home.
The emotional reunion of Myint Naing with his family, after he had been away for two decades as a victim of slavery, was captured on film by the Associated Press.
Myint was saved by an Indonesian government programme aimed at rescuing current and former slaves. Over 800 former slaves have already been saved in this way.
In 1993, a broker visited the home village of Myint in southern Burma, offering jobs in Thailand for young men.
Only 18 years old and with a family desperately in need of money, Myint took the offer, and soon after, he was on the remote Indonesian island of Tual, surrounded by some of the world's richest fishing grounds.
The Thai captain of the boat he and others travelled on told them they were now slaves, and to abandon all hope of ever returning home.
He became one of thousands of slaves, working in Thailand's seafood business. Many of the 200,000 migrant workers in the industry have been forced onto boats, after being tricked, kidnapped or sold.
Many of the companies they work for rely on slaves to supply fish to the USA, Europe and Japan.
During busy times, the men worked for up to 24 hours a day, surviving on boiled seawater and and rice. Workers were often beaten and tortured, and some flung themselves overboard rather than keep living as slaves.
After enduring this for three years, Myint escaped, and was taken in by an Indonesian family. He worked and lived with them for five years when, in 2001, he heard of a captain offering to take Burmese men back home if they worked their passage.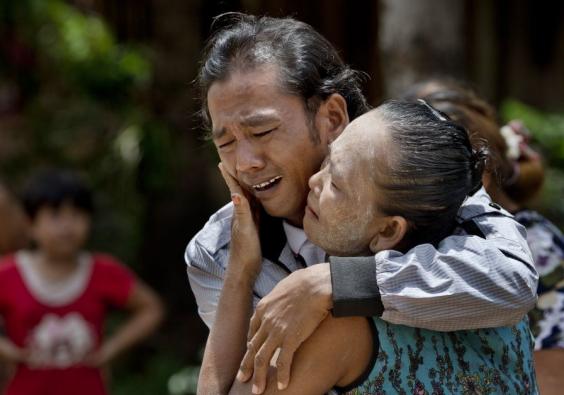 However, this was another trick, and after enduring beatings and abuse, he escaped once again. Hiding in jungle, he managed to provide for himself for a while, and eventually moved to the island of Dobo, where he lived with a small community of former Burmese slaves.
One day, this April, he heard about an Indonesian government programme to rescue former and current slaves, which was spurred on by an Associated Press report about slavery in the region.
At the age of 40, he finally returned to his home village and saw his family again, in a reunion which was captured on film.
Speaking to AP after the reunion, he said: "In the future, I'll never go anywhere again. I'll live and work in Burma only. I'll die in Burma."
Despite a number of international treaties that outlaw slavery, the trade continues to flourish in some parts of the world, with the UN estimating that there are currently around 27 to 30 million people worldwide caught up in the slave trade.
Reuse content