At least 27 people have died and dozens injured in a stampede during a Hindu religious bathing festival in southern India.
Tens of thousands of people pushed forward to bathe in the Godavari River during the Maha Pushkaralu festival in Rajahmundry in Andhra Pradesh state, Arun Kumar, the state administrator, said.
Police have said that the stampede was caused by pilgrims who were trying to retrieve their shoes, which had fallen off in the race to the river.
The incident happened shortly after the 12-day bathing festival started in the early hours of the morning at around 8 am, according to Kumar.
34 people are currently in hospital with injuries.
V. Satyanarayana, a pilgrim who attended the festival, said that the stampede lasted for nearly 20 minutes.
"It was a frightening situation, with women and children crying for help," he said. "The policemen on duty were helpless and it took more than an hour to bring the situation under control."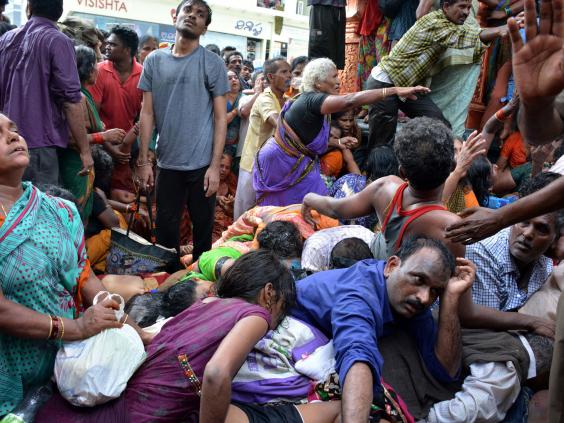 Officials have said that a small place like Rajahmundry was unable to cope with the rush of hundreds of thousands of people and the situation became almost unmanagable.
Thousands of pilgrims began reaching the pilgrimage centre two days before the start of the festival.
Swamy Swaroopanand, a Hindu holy man said: "There is a false belief that taking a holy dip in the river on the first day of the festival will be more auspicious. It's the same as taking dip on any other day."
Andhra Pradesh Chief Minister N Chandrababu Naidu, who took part in the festival today said that he was monitoring the situation and asked people not to panic:
It is regrettable that lives are lost in stampede at Rajahmundry Ghat. Request people not to panic. Situation brought under control. (1/3)

— N Chandrababu Naidu (@ncbn) July 14, 2015
I request to people to head to other Pushkar ghats to avoid overcrowding at single ghat. I'm monitoring situation from control room. (2/3)

— N Chandrababu Naidu (@ncbn) July 14, 2015
Request people to follow queues lines & instructions. Pilgrims' safety is top priority for us. Will provide all possible assistance. (3/3)

— N Chandrababu Naidu (@ncbn) July 14, 2015
Nearly 24 million people are expected to take part in the 12-day festival at various points along the Godavari River, which is the second longest river in India, flowing for 910 miles through two states.
The Maha Pushkaralu festival is celebrated at shrines along the banks of 12 major sacred rivers in India, where people believe that immersing themselves in the water will rid them of their sins.
Deadly stampedes are fairly common in India during religious festivals, where large numbers of people gather in small areas with few safety or crowd control measures.
In October 2013, a stampede in Madhya Pradesh state in central India killed 115 pilgrims, most of whom where women and children.
Additional reporting by Associated Press
Reuse content