If there's one thing Japan is passionate about, it's toilets. Potties, loos, restrooms, john, powder room, however you say it, Japan has put a lot of thought into the smallest room of the house.
Japan is famous for its high-tech, derriere-washing, tushie-warming toilets. These are now such a valued part of Japanese culture that Toto, the beloved Japanese brand, has just built a $60 million museum devoted to its renowned product, at its home base in Kita-Kyushu, on the southern-most of Japan's four main islands.
Here are four things you might not know about Japan's obsession with lavatories.
In pictures: World Toilet Day
In pictures: World Toilet Day
1/20 Bangladesh

Rubina, 38, has lived in Mollar Bosti slum in Dhaka for 3 years. She moved from the countryside when her husband got a job in Dhaka. The toilet she uses is known as a shared hanging toilet and is situated 20 metres from her house. She says that once, in middle of the night, she went to the toilet and someone knocked the toilet door so hard she thought they were going to break the door down. She got very scared and since then, she has been too scared to use the toilet after 9pm

2/20 Haiti

Martine is 27 years old. She lives near a river in Cayimithe. "I don't have an enclosed toilet. My toilet is a hole in the ground by my house, which is now full and has become really dangerous. I only use it at night when I can have some privacy. In the day time, I use a community toilet which is about 15 minutes away from my house"

3/20 Belgium

Rosalie, 9, goes to school in Brussels. "At my school we have separate toilets for girls and boys on every floor. My classroom is on the 3rd floor. We have 22 toilets, which are shared between 230 pupils and 20 adults. The teachers at school let us go to the toilet whenever we need to"

4/20 India

Saritadevi lives in Ittava village in Uttar Pradesh. She has no access to a toilet in her house and so uses a local field. She suffers from a lack of dignity and privacy when she visits the toilet. She says she is humiliated by men, enduring people throwing stones at her, shouting abuse, making vulgar gestures, and playing offensive songs

5/20 Australia

Renee is an artist who left her former home in the densely populated suburbs of Sydney to live a quieter life in bush surrounds, a one-hour drive north of the city. She has built a shed on ten acres of land and has included an outside toilet and bathroom. Ironically, Renee is able to enjoy total privacy out in the open as she is surrounded by wild bush and forest, far from other houses

6/20 Ghana

Ima, 47, is a public toilet attendant in Kumasi, Ghana's second largest city. She lives in a rented room with her husband and four children aged 14-22. She is a very dedicated worker and relies on the income from her job to fund her children's education. She does not have a toilet at home. During the day, she uses the public toilet where she works, but at night she is forced to use plastic bags as it is not safe to walk long distances in the dark

7/20 UK

June is the Allotment Secretary at Gordon Road Allotments in Finchley, North London. "We used to have a portable toilet, which had to be emptied every so often. It was very smelly and not very nice. Now we have a waterless compost loo, which enables women to stay down at the allotment all day if they wish. It also makes a big difference when we have Open Days. This year, for the first time, we were in the National Gardens Scheme book and had an open day with 170 visitors. We wouldn't have been allowed to host this event without the compost loo"

8/20 Thailand

Sineha, 71, uses a public toilet which is inside the temple she visits. "They are convenient and cleaned daily by the maid. It is a safe place because we have security guards here 24 hours a day and separate toilets for men and women"

9/20 Mozambique

Assucena, 14, is a Grade 8 student who loves to study and play football. She lives with her mother, grandmother, sister and two cousins. Her grandmother sells beer to provide for her extended family. Assucena shares a toilet with more than 30 other people from different families. "When it rains, the toilet floods. It really smells bad"

10/20 Ecuador

Fabiola, 69, lives in Cumbayá, a valley near Quito. Between the ages of seven and 21, she shared a toilet with 20 other people, who lived in her condominium. Now she lives in a large apartment, which has five bathrooms. Her bathroom is the biggest one and she is very proud of it as her current situation contrasts vividly with her childhood

11/20 Brazil

Lorena, 16, is a student. She has just moved into one of Rio de Janeiro's favelas. "I don't have a toilet but I am working hard to try and build one. In the meantime, I have to use my mother's. We only get water on Thursdays and Sundays, when the taps are opened. One day I would like to have a bathroom with running water. I am very vain, I like to have my hair and nails done and use perfume. Some people around here have been in poor health, partly due to the poor sanitation situation in the area"

12/20 USA

Mary is a writer who lives in New York City. "Living with two housemates, it is important to schedule our bathroom time and take turns cleaning it. I used to live in Beijing, where I had to use a public bathroom as my apartment didn't have a private toilet. While it was safe and relatively clean, I used to hate putting my coat on just to go to bathroom in the middle of night during winter. That experience made me really appreciate the privacy and comfort of having a clean toilet at home"

13/20 Ethiopia

Meseret, a restaurant manager in Addis Ababa, shares a one bedroom government house with her two children, two sisters and mother. She was widowed nine years ago when her husband was shot during the aftermath of the 2005 elections. Her shared toilet is a long way away so at night, for safety, the family use the side yard next to their house

14/20 Japan

Eiko, 61, lives in Tokyo. "Since this department store is close to my home, I often come here for shopping. When I was a child, the public toilets were not clean and smelled bad, but every time I use the bathroom here, I feel so relaxed. I could spend many hours here!" The department store's toilet, called the "switch room", is a special place where people can switch their mood and feel relaxed. The toilets are an extreme example of good sanitation and have features like surround sound music and heated seats. In the 'powder room' next to the toilets, Eiko can charge her mobile phone, watch TV and have a foot massage, turning a basic daily function that we all have to do into a pleasurable and multisensory experience

15/20 South Africa

Nombini has two Porta Potties, which are used by the 12 people who live in her home. When she first moved to Khayelitsha in 2005, she did not have a toilet so she had to go in the bush, across a main road. "It was terrible in the bush, the cars hit you. When we were given a Porta Potty in 2009, it was much better than going in the bush. Flush toilets are first class compared to the Porta Potty though. My dream is to have a flush toilet"

16/20 Zambia

Susan, 46, is the founder of a community school for children with physical and mental disabilities. "It makes me proud and happy to teach disabled children so that in the future they can have a better life and not just stay at home. I was attacked by Polio at the age of two. It's not easy being disabled in Lusaka. Using the toilet is a challenge, especially in the rainy season, as I have to crawl to the toilets on my hands"

17/20 Kenya

Eunice is the Co-Founder of Kasarani Academy in Naivasha. Previously, the school only had two toilets which were used by 250 pupils. Tenants living nearby used the toilets as well and left them in a poor condition. Because of this, Eunice found that the children preferred to practice open defecation in the grounds around the school, which quickly became a public health issue. Eunice and her husband Paul have now invested in child-friendly toilets. These tiny toilets have prevented adults using them as they cannot fit through the doors. "Parents will enrol their children here because of our child friendly toilets"

18/20 Romania

Ghita, 48, from Buzescu village, says she is the proud owner of one of the biggest bathrooms in the village. It is 20 square meters. 35% of the population of Buzescu village are Romas who are prosperous and proud to show it off. However, there is no running water or sewerage in the village so toilets are on-site

19/20 Madagascar

Vanessa, 17, is a student who lives in Antananarivo. She says she worries when she is on her period at school. "At home, I have a shower outside my house and I can keep clean but when I'm at school, I feel embarrassed during my periods as there is no space to change or wash. I worry that my sanitary napkin will leak if I keep it on for too long while I'm waiting to come back home to change it"

20/20 Cambodia

Ms Moeun Sothy is a secondary school student, who lives with her grandmother and her aunty. At home she is responsible for collecting water for the household from the local water source. At her school she is on the children's rota for cleaning the school toilets once a week. She believes that handwashing with soap is really important, especially after using the toilet
There's an app for that
Don't take your chances going to a restroom without a little seat in the stall for your baby, or a fold-down platform for standing on while you get changed so you don't have to put your feet on the bathroom floor.
There are a bunch of apps in Japan that can help you find the nearest public bathroom, or one with a special facility, like large stalls with facilities for people with ostomates (a relatively common issue in rapidly aging Japan).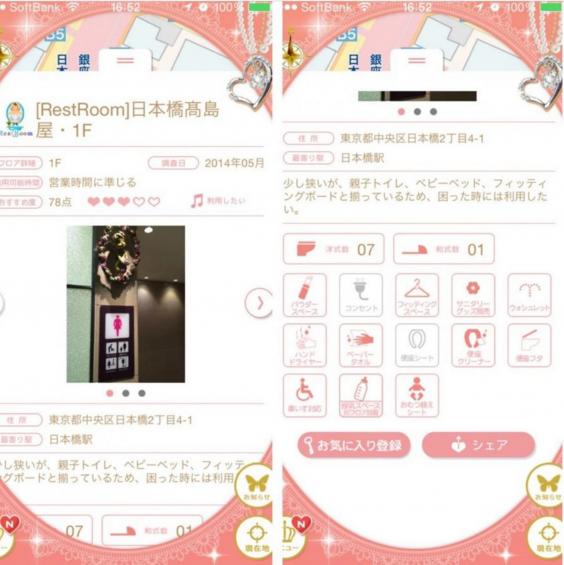 Lion, a manufacturer of diarrhea medicine Stoppa (and various toiletries and detergents), provides an app @Toilet for people who need to take care of their business urgently away from home or office. Click on the "emergency" button and it locates the closest restroom.
NPO Check operates a free app called Check a Toilet, listing over 53,000 restrooms in major cities. It shows restrooms nearby with information including whether they're wheelchair accessible and or have osotomate-friendly functions. Users can contribute by submitting information of the restrooms they've visited.
And for those ladies who, we now know, need clean bathrooms if they're ever to leave the house, the well-known map publishing company Zenrin offers an app for women called Koisuru Map – A Map in Love -- with information about nail salons, cafés and clean restrooms. This app includes information such as whether there's a powder space for fixing your makeup, electrical outlets, and diaper changing facilities. Zenrin's (female) staff visits and reviews each bathoom before adding it to their list.
There's a god of the toilet. Really.
You know how Japan's washrooms got to be so clean and full of advanced technology? Maybe because they're being watched over by a toilet god.
According to the myth, Kawaya-no-kami, the Japanese toilet god, was, appropriately enough, born from the excrement of Izanami, the Japanese goddess of the Earth and darkness. In a time long before Washlets, the contents from outhouses were used as fertilizer, so Kawaya-no-kami was said to both provide a good harvest and also protect people from falling into the toilet pit. In 2010, the song "Toire no Kamisama" ("The Toilet God") was a hit.
Japanese loos, almost always a separate room in the house, often feature flowers to keep the toilet god happy.
This also helps uphold another Japanese maxim, Kaori Shoji wrote in the Japan Times: "The restroom is the face of the household."
Here's a video about a shrine to the toilet god in Tokyo.
There are toilet rituals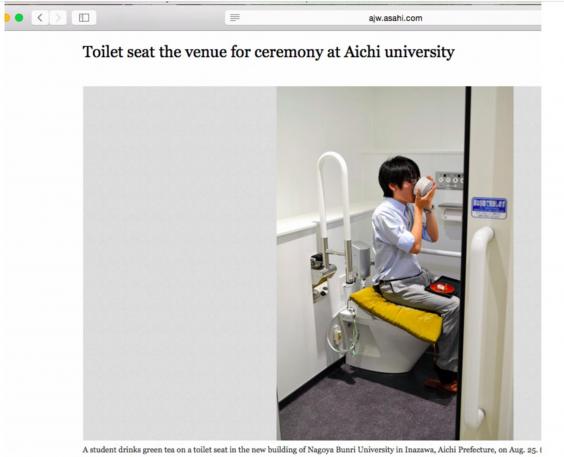 Different parts of Japan sometimes have customs associated with toilets.
In Aichi prefecture, there's a tradition known as "benjo-biraki" (opening of the toilet) during which people sit on the loo to eat snacks and sip tea.
The Asahi Shimbun reported in August on a ceremony to celebrate the new restroom of at Nagoya Bunri University in Aichi. The tradition honors the deity of the bathroom, the paper reported.
A group of students placed a cushion on the toilet seat of a restroom in the new building, and one by one, participants including the school's chairman and president, sat on the toilet seat and ate rice cakes and green tea.
"It's a rather peculiar event," Yuichi Oie, a 22-year-old fourth-year student, told the paper. "We hope to make use of this interesting tradition in promoting Inazawa."
The government has launched a "Japan toilet challenge"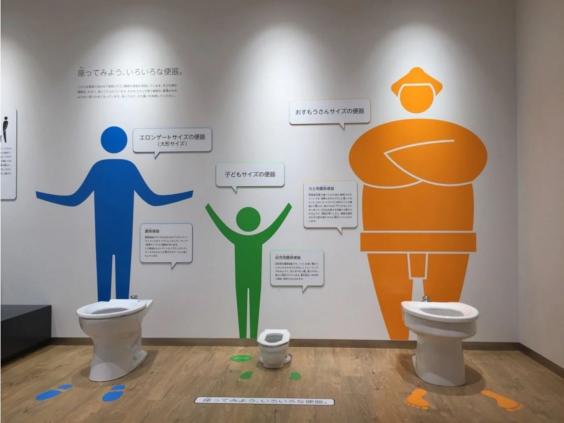 Toilets are a feminist issue. Or so the government says.
The Japanese government this year launched the Japan Toilet Prize, part of a campaign to improve quality of life by improving the quality of restrooms. No matter than Japanese public facilities are almost always clean and stocked with toilet paper.
The task is to ensure that washrooms are always clean and safe and to tackle one of the thorniest of bathroom problems: how to reduce the lines outside ladies' loos.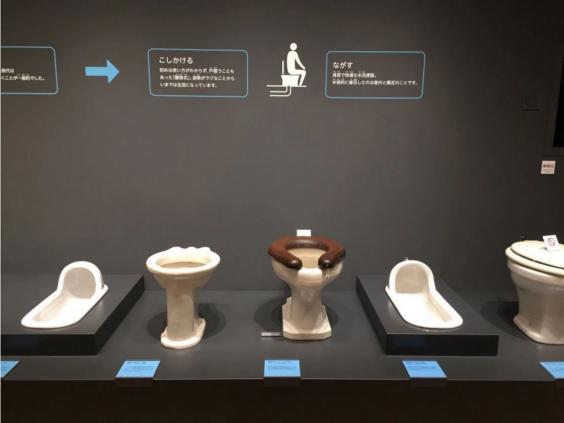 "Without appropriate environments where women can use sanitation facilities, their access to social participation in schools and workplaces is restricted," Haruko Arimura, the Japanese minister for women's empowerment, told the government's "World Assembly of Women" forum in Tokyo in August. In fact, she said that restrooms are so pivotal to women's advancement that she doesn't mind if she's known as "minister of toilets."
Akito Yokoyama, an architect who's part of the toilet challenge project, said Arimura had explained why she wanted to concentrate on restrooms.
Women are unable to bring themselves to enter filthy toilets in public parks," she quoted Arimura as saying, according to the Shukan Shincho, a magazine. "To enable women who work outside the home to thrive, it's necessary to improve the environment in public toilets."
At the same forum, Prime Minister Shinzo Abe said that making washrooms better would help women "shine," his catchphrase for trying to improve Japan's dismal gender equality rankings.
"In terms of sanitation, toilets are a way to encourage women's participation in society, and there is a lot more Japan can do," he said, according to the Wall Street Journal. "Japan has very advanced technology in terms of toilets in particular."
© Washington Post
Reuse content