Hundreds of people were arrested and police fired warning shots in the air as Indian authorities sought to clamp down on mass cheating in school exams.
Authorities in the state of Bihar posted police at all schools where exams were being held over the weekend. At least 300 people were arrested and up to 700 students in total have been expelled for cheating.
Police resorted to firing warning shots in the air outside an examination centre in the Vaishali District on Saturday to prevent large numbers of people helping students copy answers posted through the windows by friends and parents, The Tribune reports.
The state government also took seven policemen into custody for dereliction of duty after they were accused of accepting bribes and ignoring people clambering up the side of buildings.
Images and footage of parents and friends of students scaling up to four storeys of an exam centre to deliver answers to students inside emerged last week.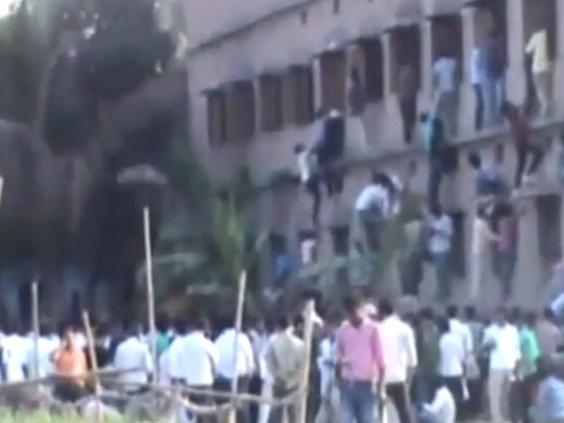 In the footage parents and friends risk their lives to post notes through the windows.
It is estimated that around 1.4 million students are taking their school leaving exams in Bihar alone over the course of the week.
The leaving exams are seen as vitally important tests that have the potential to radically transform the lives of those who grow up in poverty.
Chief Minister of the state Nitish Kumar condemned the cheating but said the images did not represent "the entire story of the state."
He said: "I urge parents, relatives and friends who help the students in cheating that you are ruining the future of the students as well as Bihar."
State Education Minister PK Shahi said that the scale of the problem meant that it could not be solved by the government alone:
"Three to four people helping a single student would mean that there is a total of six to seven million people helping students cheat.
"Is it the responsibility of the government alone to manage such a huge number of people and to conduct a 100 per cent free and fair examination?"
Reuse content