Violence has erupted in the Indian state of Gujaratafter a rally by the influential Patel community, who are demanding their caste status be altered to "backward" in order to access quotas for government jobs and college places.
Police clashed with protesters, after around half a million people brought the main city of Ahmedabad to a standstill, calling for the Patels or Patidar caste to be considered for positions reserved for groups at the bottom of society, who have faced centuries of discrimination.
Hardik Patel, 22, the firebrand leader of the campaign, was briefly detained by police, which triggered rioting across the city and left at least three people dead.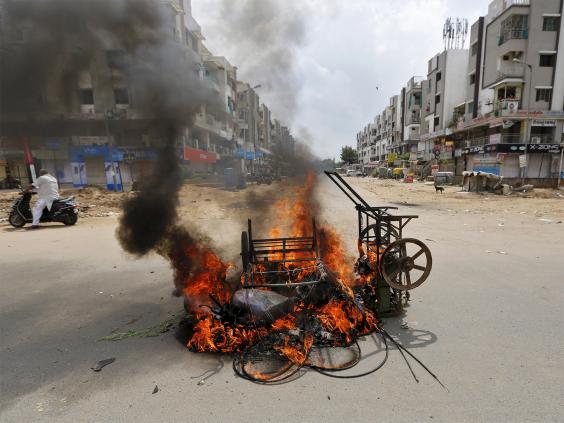 "They have burnt down nine police stations and more than three dozen buses," said the director-general of police in Gujarat. Protesters attacked both police officers and their vehicles, throwing stones and injuring at least a dozen officers, police said. The authorities imposed a curfew in parts of the state and Delhi sent security forces to try and  ease tensions.
The Prime Minister, Narendra Modi, called for calm in this, his  home state, which is a stronghold for his Hindu-nationalist Bharatiya Janata Party (BJP), where he ruled for more than a decade before taking office in Delhi last year. "I appeal to the people of Gujarat to maintain peace. Violence will never achieve anything," he said.
In Hinduism's rigid caste system, a person's occupation and social position is determined by birth, meaning those on the lowest rungs can be condemned to menial work for generations.
To counter this, India now reserves up to 50 per cent of  public-sector jobs and places in state education institutions for those from the lowest castes and for other traditionally disadvantaged groups collectively known as  "other backward classes", or OBCs.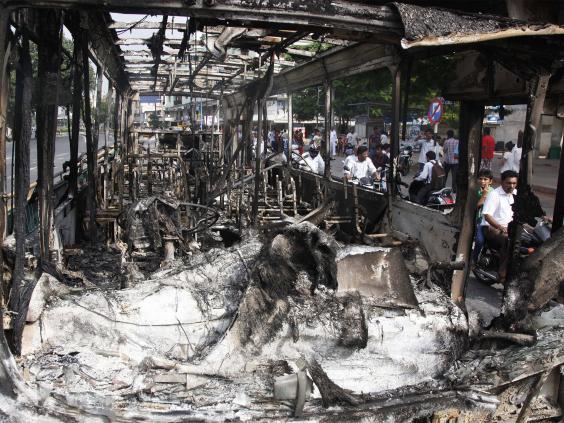 Members of the Patel community, largely affluent traders forming around 15 per cent of the population in Gujarat and a sizeable chunk of the Indian diaspora in Britain, claim they have lost out on opportunities to lower castes.
They say that so long as the quota system exists, the Patels should be reclassified as OBCs.
"A student under reserved category with poorer grades gets admission, but a Patel does not get admission despite having secured higher grades," said Hardik Patel in an hour-long speech to the crowds in Ahmedabad before his arrest.
"We want reservation to preserve our dignity and our heritage. We have the right to reservation, and so do our children." he added, warning the ruling BJP party that his community would withdraw their support in the next state elections if their demands were not met.
Gujarat's Chief Minister, Anandiben Patel, has ruled out adding the Patels to the list of castes benefiting from the quotas, saying the proportion of reserved government jobs and school places has already reached the 50 per cent limit imposed by the Supreme Courts.
Hardik Patel has threatened to go on hunger strike until the government relents, and has called for a strike among the Patel community, who dominate the diamond and textile industry in India.
Caste-based quotas have long been a thorny issue in Indian politics, with periodic calls for both their abolition and extension to other groups, or for the basis to shift to economic condition instead.
Reuse content