The arrest of an Indian diplomat amid claims she had lied on a visa form for her domestic worker has turned into a major row between Washington and Delhi with India's national security adviser calling her treatment "despicable and barbaric".
India on Tuesday summoned the US ambassador and announced that it was withdrawing a series of diplomatic privileges to US officials. It also reopened a road that runs past the US embassy in Delhi but which for several years has been blocked off for security reasons. Several Indian officials declined to meet with members of a visiting US delegation.
"It is despicable and barbaric," National Security Adviser Shivshankar Menon told the Press Trust of India news agency. 
The row follows the arrest last week in New York of Devyani Khobragade, India's deputy consul general in the city, who has been accused of visa fraud and of making false statements on an application for her housekeeper to work for her in the US.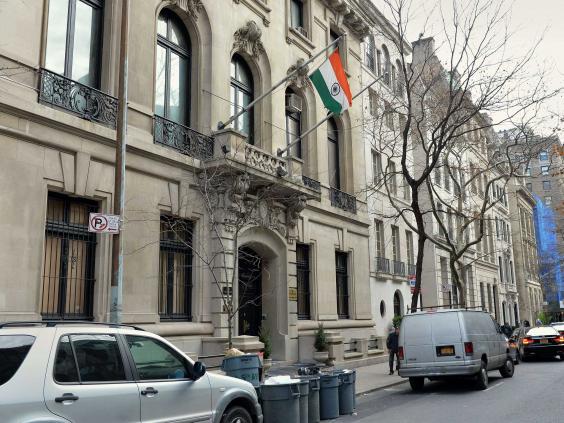 Indian officials said she was arrested and handcuffed last Thursday as she dropped off her daughter at school, then strip-searched and kept in a cell with drug addicts before posting $250,000 bail.
A spokesman for India'a foreign ministry failed to respond to calls on Tuesday but the Associated Press said a senior Indian official confirmed that the strip search had taken place. The US embassy has yet to comment.
Prosecutors in New York say Ms Khobragade, 39, claimed she paid her Indian maid $4,500 per month but actually paid her less than the US minimum wage. She has pleaded not guilty and plans to challenge the arrest on grounds of diplomatic immunity, her lawyer said last week. 
India has reacted with fury to the way its official has been treated, saying Indian diplomats living abroad have for years taken their domestic workers with them and that host governments have had few problems with the issue. Most middle-class Indian homes will employ several domestic workers, often at very low wages.
"They treated her like al-Qa'ida had come to Manhattan," said analyst and former diplomat KC Singh
Reports suggest the issue dates back several months to when Ms Khobragade's domestic worker, Sangeeta Richard, requested permission to work for other people on her day off and then later failed to return home to the diplomat's house.
Ms Richard's Indian passport was subsequently revoked and she and her family were taken into custody. Subsequent to that, the US authorities have been investigating the circumstances in which she arrived in New York.
A senior member of India's main opposition party said India should arrest gay partners of US diplomats living in India.
"My suggestion to the government of India is, the media has reported that we have issued visas to a number of US diplomats' companions. Companions means that they are of the same sex," Yashwant Sinha of the Bharatiya Janata Party told reporters.
He added: "Now, after the Supreme Court ruling, it is completely illegal in our country. Just as paying less wages was illegal in the US. So, why doesn't the government of India go ahead and arrest all of them?"
Reuse content