Two apartment buildings have collapsed in India, burying dozens of people in rubble and killing at least 11.
Rescuers spent much of Wednesday pulling victims from the debris, since the incident early this morning at a set of housing blocks built 10 years ago specifically to provide homes for the poor.
Most of the occupants of the 14 apartments in the first building to fall were asleep when it happened, and the second building was evacuated moments before it too collapsed, according to police spokesman Bhanu Pratap Parmar.
Fire chief Hitesh Taparia said four people who were reached were badly injured but not killed, but that the death toll was expected to rise once the emergency services had completed their work at the three-story buildings in the city of Vadodara in Gujarat state.
Around 40 others were estimated to still be trapped.
More than 250 rescue workers picked their way over the mountain of twisted metal, concrete slabs, bricks and mortar, as Mr Taparia said the cause of the collapse was not immediately clear.
Police officials said there had been unusually heavy rain in Vadodara during the monsoon season and it could have damaged the buildings' foundations
But the Times of India reported residents saying the inferior build quality of the apartments was to blame, and that their complaints to authorities had been ignored until the incident today.
"We have been making representations to the VUDA [Vadodara Urban Development Authority] for quite some time now, but to no avail," resident Suresh Valand told the newspaper.
The Gujarat government has ordered an investigation and will check for structural damage in the 31 other buildings in the complex, Mr Taparia said.
Building collapses have become a regular occurrence in India, particularly during monsoon season, when heavy rains put too great a strain on already weak buildings.
Residential and commercial structures built in poorer areas often suffer from workers cutting corners to save money, using substandard building materials, lacking proper supervision, and suffering under the prevalence of corruption at every level of the construction process.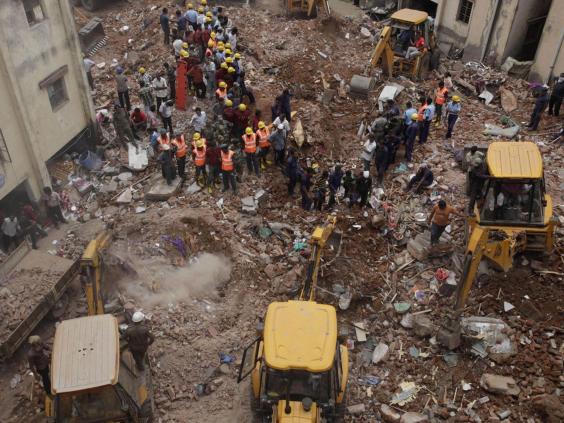 Reuse content