A young Indian woman has been hailed as a local hero after halting a politician's car because his guard allegedly winked at her.
According to reports from The Hindustan Times, 23-year-old Sakshi Pandey and her sister, Jyoti, were on a scooter in their home town of Agra, Uttar Pradesh, when the bodyguard of a local political leader, sat in a Mercedes, allegedly winked at the women and made rude gestures.
Enraged, Sakshi took a photo of the guard on her phone and then overtook the political leader's motorcade, stopped the Mercedes and climbing on top of the vehicle.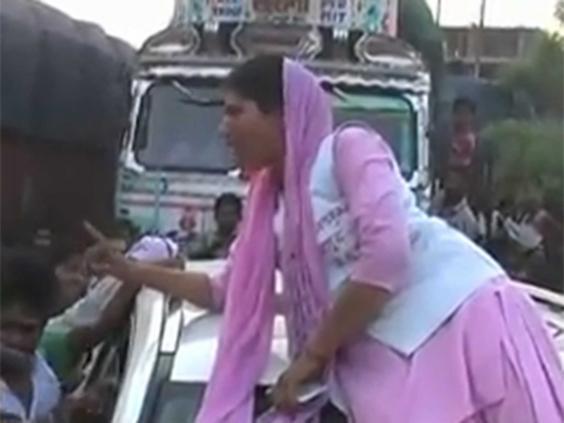 The women then complained to Abhinav Sharma, the head of the local Samajwadi Party who was in the car with the bodyguard, about his colleague's behaviour. However, they say that someone else from his security detail took their phone and smashed it on the ground.
You can see what Sakshi did next in the video below:
In response, Sakshi ripped the party flag off the Mercedes and smashed the windscreen. She then sat on the bonnet and protested against her treatment as a large crowd gathered and traffic came to a standstill. She called on the bodyguards sat inside the car to come out and discuss their treatment of her.
The Pandey sisters were offered Rs 6,500 for the damaged mobile from party head Sharma.
The superintendent of Agra's police force, Rajesh Kumar Singh, told reporters they could not do anything as neither party had issued a complaint: "Once a complaint is received, police will conduct an investigation and take action."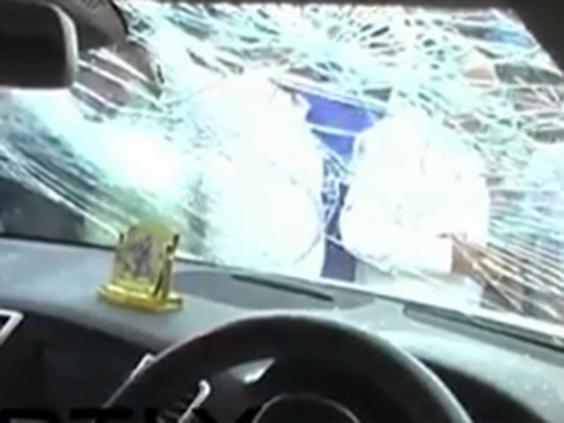 The Pandey sisters have said that Sharma apologised and paid for their broken mobile phone.
Sharma said he had removed a bodyguard from his security detail, but denied that anyone had made obscene gestures at the women.
"One of the girls even attacked me and I got injuries on my neck when the chain on my neck was snatched. Still, I didn't complain despite my car being damaged," he said.
Reuse content