It will be the world's largest statue and will cost more than £200 million to build.
But while not everyone believes the statue of India's independence hero Sardar Vallabhbhai Patel should be a priority for a country with a series of social challenges, the project this week received further backing from Narendra Modi in the form of £20 million set aside in his first budget.
The plan to build a statue of Mr Patel in the state of Gujarat, where Mr Modi served four terms as chief minister before being elected India's Prime Minister in May, dates back to at least 2010. 
The so-called Statue of Unity project was inaugurated last November by Mr Modi, who said that had Mr Patel, who served as India's first deputy prime minister, instead served as the first prime minister, India would have taken a different, more prosperous path.
"Every Indian regrets Sardar Patel did not become the first prime minister," he claimed. "Had he been the first prime minister, the country's fate and face would have been completely different."
The 597ft statue will tower over its rivals, including China's Spring Temple Buddha and the Ushiku Daibutsu statue in Japan. It will be almost double the height of New York's State of Liberty.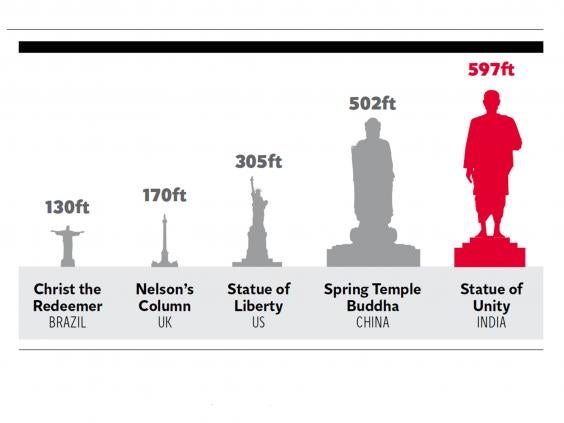 It is widely perceived that Mr Modi's desire to complete the statue is part of an effort to associate himself with an independence-era icon usually associated with the Nehru-Gandhi family of the Congress party. India's first Prime Minister, Jawaharlal Nehru, is the great grandfather of Rahul Gandhi, who led the Congress's disastrous campaign in the recent election.
It was originally said the cost of the statue, to be build on an island in a man-made water body, was to be funded by the state of Gujarat and public donations. An announcement that the central government will also contribute was contained with the budget speech delivered on Thursday by Mr Modi's Finance Minister, Arun Jaitley.
"Sardar Patel stands as the symbol of the unity of the country," Mr Jaitley said in the two-hour speech to parliament, according to the Reuters news agency.
The authorities in Gujarat say the project, which will also host an aquarium and various learning centres, will be a major tourist attraction for the area. Mr Patel, who died in 1950 was also from Gujarat.
But some have questioned the sums being spent, especially since the budget set aside half the amount for trying to tackle women's safety in India.
"Everyone is talking about this. It is not just women's safety, but smaller amounts have been set aside for educational facilities and hospitals than for the statue," said Kavita Krishnan, secretary of the All India Progressive Women Association. "It just goes to show the very skewed priorities that the government has."
Reuse content