A paranoid schizophrenic is among the nine foreigners including two Australians due to be executed by firing squad in Indonesia, it has emerged.
The Brazilian man, Rodrigo Gularte, has been diagnosed with acute mental illness, making his execution a violation of Indonesian and international law.
After pressure from lawyers and Brazilian diplomats, the attorney general reportedly agreed last month that he should be taken off Nusa Kambangan island for a fuller mental exam but he is still believed to be a prisoner there.
Gularte's fellow prisoners believe he talks to ghosts, although doctors have said he is responding to the voices he hears since his sanity deteriorated after being sentenced to death in 2005 for smuggling 6kg of cocaine inside surfboards.
Psychiatrists were sent by the attorney general's office to assess the 42-year-old's condition last Tuesday, Al Jazeera reported, but the outcome of their examination was not known.
Australians Andrew Chan, 31, and Myuran Sukumaran, 33, have also been flown to the notorious Nusakambangan Island prison and are hoping their last legal appeals and increasingly desperate diplomatic interventions can prevent their deaths.
They were convicted of being the ringleaders of the "Bali Nine", a group arrested in 2005 for attempting to smuggle 8kg of heroin to Australia from the Indonesian resort island.
A video of Chan speaking about "how precious life really is" after watching six fellow inmates be taken away for execution in January emerged yesterday on Australia's Sunday Night programme.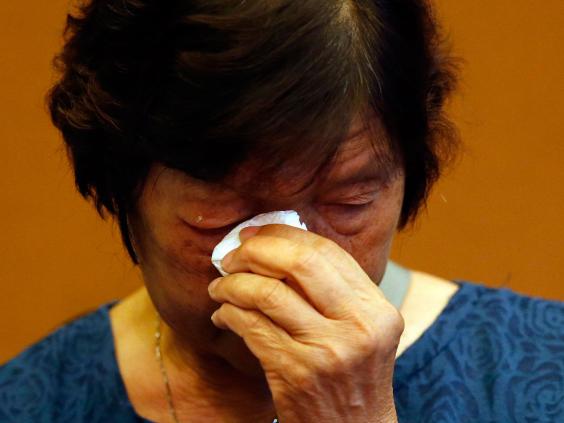 A Nigerian national born in Spain, two other Nigerians, a Filipino woman and four men from Brazil, France, Ghana and Indonesia are also due to be executed.
The dates of Chan and Sukumaran's executions have not been set and their lawyer, Peter Morrissey, believes there is still some hope for the pair.
"The main promising thing for us is that they're not dead," he told ABC radio on Monday.
"The way some officials were talking, they should have been dead weeks ago."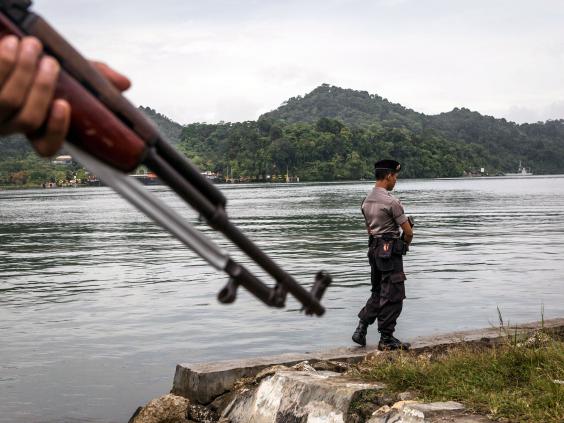 He will take their plea for clemency to an administrative court in Jakarta on Thursday.
Chan's family were hoping to visit him this week, travelling to Nusakambangan from the port town of Cilacap.
"We're just looking forward to seeing him," his brother Michael Chan told reporters.
"When we get over there, we'll give him a hug."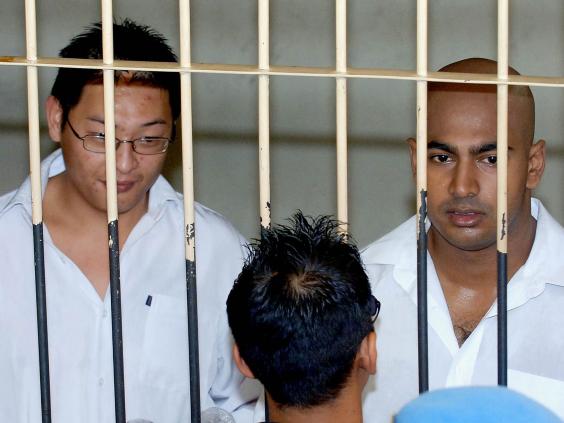 Australian Prime Minister Tony Abbott made a personal plea to the president of Indonesia on the Australians' behalf two weeks ago but  said on Sunday he was still waiting for an answer to his request for a phone call.
President Joko "Jokowi" Widodo has rejected appeals by Australia's government to allow them to live and vowed not to grant mercy to any other drug offenders because Indonesia is suffering a "drug emergency."
He has received phone calls from some foreign leaders asking that the executions be cancelled but rejected their requests, souring diplomatic relations with Australia and Brazil in particular.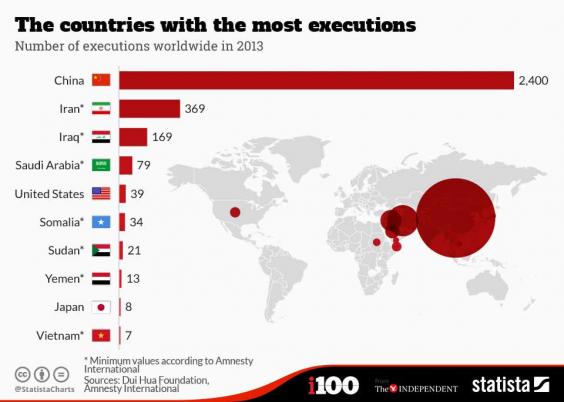 The country has notoriously strict drug laws and executed six convicts by firing squad at Nusa Kambangan last month, including foreigners from Brazil, Malawi, Nigeria, the Netherlands and Vietnam, brushing aside last-minute appeals by foreign leaders.
There are 133 people on death row in Indonesia, including 57 for drug crimes and two convicted terrorists.
Indonesia ended a four-year moratorium on the death penalty with the execution of Malawian Adami Wilson in March 2013 and the government does not issue detailed statistics about those killed.
Ten places where most executions were carried out in 2013
Ten places where most executions were carried out in 2013
1/10 1. China

Amnesty International does not have an official figure on executions in China during 2013, but believes the figure to be in the thousands

2/10 2. Iran

Iran carried out 369 public executions

3/10 3. Iraq

Iraq committed 169 public executions in 2013

4/10 4. Saudi Arabia

Saudi Arabia carried out 79 executions in 2013

5/10 5. USA

Thirty-nine people were executed in the US in 2013

6/10 6. Somalia

In Somalia, 34 people were publicly executed last year

7/10 7. Sudan

Twenty-one people were executed in Sudan

8/10 8. Yemen

Thirteen people were executed in Yemen in 2013

9/10 9. Japan

Eight people were executed in Japan, according to the report

10/10 10. Vietnam

Vietnam does not release public figures on executions but Amnesty estimate the number to be a minimum of 7
Convicts are led from their cells in the middle of the night, taken to a jungle clearing and shot by a 12-man firing squad.
Additional reporting by AP
Reuse content