At first sight, the small Indonesian island looks like many of the archipelago's paradisiacal sites. Surrounded by pristine water, its dense tropical forest is home to many rare species, its shore covered in white sand.
Nusakambangan is its name, but recently, the maximum-security site has mostly been referred to as "execution island" or "death island". It is where Australians Andrew Chan and Myuran Sukumaran will soon face the firing squad, along with eight other drug convicts, including citizens from Brazil, France, Ghana and Nigeria.
They will be given 72 hours' notice. In the middle of the night on a yet unknown date, they will be taken deep into the forest to different isolated execution sites. They will be asked whether they want to stand, sit or kneel, and whether they want to be blindfolded. A doctor will place a target on their heart. They will each be shot by a 12-man firing squad, simultaneously.
Also known as Indonesia's Alcatraz, Nusakambangan holds about 1,500 convicts in seven facilities, including three maximum-security prisons. It has been used as a penitentiary for more than a century, and is also where most prisoners on death row are sent to be executed.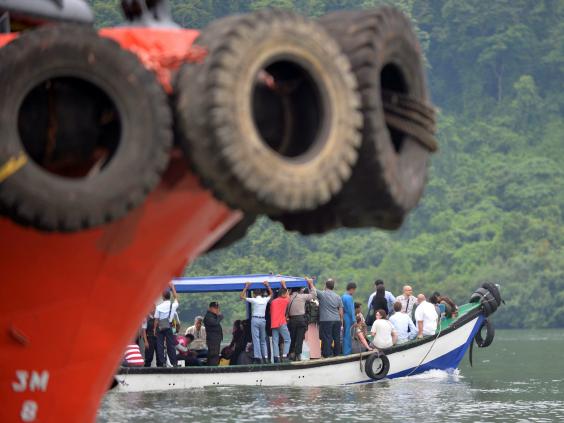 Chan and Sukumaran were transferred to the island last week from their Bali prison. The two were part of a group dubbed the "Bali Nine" who had attempted to smuggle 8kg of heroin to Australia in 2005. They were sentenced to death the following year.
Indonesia has some of the world's harshest drug laws, but human rights defenders had hoped the country's new liberal President would adopt a softer stance on capital punishment. But just a couple of months after he took office in October, President Joko Widodo made the execution of drug convicts a priority, arguing the country was "in a state of emergency" and in need of a "shock therapy".
The Indonesian authorities estimate that 50 people die because of drugs every day, a figure that has been disputed by academics. Six drug convicts, including five foreigners, were executed in January, sparking international outrage. Brazil and the Netherlands, whose citizens were among those killed, withdrew their ambassadors in protest.
Relations between Australia and Indonesia have also deteriorated in the past weeks, following intense lobbying for the lives of the two Australians to be spared. The Prime Minister, Tony Abbott, who has said that people "feel sick to their stomach" at the prospect of the execution of two men, has infuriated Indonesia by linking their fate to Australia's aid following the 2004 Boxing Day tsunami. A suggestion of a "prisoner swap" by Julie Bishop, Australia's Foreign Minister, was also badly received.
Recently, the Grand Mufti of Australia, Dr Ibrahim Abu Mohamed, as well as Sir Richard Branson and Black Sabbath guitarist Tony Iommi made personal appeals to the Indonesian President, known to be a heavy metal fan. But Mr Widodo, who has warned against foreign interference in this "matter of our legal sovereignty", has endlessly repeated there will be "no clemency" for drug dealers.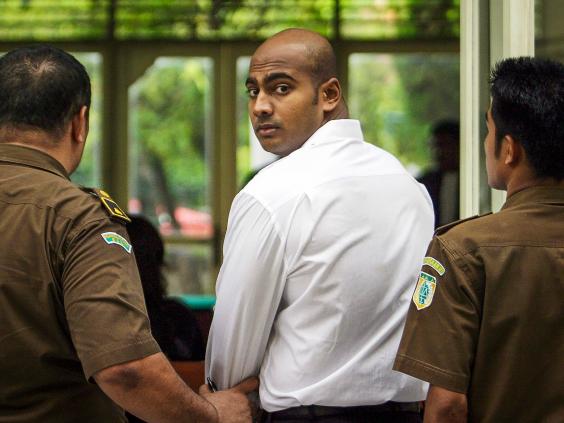 Now 31 and 33, Chan and Sukumaran are widely believed to have reformed during the 10 years they spent in jail. Chan was studying to become a pastor, and Sukumaran, a "very talented young man" according to his mentor and friend, the Australian artist Ben Quilty, has recently completed a degree in fine arts. One of his last paintings was a portrait of the Indonesian President, which he signed: "People can change."
Mr Quilty last saw him three weeks ago in Bali, before Sukumaran was transferred. "He was very tense, and had started dismantling his studio, which was heart-breaking," Mr Quilty told The Independent. He said all Sukumaran took to Nusakambangan was "a box of pencils and a pad of paper".
Seven of the 10 convicts scheduled for execution have lodged new appeals, including the two Australians, who on Thursday had their hearing adjourned until 19 March because of a lack of proper paperwork. Indonesia's Attorney General H M, Prasetyo, said the legal process would be respected.
But the lawyer of French convict Serge Atlaoui, who had a first hearing on Wednesday, was quite pessimistic on the outcome. "The court is trying to complete the process as fast as possible," said Nancy Yuliana. "We asked for new witnesses and experts to be heard. The judges rejected everything."
The Indonesian authorities have said they want to execute the prisoners at the same time, to avoid creating "psychological problems". As the Attorney General has repeatedly insisted, the executions will go ahead.
Reuse content