Isis is steadily growing in strength even in the heartland of the Taliban, according to an investigation into the state of the Afghan army in the south of the country that is to be delivered to President Ashraf Ghani this week.
The report, by the country's senior generals, will warn that the jihadist group, which has already taken over territory in the eastern province of Nangarhar, is winning new followers in Helmand and two other southern provinces where the Afghan military faces growing pressure from the Taliban.
"Isis is recruiting soldiers in Helmand," Afghan National Army chief General Qadam Shah Shahim told The Independent. "They are spending money and are recruiting across the province." 
The general's warning was echoed by a tribal elder from northern Helmand. "My son was recruited by Isis, along with many young people in our village," he said. "He had been educated at Kandahar University, but after he finished he was recruited. There are black flags in our village, and photographs of al-Baghdadi (the Isis leader)."
Senior Afghan officials say the report, which follows a fact-finding visit to Helmand by Gen Shahim and the deputy Interior Minister, Mohammad Ayub Salangi, will paint a "bleak picture" of the wider situation in the south, where British and American troops made huge efforts – with many lives lost – to make the country secure. Lashkar Gah, the regional capital, nearly fell to the Taliban in late October.
In pictures: Russian air strikes in Syria
In pictures: Russian air strikes in Syria
1/10

Volunteers from Syria Civil Defence, also known as the White Helmets, help civilians after Russia carried out its first airstrikes in Syria

2/10

The aftermath of Russian airstrike in Talbiseh, Syria

3/10

Smoke billows from buildings in Talbiseh, in Homs province, western Syria, after airstrikes by Russian warplanes

AP

4/10

Russian Air Forces carry out an air strike in the ISIS controlled Al-Raqqah Governorate. Russia's KAB-500s bombs completely destroy the Liwa al-Haqq command unit

5/10

Caspian Flotilla of the Russian Navy firing Kalibr cruise missiles against remote Isis targets in Syria

6/10

Caspian Flotilla of the Russian Navy firing Kalibr cruise missiles against remote Isis targets in Syria, a thousand kilometres away. The targets include ammunition factories, ammunition and fuel depots, command centres, and training camps

7/10

Russia claimed it hit eight Isis targets, including a "terrorist HQ and co-ordination centre" that was completely destroyed

8/10

A release from the Russian defence ministry purportedly showing targets in Syria being hit

9/10

A video grab taken from the footage made available on the Russian Defence Ministry's official website, purporting to show an airstrike in Syria

10/10

Russia launched air strikes in war-torn Syria, its first military engagement outside the former Soviet Union since the occupation of Afghanistan in 1979. Russian warplanes carried out strikes in three Syrian provinces along with regime aircraft as Putin seeks to steal US President Barack Obama's thunder by pushing a rival plan to defeat Isis militants in Syria
It will highlight failings that critics say are seriously undermining the Afghan National Army's ability to hold together against the increasing Taliban assault. Military mismanagement, corruption and lack of accountability are blamed by soldiers, middle-ranking officers and commanders for growing dissatisfaction within the ranks. 
Weapons and ammunition are also said to be missing in large quantities, and the Taliban have penetrated police and army radio encryption, enabling them to eavesdrop on communication.
"My men have been fighting for 12 days without a break," an Afghan local police commander from Marjah said in Lashkar Gah. "We have got no backup. I have been raising red flags for days, but no one seems to be listening."
A soldier from Nad Ali district complained that his unit has not been paid salaries for three months. "When our commander raised the issue some 20 days ago, he was told that the money had been dispatched. It shouldn't take that long for a few thousand notes to travel from Kabul to Helmand," the soldier said. 
Army officers raised the issue of "ghost" national and local police, whose names are on the payroll but who are not members of any police  unit. Up to 40 per cent of the nominal strength of the Afghan national police is fictitious, they said.  Meanwhile, the army is suffering from high desertion rates which soldiers taking leave and not coming back.  Half the members of counter-IED units, tasked with finding and defusing potential bombs, existed "only on paper".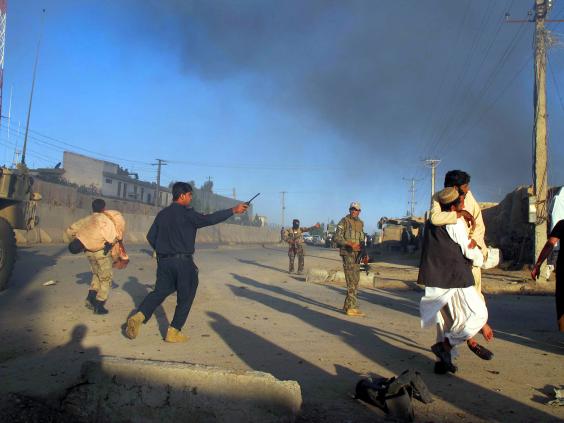 Last month 65 soldiers in the Sangin district, among them three army commanders, defected to the Taliban, taking their vehicles, weapons and equipment.
There have been near-constant clashes between the security forces and insurgents in the past six weeks in Marjah, Nad Ali and Babaji areas that surround Lashkar Gah. Though Afghan forces foiled a Taliban attempt in October to overrun the provincial capital, they have not been able to dislodge the insurgents from outlying districts. 
Helmand's newly appointed police chief, General Sarjang, said intense fighting is now under way in Marjah. He said night raids by Afghan Special Forces and more than 39 air strikes by coalition forces were "the only thing that has kept Marjah from falling into Taliban hands".
Now internal Taliban squabbling has given an opportunity to Isis, which has growing financial muscle, to back up its military ambitions. A police commander in Kajaki district said: "Isis is recruiting by paying good money to people in the villages. People are poor. But it is also because of the infighting among Taliban commanders and factions."
Isis is being helped by the demise of Mulla Mohammed Omar, the Taliban's charismatic former leader, and repeated rumours that his recently appointed replacement, Mullah Akhtar Mansoor, may have been killed. By contrast Abu Bakr al-Baghdadi, the Isis leader, is seen as an alluring figure who attracts new recruits.
Reuse content