The Chinese government is calling on people to report their neighbours, friends and relatives for "luring minors into religious activities" in a province home to the country's largest Muslim population.
New education rules coming into force in Xinjiang on 1 November threaten to remove children from their parents' care and send them to "receive rectification" at specialist schools.
The autonomous region, which borders Pakistan and Muslim-majority nations including Kazakhstan, is home to the greatest concentration of Muslims in China because of its significant ethnic Uighur population.
But restrictions are enforced on the practice of Islam, as well as China's four other officially recognised religions, and the new rules threaten further punishment.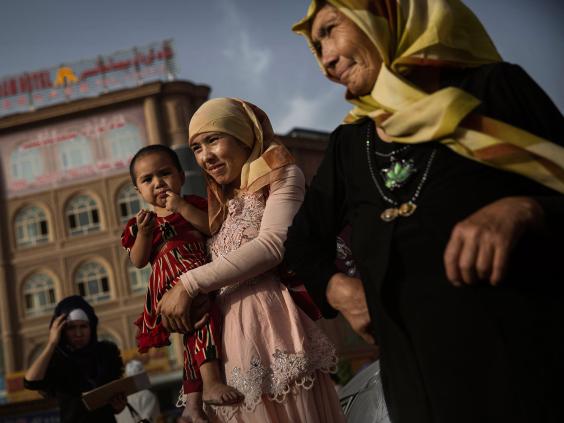 They say parents and guardians cannot "organise, lure or force minors into attending religious activities", according to the state-controlled Xinjiang Daily.
Neither should they promote "extremist" beliefs in children, nor force them to dress in "extremist clothing" or other symbols, the newspaper said, echoing the tone of previous bans on Islamic dress including beards for men and headscarves for women.
"Any group or person has the right to stop these kinds of behaviours and report them to the public security authorities," the rules said.
If parents are unable to remove their children from "harmful extremist or terrorist ways" and they cannot continue to study at their existing schools, they can apply to have their children sent to specialist schools to "receive rectification".
Religious activities are banned in schools, which must guide students away from separatism and extremism, to create an environment that "esteems science, seeks the truth, refuses ignorance (and) opposes superstition", the rules continue.
While China officially guarantees freedom of religion, children are not supposed to participate in religious activity.
The Communist government restricts religious practice to five officially recognised faiths and only in officially approved premises, auditing the activities, employee details, and financial records of religious bodies.
Human rights attacks around the world
Human rights attacks around the world
1/10 China

Escalating crackdown against human rights activists including mass arrests of lawyers and a series of sweeping laws in the name of 'national security'.

Getty Images

2/10 Egypt

The arrest of thousands, including peaceful critics, in a ruthless crackdown in the name of national security, the prolonged detention of hundreds without charge or trial and the sentencing of hundreds of others to death.

Getty Images

3/10 Gambia

Torture, enforced disappearances and the criminalisation of LGBTI people; and utter refusal to co-operate with the UN and regional human rights mechanisms on issues including freedom of expression, enforced disappearance and the death penalty.

Getty Images

4/10 Hungary

Sealing off its borders to thousands of refugees in dire need; and obstructing collective regional attempts to help them.

Getty Images

5/10 Israel

Maintaining its military blockade of Gaza and therefore collective punishment of the 1.8 million inhabitants there, as well as failing, like Palestine, to comply with a UN call to conduct credible investigations into war crimes committed during the 2014 Gaza conflict.

Getty Images

6/10 Kenya

Extrajudicial executions, enforced disappearances and discrimination against refugees in its counter-terrorism operations; and attempts to undermine the International Criminal Court and its ability to pursue justice.

Getty Images

7/10 Pakistan

The severe human rights failings of its response to the horrific Peshawar school massacre including its relentless use of the death penalty; and its policy on international NGOs giving authorities the power to monitor them and close them down if they are considered to be "against the interests" of the country.

Getty Images

8/10 Russia

Repressive use of vague national security and anti-extremism legislation and its concerted attempts to silence civil society in the country; its shameful refusal to acknowledge civilian killings in Syria and its callous moves to block Security Council action on Syria.

Getty Images

9/10 Saudi Arabia

Brutally cracking down on those who dared to advocate reform or criticise the authorities; and committing war crimes in the bombing campaign it has led in Yemen (pictured) while obstructing the establishment of a UN-led inquiry into violations by all sides in the conflict.

Getty Images

10/10 Syria

Killing thousands of civilians in direct and indiscriminate attacks with barrel bombs and other weaponry and through acts of torture in detention; and enforcing lengthy sieges of civilian areas, blocking international aid from reaching starving civilians.

Getty Images
Other religious groups are classified as "evil cults", allowing authorities to imprison leaders and criminalise followers.
Officials have destroyed Christian churches under laws against "illegal structures" and detained those protesting against the demolitions, while authorities have cracked down on underground Islamic schools, or madrassas, in Xinjiang in recent years.
Hundreds of people have died in the province over recent years in unrest blamed by Beijing on Islamist militants and separatists, although human rights groups say the violence is more a reaction to repressive Chinese policies.
The government strongly denies committing any abuses in Xinjiang and insists the legal, cultural and religious rights of the Uighur people are fully protected.
But many resent restrictions on their culture and religion, and complain they are denied economic opportunities in favour of Han Chinese.
Uighur  activists who have campaigned for better treatment of their people have been imprisoned, the most prominent being economics professor Ilham Tohti, who was jailed for life in 2014 on separatism charges.
He was awarded a prestigious annual human rights award on Tuesday, drawing an angry response from Chinese officials who said he was a criminal who praised terrorists. 

Additional reporting by Reuters
Reuse content