Suicide bomb blasts and gun attacks have left at least seven people - including five militants - dead in the centre of Indonesia's capital city.
No one immediately claimed responsibility for the apparently co-ordinated deadly assault but it followed threats by Isis to put the country in its "spotlight".
Amid an ongoing battle between militants and security services, Jakarta police spokesman Colonel Muhammad Iqbal said officers had recovered the bodies of five attackers. It was not clear if more remained at large.
Bank security guard Tri Seranto said he saw three suicide bombers who blew themselves up near a Starbucks cafe outside a shopping centre.
He said he saw two other men carrying handguns walk into a police post before hearing gunfire emerge from the area.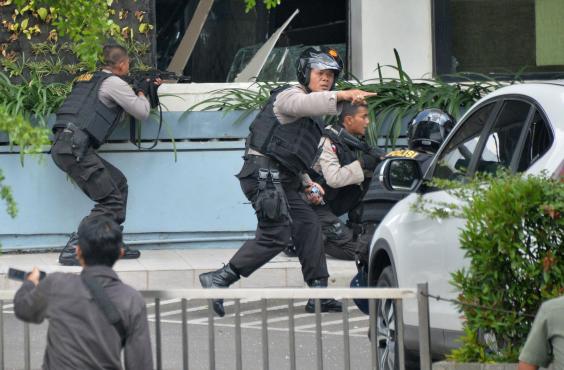 Mr Seranto said he later saw one policeman dead and three seriously injured. Two gunmen were seen running away with police in pursuit.
Meanwhile, a Reuters photographer who witnessed the aftermath of the explosions said: "The Starbucks cafe windows are blown out.
"I see three dead people on the road. There has been a lull in the shooting but someone is on the roof of the building and police are aiming their guns at him."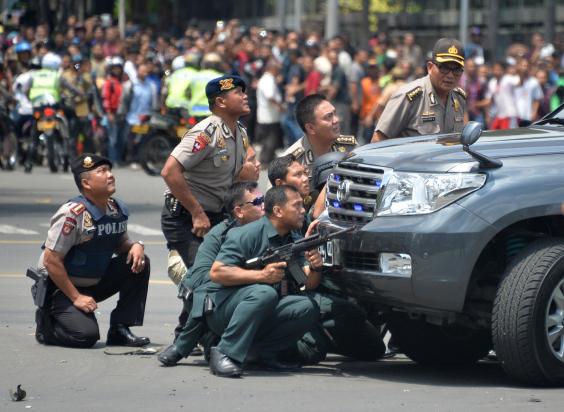 Following the first explosions, a gun-battle broke out between the attackers and anti-terror police, and gunfire could be heard more than an hour later.
About two hours later, another explosion was heard from a cafe near the Starbucks, about five minutes after 25 anti-terror policemen entered. It was not clear if the explosion was a controlled detonation or a bomb. 
A spokesperson for Starbucks said one customer in its branch in the Skyline building was injured but all other visitors and employees were safe.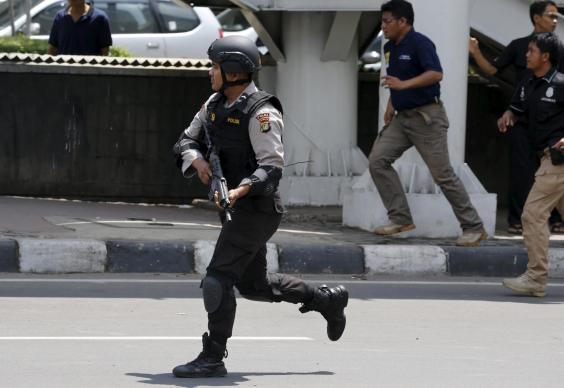 "We are deeply saddened by the senseless act that has taken place in Jakarta; our hearts are with the people of Indonesia," a statement said. 
"While this store will remain closed, based on the stabilisation of the situation being conveyed by local authorities, we will open all stores in Jakarta and across Indonesia tomorrow .
"We are continuing to monitor this situation closely, and will provide additional information as it becomes available."
In pictures: Jakarta attacks
In pictures: Jakarta attacks
1/10

People carry an injured police officer near the site where an explosion went off in Jakarta

2/10

Indonesian special forces officers identify victims at the scene of a bomb blast in Jakarta

EPA

3/10

Police gather outside a restaurant near the scene of an attack in central Jakarta, after militants launched a gun and bomb assault in the center of the Indonesian capital

Reuters

4/10

The scene of a bomb blast at a police station in front of a shopping mall in Jakarta

EPA

5/10

Indonesian soldiers in armoured vehicles at the scene of a bomb blast in Jakarta

EPA

6/10

An Indonesian special forces officer identifies victims at the scene of a bomb blast in Jakarta

EPA

7/10

A police armored vehicle is parked outside a Starbucks Cafe near where an explosion went off in Jakarta

AP

8/10

Police officers take cover behind a car during a gun battle with attackers near the site where an explosion went off in Jakarta

AP

9/10

A member of the police bomb squad unit approaches the scene of an explosion following an attack on a police box in central Jakarta

Reuters

10/10

Indonesian forensic policemen work inside a cafe after a bomb blast in front of a shopping mall in Jakarta

EPA
Indonesian President Joko Widodo labelled the killings "acts of terror" and urged people to remain calm.
"This act is clearly aimed at disturbing public order and spreading terror among people," he said in statement on television.
"Our nation and our people should not be afraid, we will not be defeated by these acts of terror, I hope the public stay calm."
There were also unconfirmed reports of blasts outside the city's United Nations office and in Cikni, Silpi and Kuningan neighborhoods - near the Turkish and Pakistani embassies.