A Japanese man has died after setting himself on fire in what appeared to be a protest against a change in military policy.
The unidentified man filmed the self-immolation on a set up video camera in Tokyo's central Hibiya Park, near Government buildings, on Tuesday.
He was taken to hospital by ambulance shortly before 7pm local time but could not be saved.
Notes addressed to the Prime Minister, Shinzo Abe, and parliamentary leaders were found near the burning body, according to the Asahi Shimbun newspaper.
Investigators told the newspaper the notes lambasted the Japanese Cabinet's decision in July to approve the national "right to collective self-defence" after decades of restrictions since the Second World War.
Japan's military was previously allowed only defend its own territory – a provision that was not unpopular among much of the population – but a re-interpretation of the constitution now lets the country to defend its allies abroad.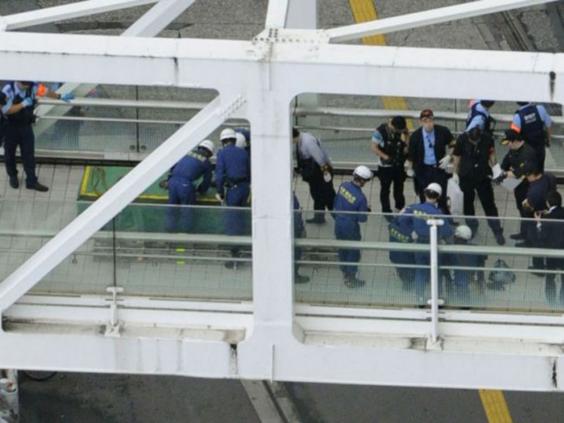 Mr Abe had lobbied for the change, insisting it was a "strictly defensive measure" which would not lead to involvement in multilateral foreign wars, like the US-led invasion of Iraq.
The constitutional shift sparked significant opposition and protests numbering thousands of people, angering China and South Korea, but supporters argued that the restrictions were an outdated relic imposed by the US that deprived Japan of basic rights exercised by modern nations.
Tuesday's suicide was the second attempted self-immolation by protesters against the change.
In June, a man on a pedestrian bridge near Shinjuku Station in Tokyo doused himself in petrol and set himself alight after shouting through a microphone to denounce the government's push for collective self-defence.
He was badly burned but survived the incident days before the constitutional change was approved. 
Additional reporting by AP