A journalist has reportedly been burned alive in India after publishing allegations of corruption and land grabs against a local politician.
Ram Murti Verma, a member of Uttar Pradesh's legislative assembly, has been named in a police report alongside five others in connection with the death of Jagendra Singh, the Press Trust of India reported.
Mr Singh died of his injuries in hospital in the city of Lucknow yesterday after he was doused with petrol and set on fire.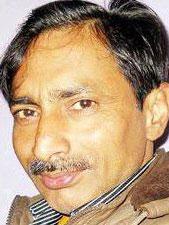 Police in the town of Shahjehanpur told IBN Live that Mr Singh set himself alight.
"There was a case against Jagendra Singh. We tried to arrest him but he committed suicide," a spokesperson said, without specifying the allegations.
Mr Singh, who was married, ran a local online newspaper in the town and published short reports in Hindi on Facebook.
He had two accounts. One was in his own name and another carried his picture under the title Shahjahanpur Samachar - Hindi for Shahjahanpur News.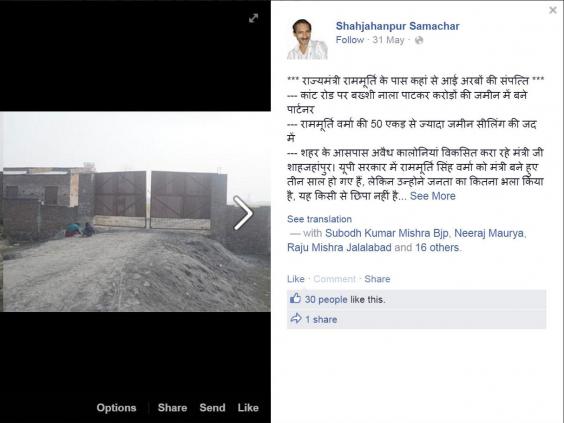 That account had more than 1,500 followers and 5,000 friends, while his personal page had almost 3,000 friends.
In a series of posts from 30 May onwards, he accused Mr Verma of illegally acquiring valuable land and property, illegal mining and forced occupation.
Mr Singh's relatives told Times Now that a police officer tasked with arresting the journalist set him on fire on 1 June.
"The inspector and others barged into the room and poured petrol on him and set him ablaze," his wife said, claiming that he had been attacked after making previous allegations and police did not act on his assault complaint.
While Mr Verma and five other people have been named in a police complaint, no arrests have been made, AFP reported. Police have denied all charges.
Mr Verma represents the Samajwadi Party, which describes itself as a democratic socialist party and is based in Uttar Pradesh.
Reuse content