Pakistan's biggest city was in lockdown for a second day today, with shops and markets closed and people staying at home for fear of violence, following the arrest in London of one of the country's most powerful men on suspicion of money laundering.
Altaf Hussain, leader of the Muttahida Qaumi Movement (MQM) party, is wanted in Pakistan in relation to a murder case. He was arrested on Tuesday in north-west London, where he has lived in self-imposed exile since the early 1990s.
Karachi, a sprawling and violent port city of 18 million people, is virtually controlled by Mr Hussain's party, and reports of sporadic violence emerged as soon as news of his arrest reached the city.
Today about 2,000 of his supporters staged a rally in the city centre, but elsewhere the city was in lockdown, with markets and petrol stations closed and its usually chaotic and bustling streets clear of traffic.
"The people of Karachi and other big and small cities of Sindh [province] still see Altaf Hussain as their leader," Nasir Jamal, a senior MQM official, said.
"The thrust of this protest is the release of Altaf Hussain. We are here until we see positive indications from London."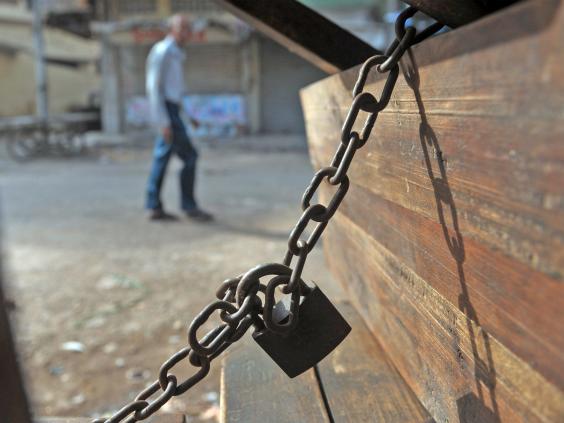 The largely peaceful crowd sporadically burst into loud chants in support of Mr Hussain, 60. "Long live Altaf," and "Even after death Altaf will continue to live," shouted his supporters.
The ability of Mr Hussain's supporters to shut down Pakistan's commercial hub for two days underscores his influence, and many fear that riots may erupt.
The cost of the shutdown will also weigh heavily on a city already beset by daily violence and feudal spats between its many ethnic and political groups.
A Metropolitan Police spokesman said last night that Mr Hussain remained in custody, where he was being questioned on suspicion of money laundering.
The MQM party's support base is millions of Muslim, Urdu-speaking people whose families migrated to Karachi and surrounding areas at the time of the 1947 partition of India.
Reuters
Reuse content