The manager of a terrapin farm in North Korea has reportedly been executed for failing to adequately supply the animals' tanks with enough food and water which lead to the death of many baby terrapins.
Kim Jong-un visited the Taedonggang Terrapin Farm in May he criticised the officials at the farm for their failure to keep the tanks adequately supplied, the Daily NK reports.
The manager attempted to explain to Mr Kim that the lack of supply was due to issues with the electricity, water and equipment.
North Korea's worst human rights abuses
North Korea's worst human rights abuses
1/11 Starvation

A UN report said that policies leading to mass starvation in North Korea amounted to crimes against humanity. Deaths peaked during the 1990s North Korean famine.

Al Jazeera

2/11 Executions

Defence minister Hyon Yong Chol is believed to be the latest official executed after falling foul of Kim Jong-un. As well as gruesome public executions, thousands of people have been killed in state 'purges' and for alleged anti-state crimes

Getty

3/11 Torture

Torture is prevalent in prison camps, as well as in police and security service custody.

AP

4/11 Freedom of religion

American missionary Kenneth Bae was one of the many people detained after trying to practice their religion. The DPRK Constitution claims to protect freedom of religion but not if it as alleged of being used a a pretext for 'drawing in foreign forces or for harming the state and social order'. Christianity is frequently considered a political crime

5/11 Freedom of expression

All media is tightly-state controlled and expressing facts of opinions critical of the government or Juche ideology can lead to arrest and imprisonment. As well as being under extensive surveillance, people are encouraged to 'inform' on friends and neighbours

Getty

6/11 Freedom of thought

A UN report found that the 'DPRK operates an all-encompassing indoctrination machine which takes root from childhood to propagate an official personality cult and to manufacture absolute obedience to the Supreme Leader, effectively to the exclusion of any independent thought from the official ideology and state propaganda'

Reuters

7/11 Forced labour

Prisoners are subjected to forced labour in camps, including children as young as five. Some workers are also reportedly being sent abroad to fund the government's projects

AFP

8/11 Sexual discrimination

Although women are permitted to serve in the military, their role is restrained by the Juche ideology and the UN reports that 'discrimination against women remains pervasive in all aspects of society'

AP

9/11 Freedom of movement

Freedom of movement is severely restricted within North Korea and very few citizens are allowed to leave the country. Immigrants found in China can be forcible repatriated and punished on their return. The right for foreigners to enter is also severely restricted.

Reuters

10/11 Prison camps

Many of the worst abuses reported take place at prison camps, some specifically for political crimes. The camps officially do not exist but have been photographed using satellite. Inmates are 'forcibly disappeared' and usually imprisoned until death

REUTERS

11/11 Reproductive rights

Forced abortions have been reported for imprisoned women, often after being raped by guards. Mothers and babies frequently die in childbirth because of a lack of adequate care, often delivering babies unaided at home.

AP
Mr Kim dismissed these causes as "nonsensical complaints".
At the time, North Korea's official media outlet reported that Mr Kim had been upset at the farm's failure to breed freshwater lobsters from a number of crustaceans that had been delivered to the farm two years previously.
The official report issued after Mr Kim's inspection had put the workers' failings down to a "manifestation of incompetence, outmoded way of thinking and irresponsible work style".
It is understood that the manager was shot shortly after this visit, the Daily NK reports, citing multiple sources.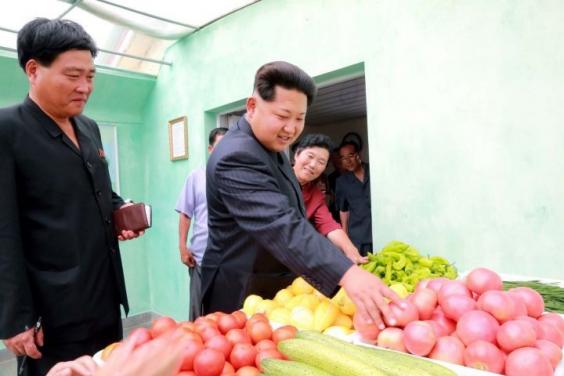 The bizarre story sounds even too extreme for the heavy-handed and authoritarian North Korean state, but Professor Remco Breuker, an expert in Korean studies at Leiden University in the Netherlands, told The Independent that it's likely the story is true.
"There's a good chance this happened," he said.
"It's obviously very extreme and sounds unthinkable, but that doesn't mean it didn't happen."
While it is difficult to verify North Korean news stories due to the nation's closed and secretive nature, Professor Breuker said he was confident that this particular report is true.
One source from inside the country said: "Some parts of the farm weren't able to receive water in a timely manner because of the lack of electricity. That fact in conjunction with the food shortages caused all the baby terrapins in the facility to die."
"Because it was the babies that ended up dying and not the adult ones, had someone within the ranks tried, the manager probably would have evaded execution," the source said, though they added that the execution likely would have happened either way in order to "set an example".