The former chef to Kim Jong-un's father believes that the current supreme leader of North Korea's penchant for sushi and expensive champagne is behind his widely-reported 'weight gain'.
Recently-released photos, which seemed to indicate the dictator's girth has increased, prompted debate around the world. One of CNN's two in-studio experts suggested that Kim's apparent weight gain was a result of there being "nobody there to tell him to say no".
Kenji Fujimoto, who released the memoir I was Kim Jong-il's Cook based on his 13 years in the former leader's service, has finally been able to shed light on what could be behind the expanding waistline of Kim Sr's sucessor.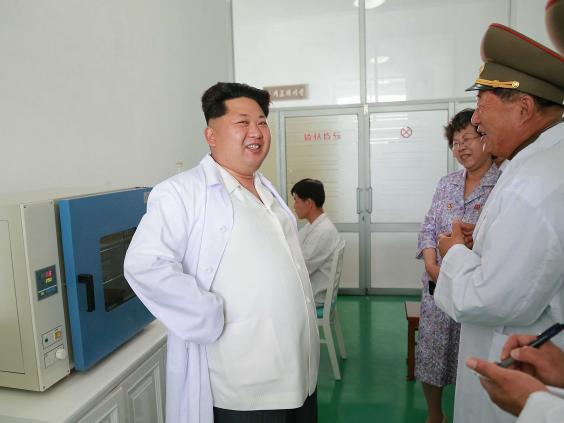 Fujimoto told the Mail Online: "I used to make sushi for the General (Jong-il) at least once a week and Jong-un always joined the dinner. So I could say Jong-un liked sushi."
But it's not all down to raw fish. The chef also said: "He drank a lot. His favourite was Cristal, usually about two bottles [in a sitting]."
Fujimoto also indicated that shark fin soup, a dish which is illegal in the UK, was served during a lavish banquet that he was invited to in 2012.
Cristal, which was referenced so often by rappers such as P.Diddy and Snoop Dogg that the company who produces it moved to distance the brand from hip-hop culture, has a retail price of around £125 per bottle in the UK.
There were concerns over Kim's health last year after the 32-year-old was not seen in public in North Korea for more than a month following reports of ankle surgery.
However, as rumours circulated that the supreme leader was suffering from gout, the country's ambassador to the UK declared that he is healthy.
Since assuming the leadership of North Korea in 2012 Kim has been notable for his ruthless political purges and, in a similar manner to his father, for the feats that he has reportedly achieved.
Kim Jong-un's hair - a gallery
Kim Jong-un's hair - a gallery
1/9 Kim Jong-un's hair

Kim Jong-un's new look in February featured a bouffant hairstyle and over-plucked eyebrows

KCNA

2/9 Kim Jong-un's hair

The style got steadily less floppy over winter 2014-15

AFP

3/9

Kim Jong-un waves after watching a military parade in honour of the 100th birthday of the late North Korean leader Kim Il-Sung in Pyongyang on April 15, 2012.

Ed Jones/AFP/Getty Images

4/9

Kim Jong-un gives an address during the eighth conference of the ideological officials of the Workers' Party in Pyongyang.

EPA/Rodong Sinmun

5/9

Kim Jong-un greets pilots

AFP/Getty

6/9

Kim Jong-un visits the Kim Il Sung University of Politics to take part in the election of a deputy to the Supreme People's Assembly.

Reuters

7/9

Kim Jong-un waves to supporters.

AFP/Getty

8/9

Kim Jong-un reacts to participants of the 8th conference of the ideological officials of the Workers Party of Korea (WPK) in Pyongyang.

9/9

Kim Jong-un visits the November 2 Factory at an unknown place in North Korea.
Recently, Kim criticised a turtle factory for 'serious shortcomings' after it failed to produce lobsters, a week after he allegedly executed his foreign minister. According to reports, school children in North Korea are to be taught that the supreme leader learned to drive at the age of three.
Before his death, state media reported that Kim's father bowled a perfect 300 in his first match and that he scored five holes in one in his first round of golf.
Reuse content