The stepson of the Pakistani woman stoned to death in front of Lahore's High Court has told how he tried to protect her.
Mohammed Aurangzeb, 22, said he was with Farzana Parveen and his father, Mohammed Iqbal, on the way to testify against her family's claims that she had been abducted when the attack started.
"She screamed to me: 'They're going to kill me!'," he told the Sunday Times.
"I replied to her, 'Mother, don't worry, I will not let that happen to you,' but then I blacked out and when I woke up she was dead."
Mr Aurangzeb was also beaten in the brutal attack, where police and eyewitnesses said 25-year-old Farzana was bludgeoned with bricks by an angry crowd including family members.
She married her 45-year-old husband for love, against her family's wishes, and was three months pregnant with their first child when she was killed.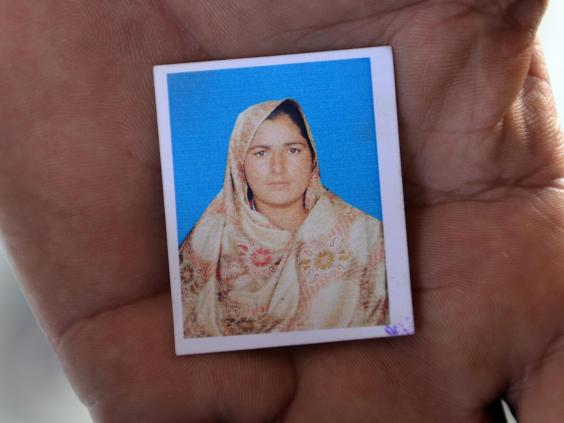 Relatives had arranged for her to marry a cousin and filed the abduction case against Mr Iqbal when he reportedly refused to pay an increased dowry.
Farzana's father reportedly surrendered after the incident and called the murder an "honour killing", saying she had insulted his family by marrying without their consent and he had "no regret".
But on Saturday, Farzana's elder sister claimed her husband was behind the murder.
"I was present at the scene and when she came out of the lawyer's chamber and as soon as she saw us standing on the other side of the road, she rushed towards us. Iqbal and his accomplices chased her and hit her with bricks."
Mr Iqbal said they married for love in January and later admitted killing his first wife in 2009 during an argument about Farzana.
He was jailed for six months and pardoned by her family under Pakistan's blood money system.
His son, Mr Aurangzeb, told The Sunday Times he was angry after his mother's murder but grew to respect Farzana.
Police have arrested five people including Farzana's father.
Officials have denied claims that armed police outside the court ignored pleas to defend the woman, allegedly saying it was not their job.
The brutality of the murder outside a court of law where she should have been safe has drawn international condemnation, including from the United Nations.
Reuse content