A British woman is among four Western tourists facing months behind bars in Malaysia accused of "upsetting the gods" and causing a lethal earthquake by posing naked at the top of Mount Kinabalu.
The group, which includes 24-year-old Briton Eleanor Hawkins, two Canadians and one Dutch man, appeared in court in Malaysia's Sabah state. Local police say they may be charged with obscenity offences, which carry a maximum penalty of three months in prison.
According to her LinkedIn profile, Ms Hawkins was educated at the independent Ockbrook school in Derbyshire. She graduated from the University of Southampton last year with a masters in aerospace engineering.
Her father Tim Hawkins, who spoke with her on the phone, said his daughter was "scared and shocked" to be locked up.
"I'd like to appeal to the Malaysian authorities to punish the crime and not take into account the unfortunate and tragic circumstances that followed it - because they are not related," he told the Daily Mirror."
According to Sabah state police chief Jalaluddin Abdul Rahman, his officers have obtained a court order to detain the tourists for four days while they are investigated for indecent behaviour.
The Dutch holidaymaker and Canadian siblings Lindsey and Danielle Petersen surrendered at a police station in Sabah on Tuesday evening.  Ms Hawkins was arrested at Tawau airport in Sabah while trying to fly on to Kuala Lumpa on the same day.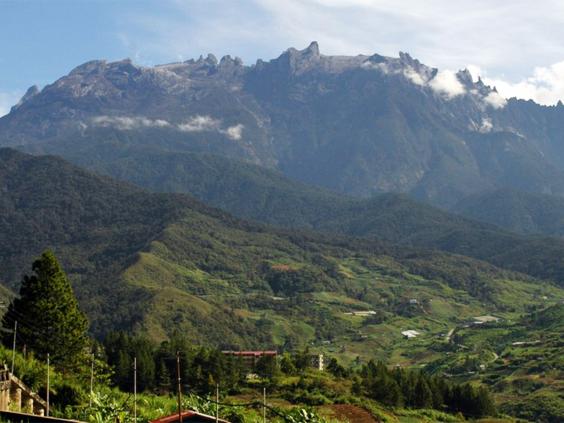 The tourists are believed to be have been among a group of 10 hikers who stripped naked before taking photos at the top of the mountain, on the island of Borneo, on May 30. Local media sources reported that the group were also seen urinating on the mountain, which is considered sacred by the Sabah state's Kadazan Dusan tribe.
Sabah Deputy Chief Minister Joseph Pairin Kitingan last week blamed the tragedy on the foreigners  for showing "disrespect to the sacred mountain" by posing naked at the peak. He added that a special ritual will be conducted to "appease the mountain spirit".
Lawyer Ronny Cham, who is representing the four Westerners, told the BBC that he had requested they be held apart from other detainees in order to ensure their safety.
The group appeared in court on 10 June to have their remand extended. They will now be held until 13 June while police continue their investigation.
When Mount Kinabalu was hit by a magnitude 6.0 earthquake on 5 June, large rocks and boulders tumbled down the 4,095 metre-high mountain, leaving 18 people dead.  The victims were nine Singaporeans, six Malaysians, a Filipino, one Chinese and one Japanese citizen.
The mountain is believed by the Kadazan Dusun tribe to house the spirits of their dead ancestors and climbers are advised to treat the mountain with respect accordingly.
Images of the group displayed on social media have sparked controversy in the strictly conservative Muslim country, with some Facebook users threatening to kill the climbers.
Reuse content