A Californian man recently sentenced to six years hard labour in a North Korea prison was trying to make a name for himself as the 'second Snowden', the country has claimed.
American Matthew Miller, 25, was found guilty last Sunday of entering the country illegally in April to commit espionage.
The state-owned Korean Central News Agency (KCNA) asserted that Miller's attempt to seek refuge in the country was a ruse and that he had pre-prepared a story claiming he could reveal sensitive information on US' military operations in South Korea.
KCNA said: "He perpetrated the above-said acts in the hope of becoming a 'world famous guy' and the 'second [Edward] Snowden' through intentional hooliganism."
In pictures: The future of North Korean architecture?
In pictures: The future of North Korean architecture?
1/12

This 'Bird's Nest' villa is designed to build relationships between people.

2/12

This hotel, built on the West Sea Barrage in Nampo, would use natural ventilation provided by the river for cooling.

3/12

The interior of the 'Bird's Nest' villa, which is light, airy open space - perfect for socialising.

4/12

These conical structures are based on mountain ranges.

www.koryogroup.com

5/12

This Millennium Bridge-like structure is designed to make you feel as if you are walking on clouds that connect the mountains.

6/12

This treelike hotel is designed to blend in with mountains.

7/12

This 'Bird Nest' riverside guest house is based on traditional Korean style.

8/12

The interior of the 'Bird Nest' riverside guest house imitates natural forms, such as cave interiors.

9/12

This ariel hotel room is designed to allow guests to experience nature.

10/12

This energy-efficient train would run slowly among scenic routes.

11/12

The style for this co-operative is reminiscent of a traditional Korean hand wheel, used to produce silk.

12/12

This mobile home would be able to hover and land on water.
"This is an intolerable insult and mockery of the DPRK [Democratic People's Republic of Korea] and he, therefore, deserved punishment."
Mr Miller had been accused to tearing up his tourist visa as he entered the country earlier this year with the sole purpose of going to prison and experiencing the insulated state's human rights records.
In a news article posted online, KCNA added: "The results of the investigation made it clear that he did so not because of simple lack of understanding and psychopathology but deliberately perpetrated such criminal act for the purpose of directly going to prison after being intentionally reprimanded by a legal organ of the DPRK, pursuant to the present US administration's anti-DPRK campaign, spying on 'human rights' performance and making it known to the world."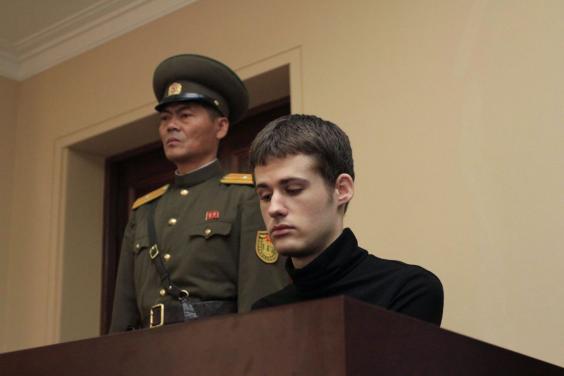 Miller, from Bakersfield in central California, also wanted to meet another jailed American, state media said – the US missionary Kenneth Bae, 46, who was given 15 years in a North Korean labour camp in 2013 for what the courts said was his part in helping to stir up politically dissenting groups while acting as a tour guide in the country.
According to North Korea, Miller wanted to collaborate with Bae in prison so that they could disclose "the 'human rights' situation in the DPRK after leaving".
The state said: "Prompted by the intention to refurnish his image before finding his way to 'prison' he had prepared a memo book in advance. It contained the following sentences: 'I seek a political asylum. I am seeking refuge after failing in my attempt to collect information about the US Government. I am planning to open to public information like Snowden.'
"He, at the same time, prepared iPad and iPod he claimed containing [sic] important information about the military bases of the US imperialist aggressor forces in south Korea which he gathered by having access to internet and papers containing invectives against the north let loose by defectors from the north he obtained by visiting them."
Miller was described as being unemployed while he resided in Seoul, South Korea, where he also allegedly displayed "inveterate hostility towards the DPRK".
Just days after his imprisonment, an American man was arrested by South Korean authorities are attempting to swim across a river in a bid to meet North Korean leader Kim Jong-un.
The unnamed man is reportedly in his late 20s/early 30s and cames from Texas.
Reuse content