The hunt for missing Malaysia Airlines Flight MH370 will shift further south in the Indian Ocean, Australian authorities said on Thursday, ushering in yet another new phase of the long, costly and so far fruitless search.
The Boeing 777, carrying 239 passengers and crew, disappeared on March 8 shortly after taking off from Kuala Lumpur bound for Beijing.
Investigators say what little evidence they have to work with suggests the aeroplane was deliberately diverted thousands of kilometres from its scheduled route before eventually plunging into the Indian Ocean.
The search was narrowed in April after a series of acoustic pings thought to be from the plane's black box recorders were heard along a final arc where analysis of satellite data put its last location.
But a month later, officials conceded the wreckage was not in that concentrated area, some 1,600 km (1,000 miles) off the northwest coast of Australia, and the search area would have to be expanded.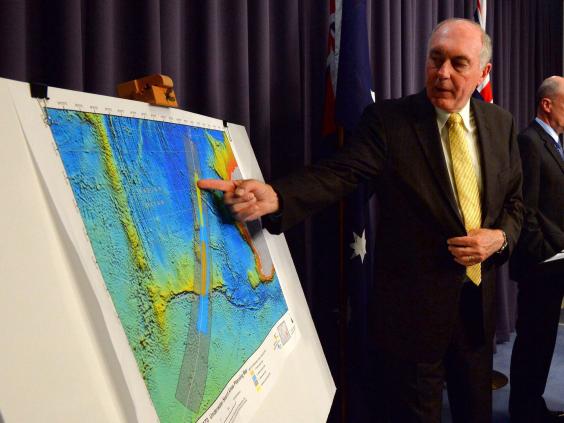 "The new priority area is still focused on the seventh arc, where the aircraft last communicated with satellite. We are now shifting our attention to an area further south along the arc," Australian Deputy Prime Minister Warren Truss said.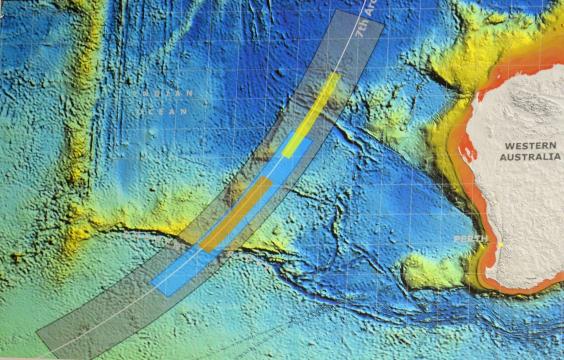 Truss said the new priority search area was determined after a review of satellite data and early radar information as the plane suddenly diverted across the Malaysian peninsular and headed south into one of the remotest areas of the planet.
"It is highly, highly likely that the aircraft was on autopilot otherwise it could not have followed the orderly path that has been identified through the satellite sightings," Truss told reporters in Canberra.
VIDEO: Relatives of missing passengers still seeking answers
Two vessels, one Chinese and one from Dutch engineering company Fugro are currently mapping the seafloor along the arc, where depths exceed 5,000 metres in parts.
In pictures: Theories that could explain what happened to MH370
In pictures: Theories that could explain what happened to MH370
1/10 Shot down in a military training exercise

While the Australian officials leading the search for MH370 say they remain "absolutely convinced" it ended up in the southern Indian Ocean, some passengers' families – and theorists – distrust the unprecedented satellite data analysis involved. Among those who support this view are the British journalist and author Nigel Cawthorne, who has controversially already published the first book on the plane's disappearance. e supports one theory, based on the eye-witness testimony of New Zealand oil rig worker Mike McKay, that the plane was shot down shortly after it stopped communicating with air traffic controllers. At the time there was a series of war games taking place in the South China Sea involving Thailand, the US and personnel from China, Japan, Indonesia and others, and Cawthorne has linked this to Mr McKay's claims to have seen a burning plane going down in the Gulf of Thailand.

2/10 Stolen by Putin

Jeff Wise, a private pilot and science writer, claims he has evidence that the plane made its way to the Baikonur Cosmodrome in Kazakhstan, which is run by Russia as its largest space launch facility. He claims Vladimir Putin ordered Russian special forces to hijack MH370 and fly it to the spaceport, but admits he has 'no idea' why the Russian president would want to do such a thing

Getty Images

3/10 Flown north and shot down deliberately, prompting cover-up

At a stage in the investigation when it was believed the plane could have flown for some time from where it disappeared along either a northern or southern corridor, many posted on forums suggesting that if it had been the former we would never hear about what happened. Some still support this view, and former RAF navigator Sean Maffett told the BBC that after 9/11, any unidentified airliner entering the airspace of another country would lead to fighter jets being scrambled. "If the plane is in the northern arc it could easily have been shot down," he said. This theory also involves a national – or possibly international – cover-up, based on the premise that no country would want to admit to shooting down an airliner full of passengers from all over the world.

4/10 Tried to land on a desert island beach

After reports that the plane had turned left shortly following its disappearance from civilian radar screens, speculation grew that it could have landed on a remote beach somewhere like the Andaman Islands, which lie between Indonesia and the coast of Thailand. Though CNN reported that locals dismissed the idea a Boeing 777 could land on an airstrip there undetected, the archipelago consists of hundreds of remote islands with some long stretches of sand. Former BA pilot Steve Buzdygan said it would be difficult – but not impossible – to bring a 777 down on a long deserted beach.

AP

5/10 Landed at a US military base

One of the more outlandish conspiracy theories that has gained some traction online is the idea that MH370 could have been "captured" and flown to a military base on the UK-owned tropical atoll of Diego Garcia, in the middle of the Indian Ocean. The base is run by the US, and some have reportedly said in forum postings that the Kremlin has put some credence into this possibility. Such is the strength of belief in this theory that the US government has been forced to issue a denial. A spokesperson for the US embassy in Malaysia told the local Star newspaper that there was "no indication that MH370 flew anywhere near the Maldives or Diego Garcia". "MH370 did not land in Diego Garcia," he added.

Nasa

6/10 Headed for a remote airport in Langkawi, Malaysia

One theory, put forward by another aviation blogger named Chris Goodfellow, has it that the sudden left turn came after major catastrophe knocked out a range of the plane's electronics, from transponders to communications equipment. In this scenario and in the middle of the night, Goodfellow argued, the pilot would redirect towards the nearest safe airport. "This pilot did all the right things," he said. "Actually he was taking a direct route to Palau Langkawi, a 13,000ft (4,000m) strip with an approach over water at night with no obstacles. He did not turn back to Kuala Lumpur because he knew he had 8,000ft ridges to cross. He knew the terrain was friendlier towards Langkawi and also a shorter distance." This theory assumes that the plane was in fact controlled manually once it disappeared – and that it did not make it to Langkawi.

7/10 An explosion in the cockpit

The theory of a sudden explosion within the cockpit before the turn left could explain why there was no attempt to signal for help. Since 9/11 cockpits doors have been fortified to become extremely difficult to bypass, and such a sudden incident could perhaps have incapacitated both pilots while keeping out the rest of the crew. This explanation does not seem to tally with the claims of some Malaysian officials, however, that the change in direction was the result of "seven or eight keystrokes into a computer on a knee-high pedestal between the captain and the first officer".

8/10 A struggle at altitude

Though Malaysian officials believe that the plane was deliberately diverted, and that its communications systems were turned off one after the other, a detailed background check into all 227 passengers has cleared all of suspicion. If, however, we do accept that the plane was the subject of a passenger hijacking, it remains to be explained why the hijackers did not try to do more than fly the plane into the middle of the southern Indian Ocean. One theory suggests that there was some kind of struggle for control of the plane that ultimately ended with mutual destruction. Further analysis of data by Malaysian officials suggests that the plane was flown erratically once it left civilian radar, climbing to 45,000ft before dropping very low. Buzdygan told the BBC he would resort to this sort of flying if faced with would-be hijackers. "I'd try to disorientate and confuse the hijackers by throwing them around," he said.

Getty Images

9/10 Pilot suicide

As part of the ongoing criminal investigation in Malaysia, police are looking into the state of mind and possible motives of the captain Zaharie Ahmad Shah and co-pilot Fariq Abdul Hamid. The Malaysian police chief Khalid Abu Bakar has said that "all possibilities" will be looked into, and there have been reports that Shah was going through a difficult marriage break-up.Yet such comments have been rubbished by the man's relatives, who have described him since as a dedicated family man and model professional. Hugh Dunleavy, the commercial director of Malaysia Airlines, described Shah as a seasoned pilot with an excellent record. "There have been absolutely no implications that we are aware of that there was anything untoward in either his behaviour or attitude," he told Reuters. "We have no reason to believe that there was anything, any actions, internally by the crew that caused the disappearance of this aircraft."

10/10 A CIA cover-up

Finally, the former prime minister of Malaysia Mahathir Mohamad has waded in with his own theory – suggesting that, one way or another, the CIA is definitely hiding something. In a blog entry posted on 18 May entitled 'Boeing Technology – What goes up must come down', Dr Mahathir Mohamad makes ten claims including that the plane was taken over remotely by officials working for Boeing and the CIA. The plane is somewhere, maybe without MAS markings," reads Dr Mohamad's post on chedet. "Someone is hiding something. It is not fair that MAS and Malaysia should take the blame," 88-year-old Dr Mahathir, who was Malaysia's prime minister between 1981 and 2003, alleges. "Airplanes don't just disappear," he said, concluding: "For some reason the media will not print anything that involves Boeing or the CIA. I hope my readers will read this." Boeing have denied Dr Mohamed's theory.

HENNY RAY ABRAMS/AFP/Getty Images
The next phase of the search mission is expected to start in August and take a year, covering some 60,000 sq kilometres of ocean at a cost of A$60 million ($56 million) or more. The search is already the most expensive in aviation history.
Reuters