China's military spending will rise by 12.2 per cent this year, officials have announced at an annual meeting of government leaders.
The budgeted $132bn (£79bn) in spending comes after a year in which President Xi Jinping has consolidated considerable power domestically and adopted an aggressive posture in foreign policy, particularly in territorial conflicts with Japan and Southeast Asian countries.
On Tuesday, before the budget's release, a government spokeswoman, Fu Ying, rejected equating increased military spending with a more aggressive Chinese military. "China's national defence power is defensive in nature," she said.
Last year, China expanded its military by 10.7 per cent, making clear its national priorities even in the face of slower economic growth.
The increase follows a nearly unbroken run for the past two decades of double-digit hikes in the Chinese defence budget, which is second only to that of the United States in size.
"This is worrying news for China's neighbours, particularly for Japan," said Rory Medcalf, a regional security analyst at the independent Lowy Institute in Sydney.
Those who thought Mr Xi might prefer to concentrate on domestic development over military expansion in a slowing economy had "underestimated the Chinese determination to shape its strategic environment", he added.
The 2014 defence budget is the first for Mr Xi, the "princeling" son of a late Communist Party elder, and the increase appears to reflect his desire to build what he calls a strong, rejuvenated China.
Mr Xi also recently urged China's military leadership to work faster to get the country's sole aircraft carrier combat-ready.
Within hours of the announcement, officials in Japan and Taiwan expressed disquiet over the absence of any details on how Beijing will spend the money, concerns long echoed in Washington.
China and Japan, a key US ally in the region, are increasingly locking horns over uninhabited rocky islands each claims in the East China Sea.
China's military is not made up of "boy scouts with spears", the Chinese Foreign Ministry spokesman Qin Gang told a briefing in response to Japan's criticism. "Some foreigners always expect China to be a baby scout," Mr Qin said. "In that way, how can we safeguard national security and world peace?"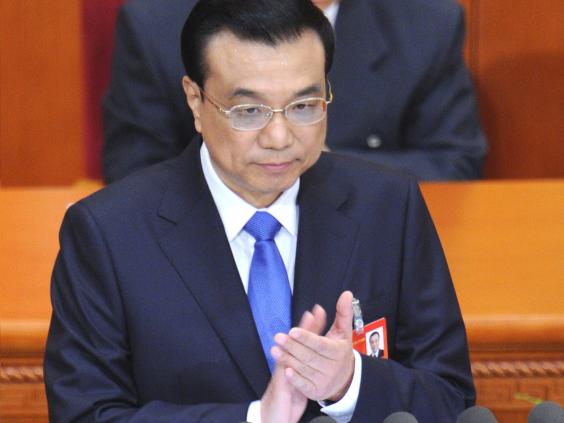 Beijing also claims 90 per cent of the South China Sea, which is believed to be rich in oil and gas. The Philippines, Vietnam, Malaysia, Brunei and Taiwan claim parts of those waters.
Speaking at the opening of China's annual session of parliament, Premier Li Keqiang said the government would "strengthen research on national defence and the development of new- and high-technology weapons and equipment" and "enhance border, coastal and air defences".
"We will comprehensively enhance the revolutionary nature of the Chinese armed forces, further modernise them and upgrade their performance, and continue to raise their deterrence and combat capabilities in the information age," Mr Li told the largely rubber-stamp National People's Congress.
Chinese leaders also unveiled their projection for China's economy to grow by 7.5 per cent in 2014, unchanged from the previous two years' targets. The relatively modest projection after decades of runaway growth suggests that Chinese leaders are continuing to focus on growth in gross domestic product but also beginning to prioritise economic sustainability, environmental concerns and social stability.
It is the first full meeting of China's lawmakers since Mr Xi outlined a wide-reaching plan for economic and social reforms last year. Experts are closely watching this year's congress, which lasts until 13 March, for clues about how and how far the party plans to carry out those promised reforms – to liberalise financial markets, rein in its powerful state-owned enterprises and tackle pollution, corruption and local government debt – especially in the face of considerable resistance and obstacles.
In November, China's new leaders announced their most sweeping package of economic, social and legal reforms in decades, including a relaxation of the country's "one-child" policy and the scrapping of the much-criticised system of labour camps.
The promised reforms suggested a new vision of China's future as a country still firmly under the grip of the Communist Party but increasingly driven by market forces and willing to sacrifice continued, breakneck, economic growth for more sustainable growth and environmental concern.
While Mr Xi has asserted himself in varied ways as the unquestioned leader, the reports and speeches were delivered by Premier Li Keqiang, following tradition.
All such reports, however, are "based on the consensus and compromise between the  rime Minister and the Chairman," said Mao Yushi, a well-known liberal economist in China. "So it is no surprise that you will see a lot of influence of Xi in Li Keqiang's report."
In recent months, China's top government think-tanks have debated whether the country's economic growth target for 2014 should stay at 7.5 per cent or drop to 7 per cent. Many who are urging a lower growth target argued that it is necessary in order to focus on executing much-needed reforms.
China's economic growth in the past year, while strong compared with that of many developed countries, is close to its slowest pace since the Asian financial crisis of the 1990s.
After a year-long anti-corruption campaign begun by Mr Xi, government organisers made this year's gathering more austere. Delegates will eat cheaper buffet meals without any liquor, according to a government spokeswoman, in a nod to leaders' recent emphasis on frugality and anti-corruption.
©The Washington Post/Reuters
Reuse content