Indonesia's Mount Sinabung has erupted, spewing burning gas and rock up to 10,000 feet (3,000 metres) into the sky.
No one was evacuated, Government officials told Xinhua news agency, but people living on its slopes are on alert.
Sunday's eruption was one of several potentially deadly pyroclastic flows within days, caused by the collapse of the dome of solid lava on top of the crater.
In February, a pyroclastic ash cloud killed almost 20 people who could not escape the fast-moving current, which can reach speeds up to 450mph and usually travels downhill.
The 8,530ft volcano, in North Sumatra, started erupting four years ago after lying dormant for hundreds of years and has been particularly active in recent months.
More than 4,000 people who were evacuated from nearby homes during earlier eruptions are still living in emergency shelters and more are in temporary homes.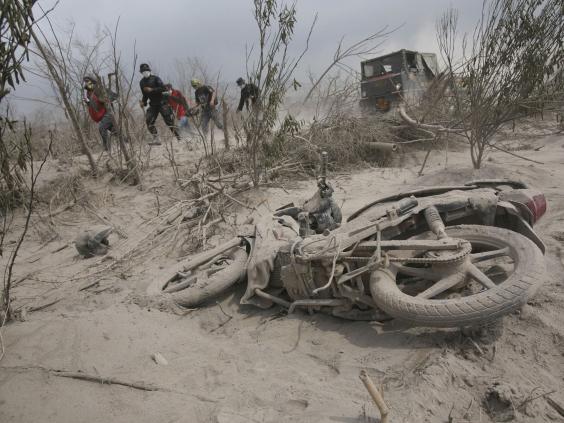 The Government is relocating some villages permanently because they are too close to the summit of Mount Sinabung but people are still attracted to its slopes for the fertile soil used for farming.
Mount Sinabung erupts again
Mount Sinabung erupts again
1/8 Mount Sinabung

Walking backwards, this photographer captures another shooting the scene

2/8 Mount Sinabung

A man stands and watches as ash spills from Mount Sinabung

3/8 Mount Sinabung

People flee the eruption

4/8 Mount Sinabung

Chickens perch delicately among ash-covered foliage in January

5/8 Mount Sinabung

A man watches the volcano erupt back in January

6/8 Mount Sinabung

Beautiful but deadly: Ash gathers in the air over a village in January

7/8 Mount Sinabung

A villager runs past as Mount Sinabung erupts

8/8 Mount Sinabung

A boy hugs his mother as Sinabung erupts behind them in January
Indonesia is prone to seismic activity due to its location on the Pacific "Ring of Fire," an arc of volcanoes and fault lines.
Mount Sinabung is among about 130 active volcanoes in the country.
Reuse content