North Korea has accused South Korea of making a "dangerous declaration of war" by suspending operations at an industrial park where the two countries previously co-operated.
Pyongang vowed to immediately deport hundreds of South Korean workers from the city of Kaesong, which lies in its territory across the heavily militarised border.
State media reported that tens of thousands of North Korean employees would also be pulled out, with South Korean assets frozen and cross-border communications shut down.
Kim Jong-un's "Committee for the Peaceful Reunification of Korea" (CPRK) issued a statement through state media targeting the US and the "South Korean puppet group".
Operations at Kaesong were suspended on Wednesday in response to the North's recent rocket launch, with officials in Seoul saying they wanted to cut profits used for nuclear and missile development.
"The recent provocative measure is a declaration of an end to the last lifeline of the north-south relations, total denial of the June 15 North-South Joint Declaration and a dangerous declaration of a war driving the situation in the Korean Peninsula to the brink of a war," the CPRK said.
"Hit hard by this action are entrepreneurs and people of south Korea and it is the Park Geun-hye group of traitors who should pay a dear price for it."
The statement launched a series of crude insults at the South Korean president, accusing her of "inveterate sycophancy" and "confrontational hysteria" at the behest of American "prodding".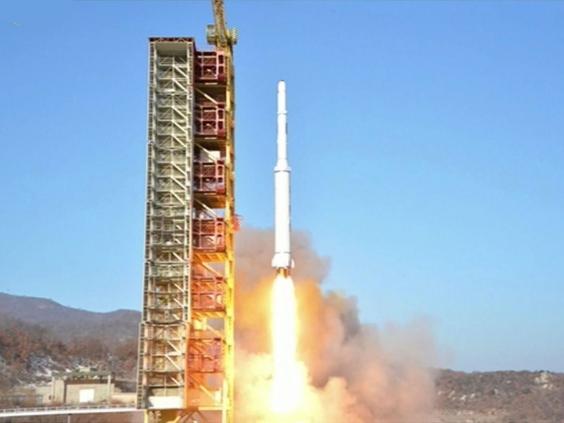 "As the south Korean people are condemning the above-said action with indignation, the total suspension of the operation in the KIZ is little short of an act of dropping an axe on one's own foot," the propaganda announcement added.
It repeated the North's claims that its long-range rocket launch on Saturday was to launch a satellite, and the previous alleged hydrogen test exercised the "legitimate right" to self-defence.
Calling South Korea's action "unpardonable", the CPRK said the border would be shut from Thursday morning, roads in the area closed and put under military control, have South Koreans deported and companies' assets frozen.
"The south Korean puppet group will experience what disastrous and painful consequences will be entailed by its action," it added.
Dozens of lorries were seen returning south over the border on Thursday, laden with goods and equipment, and workers were leaving.
Some South Koreans had left Kaesong before the North's announcement but South Korean officials weren't certain whether all its nationals had departed by Pyongyang's deadline at 5.30pm (9am GMT), or what would become of anyone who failed to leave in time. 
The South's Unification Ministry said about 130 South Koreans had planned to enter Kaesong on Thursday to begin shutdown work and that nearly 70 who had been staying there would be departing.
Thousands of North Koreans are also being pulled out of Kaesong, which was a vital symbol of fragile co-operation between the two countries, who have technically been at war since their creation at the end of the Korean War in 1953.
The factory park, which started producing goods in 2004, has provided 616 billion won (£355 million) of cash to North Korea, South Korean Unification Minister Hong Yong-pyo said. 
Combining the South's capital and technology with the North's cheap labour, the industrial park has been seen as a test case for reunification. 
In pictures: North Korea hydrogen bomb test
In pictures: North Korea hydrogen bomb test
1/15

Officers from the Korea Meteorological Administration point at the epicenter of seismic waves in North Korea, at the National Earthquake and Volcano Center of the Korea Meteorological Administration in Seoul

2/15

Officers of the Korea Meteorological Administration check seismic waves that were measured in South Korean cities, at the Korea Meteorological Administration center in Seoul

3/15

A lab employee from the Korea Institute of Nuclear Safety's regional office in Gangneung, east of Seoul, checks for radioactive traces in the air, in Gangneung, soon after North Korea announced it successfully conducted a hydrogen bomb test. The office in Gangneung is the closest one to the site of the North's claimed test. Officials said it will take three to four days to analyze air samples in detail for any traces of radioactivity, the Yonhap news agency reported

EPA

4/15

5/15

South Korean President Park Geun-Hye (C) speaking as Foreign MInister Yun Byung-Se (2nd R) listens during an emergency meeting of the National Security Council at the presidential Blue House in Seoul, South Korea

6/15

North Korean leader Kim Jong-Un signing a document of a hydrogen bomb test in Pyongyang

7/15

People watch a TV news program showing North Korea's special announcement at the Seoul Railway Station in Seoul, South Korea

AP

8/15

Getty Images

9/15

Getty Images

10/15

South Korean Foreign Minister Yun Byung-Se (R) talks with US Ambassador to South Korea Mark Lippert (C) and US General Curtis Scaparrotti (L), Commander of the US Forces Korea, during their meeting following North Korea's hydrogen bomb test at the Foreign Ministry in Seoul. North Korea said it had carried out a "successful" miniaturised hydrogen bomb test - a shock announcement that, if confirmed, would massively raise the stakes in the hermit state's bid to strengthen its nuclear arsena

11/15

Hua Chunying, spokeswoman of China's foreign ministry, speaks at a regular press conference at the Ministry of Foreign Affairs in Beijing. China's foreign ministry spokeswoman Hua Chunying told reporters that China 'firmly opposes' the first hydrogen bomb test claimed by North Korea while maintaining that they did not have prior knowledge of the test

12/15

South Korean people watch TV news at Seoul station

EPA

13/15

Japan's meteorological agency officer Yohei Hasegawa displays a chart showing seismic activity, after a North Korean nuclear test, at the agency in Tokyo

Getty Images

14/15

Ko Yun-Hwa, administrator of Korea Meteorological Administration, briefs reporters showing seismic waves from the site of North Korea's hydrogen bomb test, at his office in Seoul

Getty Images

15/15

North Korea's border county of Kaepoong is seen from a South Korean observation post in Paju near the Demilitarized zone dividing the two Koreas as North Korea announced it had successfully carried out its first hydrogen bomb test

Getty Images
It was the only place to officially allow people from both Koreas to interact and have a glimpse into each other's lives and sparking the smuggling of South Korean snacks and food. 
Last year, 124 South Korean companies hired 54,000 North Korean workers to produce socks, wristwatches and other goods worth about £350 million. 
In a statement, the association of South Korean companies in Kaesong denounced the government's decision as "entirely incomprehensible and unjust." 
Yoon Sang-eun, 62, a South Korean driver for a firm at the factory park, said that if Kaesong "stops operating, companies like us almost have to close off business. It is difficult." 
But the US supported the shutdown by its ally and said it was considering its own, unspecified "unilateral measures" to punish Pyongyang for its recent nuclear test and rocket launch, even as the UN Security Council deliberates imposing more multilateral sanctions. 
South Korea previously pulled workers from Kaesong for five months in 2013 following a series of military drills.
Additional reporting by agencies