North Korea claims it has successfully tested an "H-bomb of justice" that could be loaded on to a missile, spreading shockwaves around the world.
The country's state news agency KCNA said Kim Jong-un ordered the test at 10am local time on Wednesday (1.30am GMT) as part of the "all-out charge to bring earlier the final victory of the revolutionary cause of Juche (North Korean ideology)".
The claim could not be immediately verified but the United States Geological Survey reported a 5.1 magnitude quake that South Korea said was 30 miles from the Punggye-ri site where its neighbour has conducted nuclear experiments in the past.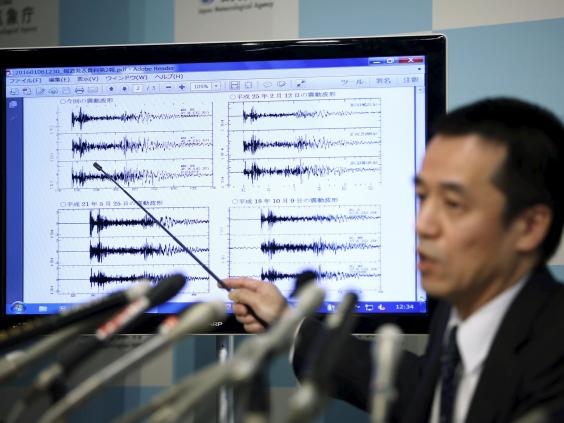 Although the miniaturised bomb would be North Korea's fourth nuclear test, it could be its first hydrogen weapon – marking a significant advance in its technology and attack capabilities.
A Government statement released by KCNA hailed it as a "world startling event" that marked "a higher stage of the DPRK's development of nuclear force".
"It was confirmed that the H-bomb test conducted in a safe and perfect manner had no adverse impact on the ecological environment," the statement continued.
"The DPRK is a genuine peace-loving state which has made all efforts to protect peace on the Korean Peninsula and security in the region from the US vicious nuclear war scenario.
"The DPRK, a responsible nuclear weapons state, will neither be the first to use nuclear weapons nor transfer relevant means and technology under any circumstances as already declared as long as the hostile forces for aggression do not encroach upon its sovereignty."
The UN Security Council is planning to hold an emergency meeting to discuss the reported experiment, which has provoked alarm in the region and around the world.
China, one of Pyongyang's few historic allies, said it did not have advance knowledge of the weapon and said it firmly opposed the action and would work towards denuclearisation with the international community.
The Foreign Secretary, Philip Hammond, was in Beijing today on a two-day visit and said he and his Chinese counterpart had agreed to work with the UN Security Council on a "robust international response".
"If a nuclear device has been detonated by North Korea, this is a grave breach of UN Security Council resolutions and a provocation which I condemn without reservation," he added.
"It underlines the very real threat that North Korea represents to regional and international security.
"We will be working with other UN Security Council members to ensure the international community responds urgently and decisively to this latest activity."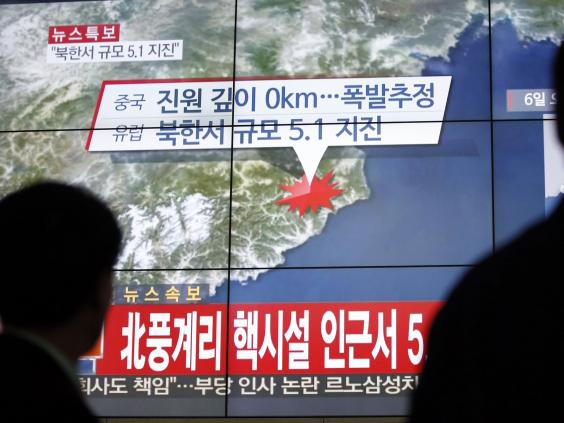 Mr Hammond was due to discuss developments on Wednesday with Japanese and South Korean ministers before travelling to Tokyo later this week.
Kim appeared to claim his country had developed a hydrogen bomb, also known as a thermonuclear device, last month but the US and outside experts were sceptical.
The claim of miniaturising, which would allow the device to be adapted as a weapon and placed on a missile, would pose a new threat.
Pyongyang has been under UN Security Council sanctions due to its nuclear weapons program since it first tested an atomic device in 2006.
North Korea's statement hit out at sanctions, calling the US a "gang of cruel robbers" imposing "political isolation, economic blockade and military pressure".
Which countries have nuclear weapons?
Which countries have nuclear weapons?
1/14 USA

Have nuclear weapons

Getty

2/14 Russia

Have nuclear weapons

Getty

3/14 UK

Have nuclear weapons

Getty

4/14 France

Have nuclear weapons

Getty

5/14 China

Have nuclear weapons

Getty

6/14 India

Say they have nuclear weapons

Getty

7/14 Pakistan

Say they have nuclear weapons

Getty

8/14 North Korea

Say they have nuclear weapons

EPA/Rodong Sinmun

9/14 Israel

Believed to have nuclear weapons

Getty

10/14 Belgium

Nations hosting nuclear weapons

Getty

11/14 Germany

Nations hosting nuclear weapons

Getty

12/14 Italy

Nations hosting nuclear weapons

Getty

13/14 Netherlands

Nations hosting nuclear weapons

Getty

14/14 Turkey

Nations hosting nuclear weapons

Getty
Claiming that the Korean Peninsula and surrounding region was turning into the world's "biggest hotspot" for a potential nuclear war, it dubbed human rights a "racket" and dismissed international opposition as based only on its alternative "social system".
South Korea said it would take all possible measures, including possibly seeking further sanctions, to ensure North Korea's nuclear development was stopped.
"Our government strongly condemns North Korea ignoring repeated warnings from us and the international community and pushing ahead with the fourth nuclear test, which clearly violated the UN resolutions," Cho Tae-yong, a senior security official at the South Korean presidential office said.
The White House said it could not confirm North Korea's claims, but added the US would respond appropriately to provocations and defend its allies, while the Japanese Prime Minister, Shinzo Abe, said the test was a threat to national security.
Britain and China were among the countries supporting the resumption of the "six-party talks" aiming to find a peaceful solution over North Korea's nuclear weapons programmes, including South and North Korea, the US, China, Japan and Russia.
But hopes looked slim as Pyongyang claimed "genuine peace and security cannot be achieved through humiliating solicitation or compromise at the negotiating table".
"Nothing is more foolish than dropping a hunting gun before herds of ferocious wolves," the statement added.
"There can neither be suspended nuclear development nor nuclear dismantlement on the part of the DPRK unless the US has rolled back its vicious hostile policy."
Additional reporting by Reuters
Reuse content