New satellite imagery of activity at North Korea's Yongbyon nuclear facility has raised fears that the pariah state may have restarted plutonium production at the plant.
The US-Korea Institute at Johns Hopkins School of Advanced International Studies (SAIS) said a satellite image taken on 31 August, made public today, appears to show white vapours rising from a building near a hall that houses the plutonium production reactor's steam turbines and electric generators.
"New commercial satellite imagery of North Korea's Yongbyon nuclear facility indicates that Pyongyang is probably restarting its five megawatt gas-graphite plutonium production reactor," SAIS said in a report posted on its website 38 North.
The Yongbyon nuclear plant is at the heart of North Korea's controversial nuclear arms programme. Located about 100 km (60 miles) north of the capital Pyongyang, it facilitates the production of nuclear fuel, an antiquated reactor burns it and plutonium is separated from spent fuel.
The plant is also believed to have various clandestine facilities which focus on weapons designs and uranium enrichment. According to SAIS, the reactor is capable of producing six kilograms of plutonium a year, which can be used by Pyongyang to slowly increase the size of its nuclear weapons stockpile.
The facility was closed down in 2007 as part of a disarmament-for-aid deal, and the cooling tower was destroyed, although not before it produced enough bomb-grade plutonium to make probably between four and 10 nuclear weapons, analysts estimate. The disarmament deal subsequently stalled, partly because the US did not believe Pyongyang was fully disclosing all of its nuclear facilities. As tensions on the Korean Peninsula heightened after Pyongyang staged its third nuclear test earlier this year, the regime of Kim Jong Un vowed to revive the reactor as part of its pursuit of nuclear power status.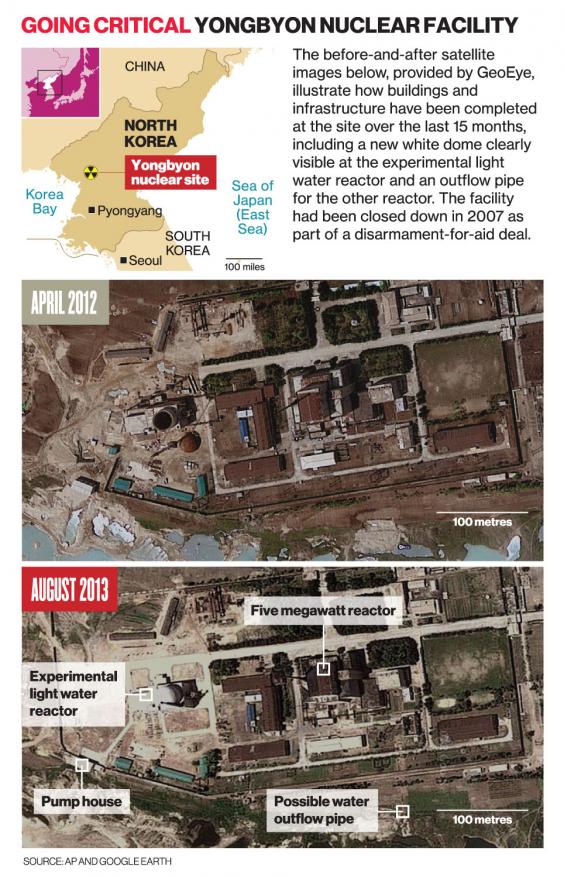 SAIS said that since the North Koreans said they would restart the reactor, work has progressed rapidly over the spring and summer to bring the facility back into operation.
The reactor generates electricity by using the heat from nuclear reaction to create steam that spins the turbines, so the white steam being vented indicates that the reactor is in or nearing operation, according to the report.
Talks involving both Koreas, China, Russia and Japan, aimed at dismantling the North's nuclear arms programmes in exchange for aid haven't been held since late 2008. The US special envoy for North Korea, Glyn Davies, earlier this week ruled out talks resuming unless North Korea showed real signs of reversing its nuclear programmes. He declined to comment on the new reports, saying they were unconfirmed.
"If it turns out these reports are true... it would be a very serious matter... It would violate a series of UN Security Council resolutions," Mr Davies told reporters in Tokyo. The United Nations nuclear watchdog said the situation remained unclear.
"As we don't have inspectors there, we don't have anything for sure," Yukiya Amano, director general of the International Atomic Energy Agency (IAEA), told reporters in Vienna.
Suggestions that Yongbyon may have restarted come amid signs of improving relations between the two Koreas. Last month, the North agreed to restart its industrial complex jointly run with South Korea and to resume reunions of families separated by the 1950-53 Korean War. At the time of going to press, South Korea had not responded to the institute's findings.