North Korea has unveiled a series of hyperbolic, vegetable-themed new slogans aimed at citizens of the hermit kingdom.
The 310 signs were released by the Korean Central News Agency this week to celebrate its 70th anniversary.
Some of the new slogans urge residents to turn North Korea into "a country of mushrooms", where fruit "cascades" down streets, while others focus on striving for sporting success.
One of the more aggressive signs declares: "Should the enemy dare to invade our country, annihilate them to the last man so that none of them will survive to sign the instrument of surrender!"
Some of North Korea's new exclamation-mark heavy slogans as reported by the BBC include:
"Let this socialist country resound with Song of Big Fish Haul and be permeated with the fragrant smell of fish and other seafoods!

"Make fruits cascade down and their sweet aroma fill the air on the sea of apple trees at the foot of Chol Pass!"

"Make all well-informed of the Party's policies as they are of their own family affairs!

"Be constantly on the alert without a moment's relaxation!"

"Play sports games in an offensive way!"
In pictures: Life in North Korea
In pictures: Life in North Korea
1/10 North Korea

Boys play soccer in the town of Hyesan in North Korea's Ryanggang province.

AP

2/10 North Korea

Young North Korean schoolchildren help to fix pot holes in a rural road in North Korea's North Hamgyong province

AP

3/10 North Korea

A group of young North Koreans enjoys a picnic on the beach in Wonsan, North Korea

AP

4/10 North Korea

Portraits of the late North Korean leaders Kim Il Sung and Kim Jong Il are illuminated on a building side as the sun rises over Pyongyang.

AP

5/10 North Korea

North Korean men share a picnic lunch and North Korean-brewed and bottled Taedonggang beer along the road in North Korea's North Hwanghae province.

AP

6/10 North Korea

North Korean people rest next to the railroad tracks in a town in North Korea's North Hamgyong province

AP

7/10 North Korea

A North Korean man pushes his bicycle to a village in North Korea's North Hamgyong province.

AP

8/10 North Korea

North Korean residents walk on a road along a river in the town of Kimchaek, in North Korea's North Hamgyong province.

AP

9/10 North Korea

The remains of lunch sits on a restaurant table in the city of Wonsan, North Korea

AP

10/10 North Korea

Farmers walk in a rainstorm with their cattle near the town of Hyesan, North Korea in Ryanggang province.

AP
Remco Breuker, Professor of Korean studies at Leiden University in the Netherlands, said the slogans were similar to the "on the spot guidance" issued by Kim during his official visits.
"The only thing which is slightly different is that it is linked to the 70th anniversary of the state and workers party," he told The Independent.
He said the hyperbolic language, particularly in relation to North Korea's enemies, is typical of the state. "North Korea is always ready to 'smite its enemies', if you do this wrong or that wrong or if you say something wrong, they are ready to destroy you."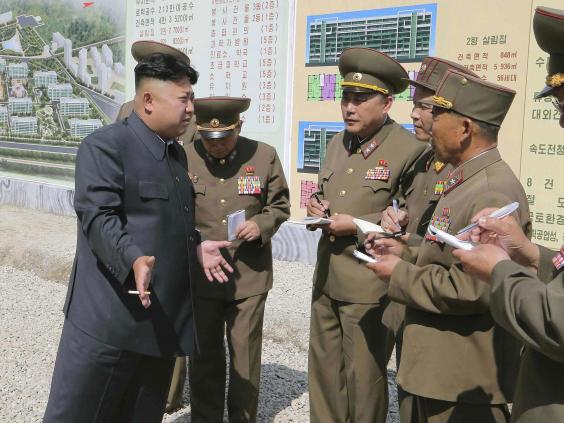 There is a clear focus on technological and scientific advances in the new messages, with the phrase "cutting-edge" appearing repeatedly in slogans such as: "Launch more cutting-edge sci-tech satellites and applications satellites of our style!"
Meanwhile, developing "modernization and scientification" of their weather forecasting services is apparently top of their technological list. Mr Breuker said Kim's focus has been on technology for a while.
"If you see where he goes; he visits housing for scientists and scientific laboratories. My first impression is that this is nothing very fundamental. It's a bit more of a window dressing," he said.
"If your economy is mainly dependent on agriculture then knowing the weather is one of the most important things – although it may also have to do with knowing the right time to lunch rockets and missiles of course.
"The north of North Korea can get very, very cold and they don't have that much land to cultivate because of mountains, so you need to be aware of the weather."
Mr Breuker cautioned that it is important not to read too much into the new messages, but suggested it does say something about political circumstance and mood.
"This would seem to suggest that the North Korean economy is in dire straits, which we already knew, and that something needs to be done about food production and developing scientific technology to support that."
Reuse content