The heiress of Korean Air was handed a one-year prison sentence today, after she ordered a flight to return to ground because she was unhappy with the way she was served nuts.
In an incident dubbed 'nut rage', Cho Hyun-ah, 40, forced an aircraft to return to the gate at John F. Kennedy Airport in New York on 5 December last year, after she was offered macadamia nuts in a bag instead of on a dish.
A heated physical altercation in the first class area quickly ensued between staff and the daughter of Korean Air's chairman.
A court in Seoul ruled that Cho was guilty of forcing a flight to change its route, obstructing the flight's captain in the performance of his duties, forcing a crew member off a plane and assaulting a crew member. However, it cleared her of interfering with a transport ministry investigation into the incident.
Cho, who has been in police custody since 30 December, wiped away tears as the court heard a letter in which she reflected on her life.     
"I know my faults and I'm very sorry," Cho said in her letter.
The letter also documented how she caused a public outcry in South Korea - a country where the economy is dominated by family-run conglomerates, known as chaebol, that often act above the law.
The heiress, one of the richest women in South Korea who regularly flew first class, said she was was adjusting to the basic conditions in prison.
Cho said she was humbled when other prisoners had given her their toiletries.
"People there lent me their toner, lotion, shampoo and rinse. I was so thankful," the letter said. "They didn't ask me anything about this case. I felt that this was indeed being considerate for others."
However, the case suggests that South Korea is less tolerant of high-profile business families, who quickly climb the executive ladder.
"Most second or third generations of chaebol in South Korea think of themselves as members of royal families or in the special aristocratic class. So they think they can do whatever they want," said Yonsei University psychology professor Whang Sang-min.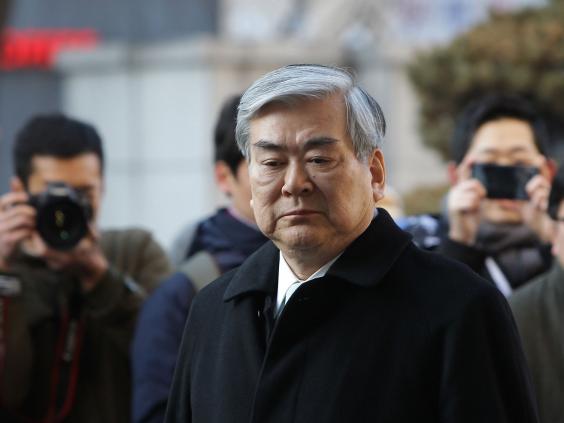 Cho, the eldest Korean Air chairman Cho Yang-ho's three children, joined Korea Air in 1999, after she graduated from Hotel Management School at Cornell University in the US.
Also known as Heather Cho, she was handed a fast-track promotion and became an executive in 2006, aged just 32. Her two younger siblings were also given executive positions at a young age.
The chief judge said the court had considered that Cho's actions had undermined the flight's safety, and the fact that the flight attendants who were verbally and physically abused are still struggling to return to work, and that worldwide media reports about the case damaged South Korea's reputation.
But the court also recognised that Cho showed remorse and the airline was making efforts to help the affected flight attendants.
"If she were considerate to people, if she didn't treat employees like slaves, if she could have controlled her emotion," said Oh, "this case would not have happened."
Additional reporting by AP
Reuse content