Mankind took its latest giant leaps in space exploration yesterday as China became the first country to land on the Moon in four decades, Iran sent a monkey up in a rocket for the second time, and Europe continued its urgent work to enable astronauts to eat freshly fried chips.
Chinese state media ran a nationwide broadcast of their unmanned Chang'e‑3 spacecraft touching down at shortly before 9.15pm local time, making China only the third country – after the United States and the Soviet Union – to achieve a lunar soft landing.
White-coated scientists and technicians at the Beijing Aerospace Command and Control Centre were shown shouting instructions and staring at monitors before clapping and embracing as the mission was declared a success. Meanwhile, some 4,000 miles away in Iran, President Hassan Rouhani was equally jubilant, praising the "grace of God" and "the efforts of Iranian space scientists" for having returned a monkey to Earth for reportedly the second time this year.
The monkey, called Fargam, or Auspicious, was paraded for the cameras dressed in a red T-shirt as President Rouhani assured Iranians the monkey was in perfect health. Iran's space programme is a great source of national pride, whereas Western governments fear Tehran is seeking to master the technology required to deliver a nuclear warhead. Yesterday afternoon's launch and re-entry were shown live on state television.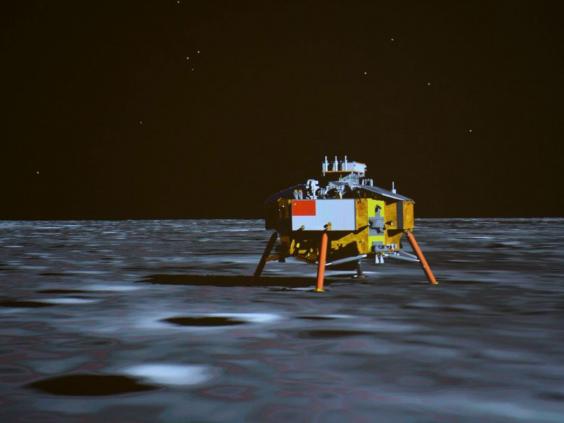 In comparison, Europe's efforts received less fanfare. But scientists brought good news to astronauts sick of the dried food that makes up their normal diet. The project, funded by the European Space Agency and reported in Food Research International, was to create a "positive psychological effect" by enabling Earth-based food to be eaten in space. What they chose was a food renowned for its propensity to trigger calls to the fire brigade: the chip.
The good news is that, using raw potatoes as opposed to processed ones, Greek researcher Thodoris Karapantsios had experimented with gravitational forces up to 3G and found they had no effect on the creation of a crispy crust. "It will be important," Mr Karapantsios insisted. "Fries make [astronauts] feel like they are in their living room and having French fries with the family." Experiments will be performed, frying the chips in conditions that mimic weightlessness. 
Much of the rest of the world's ambitions are grander. The Chang'e-3, named after a Chinese goddess of the Moon, touched down on a lava plain known as the Bay of Rainbows after a 12-minute landing process. It held a six-wheeled lunar rover called Yutu (Jade Rabbit), named after the goddess's white rabbit, that will search for rare minerals.
Both India and South Korea have also pledged to send missions in the coming decade. A US company, Shackleton Energy, aims to send robots to search for resources. Manned space flights will likely follow. At least all on board will be able to have chips with everything.