When Shafiq Masih visits his relatives, he risks running into a mob. A Christian, convicted and acquitted under Pakistan's notorious blasphemy laws after a dispute with a neighbour, Mr Masih lives in fear.
He fled his home in Faisalabad, where he said he was almost lynched by a crowd that was whipped into a murderous frenzy by a local imam. He now lives in Lahore with his wife and seven children in Youhanabad, an impoverished district that is home to many of the city's Christians. 
Blasphemy laws which can punish insulting Islam with death are now regarded as sacrosanct in Pakistan. They are, critics claim, a means to persecute minority faiths and settle petty grievances, over how much butter was sold at a shop or, as in Mr Masih's case, an electricity bill. 
"The people who knew me, they [often] come from Faisalabad to Lahore," Mr Masih said. "They are drivers and labourers. They can be dangerous for me."
Sewage and stacks of rubbish are strewn across the street where Mr Masih maintains a welding business, a 10-minute drive from the family home. Mr Masih said he was accused of blasphemy in Faisalabad in 1998 after his Muslim neighbour refused to contribute to the electricity bill charged on their shared meter. After an altercation, Mr Masih said a local imam accused him of blasphemy. The accusation was relayed, Mr Masid said, by the mosque's speakers. He was then arrested by police and charged with blasphemy. He claims his neighbour levelled the charge.
"They beat me with [their] hands, they beat me [with] the things that they found on the spot," Mr Masih said of the mob that had almost lynched  him. "I don't want to think about them."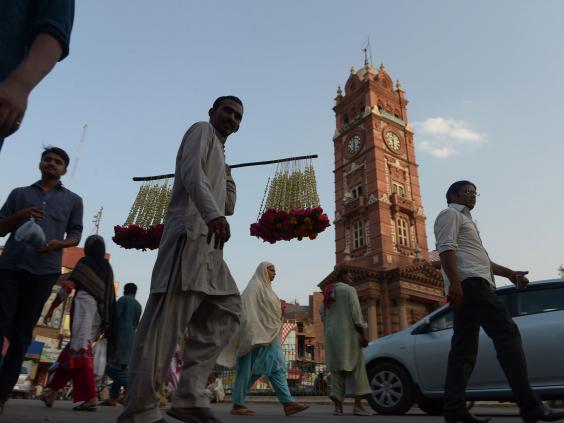 He was convicted by Faisalabad's district court, spending three years in jail before being acquitted by the same court in 2001. He said he does not allow his children to play with other children in case his story is revealed. "If they mix up with other children it is quite likely that someone would know about our hideout," he said. "In that case, they we will be in danger," added Mr Masih's wife, Najma Shafiq.
Until 1986 only 15 blasphemy cases had been prosecuted in Pakistan, according to Centre for Research and Security Studies (CRSS) figures. But after the legal scope of blasphemy was expanded to include offences such as insulting the Prophet Mohamed – for which the death penalty was introduced under the military ruler Zia-ul-Haq – cases surged. So, too, argue campaign groups, did the misuse of the law. 
In October, Pakistan's highest court upheld a death sentence for the killer of the governor of Punjab, who had called for reform of the blasphemy law. Salman Taseer was shot dead by a bodyguard, Mumtaz Qadri, in 2011, after he had sought a presidential pardon for Asia Bibi, a Christian woman accused of blasphemy. Since 1990, at least 65 people have died in cases linked to blasphemy in Pakistan.
World news in pictures
World news in pictures
1/30 24 March 2017

Local government have decided to rename the island's main airport after the Madeira-born footballer Cristiano Ronaldo. The official inauguration ceremony is due to take place on 29 March

Getty Images

2/30 24 March 2017

Workers began the renaming works of the Madeira International Airport in Funchal, Madeira, Portugal. Local government have decided to rename the island's main airport after the Madeira-born footballer Cristiano Ronaldo

Getty Images

3/30 24 March 2017

Turkish rescue workers and medics work next to the bodies of migrants laid out near an ambulance in Kusadasi, Turkey

AP

4/30 23 March 2017

Russia's President Vladimir Putin and Maly Theatre Artistic Director Yuri Solomin talking ahead of the Last Sacrifice play at the Maly Theatre

Getty Images

5/30 23 March 2017

The Brandenburg Gate is illuminated with the colours of the British flag to show solidarity with the victims of the recent attack in London, in Berlin, Germany

Reuters

6/30 23 March 2017

US President Donald Trump sits in the drivers seat of a semi-truck as he welcomes truckers and CEOs to the White House in Washington, DC

Getty Images

7/30 22 March 2017

James Harris Jackson is escorted out of a police precinct in New York. Police said Jackson, accused of fatally stabbing a black man in New York City, told investigators he travelled from Baltimore specifically to attack black people

AP

8/30 21 March 2017

World Water Day is held annually on 22 March as a means of focusing attention on the importance of freshwater and advocating for the sustainable management of freshwater resources

EPA

9/30 21 March 2017

Filipino fishermen arrange a fishing net next to a sewage pipe at a fishing village in the town of Bacoor, Cavite province, Philippines

EPA

10/30 20 March 2017

High-rise buildings are partly covered by heavy fog at Hong Kong's Victoria Harbour

AP

11/30 20 March 2017

Libyan fishermen rescue migrants from a sinking dinghy off the Libyan coastal town of Zawiyah, east of the capital, as they attempted to cross from the Mediterranean to Europe

Getty Images

12/30 20 March 2017

Migrants wait to be rescued from a sinking dingey off the Libyan coastal town of Zawiyah, east of the capital

Getty

13/30 19 March 2017

Lebanese activists from the Civilian motionless, and from various parties wave national flags during a protest against new high taxes in front of the Lebanese government palace in Beirut , Lebanon

EPA

14/30 19 March 2017

People march to protest the regional Catalan government's push to break away from the rest of Spain, in Barcelona, Spain

AP

15/30 19 March 2017

An activist lays half-naked with fake blood in a cage during a protest for animal rights, against the suffering and murdering of animals and against animal testing in Athens, Greece

EPA

16/30 18 March 2017

Passengers wait at Orly airport southern terminal after a shooting incident near Paris, France

Reuters

17/30 16 March 2017

Wearing Coyote masks and business suits and waving signs against Canada Goose and their use of fur, PETA members gather outside the New York Stock Exchange

Getty Images

18/30 16 March 2017

View of the Tocqueville high school after a shooting has taken place injuring at least eight people, in Grasse, southern France

Reuters

19/30 16 March 2017

Suspects with their hands tied in plastic straps walk past residents during a raid by the Philippine Drug Enforcement Agency (PDEA) at an informal settlers' area inside a public cemetery in Manila

Getty Images

20/30 16 March 2017

A SpaceX Falcon 9 rocket launches from Kennedy Space Center, over Cocoa Beach and Cape Canaveral skyline in Florida

AP

21/30 16 March 2017

French Police officers secure the scene near the Paris offices of the International Monetary Fund (IMF) in Paris, after a letter bomb exploded in the premises

Getty Images

22/30 16 March 2017

A man poses as crying firebrand anti-Islam lawmaker Geert Wilders during a small demonstration outside parliament in The Hague, Netherlands

AP

23/30 15 March 2017

Acting Assistant Attorney General Mary McCord, speaks during a news conference at the Justice Department in Washington

AP

24/30 14 March 2017

A four-month-old Syrian baby receives treatment at a make-shift hospital following reported air strikes in the rebel-held district of Barzeh, on the north-eastern outskirts of the capital Damascus

Getty Images

25/30 14 March 2017

Miguel Angel Munoz faces a 25-year prison sentence for the alleged murder in 2015 of the US tourist Denise Pikka Thiem, who was hiking the Santiago pilgrim trail

Getty Images

26/30 14 March 2017

Malaysian censors have reportedly cut out a 'gay moment' in the Disney film 'Beauty and the Beast' before agreeing to its release in the Muslim-majority nation

Getty Images

27/30 14 March 2017

Tibetan spiritual leader the Dalai Lama sits on his ceremonial chair during a religious talk at the Tsuglakhang temple in Dharmsala, India

AP

28/30 14 March 2017

Members of the Iraqi forces prepare to fly a drone armed with grenades in the fight against Islamic State (IS) group jihadists in the northern Iraqi city of Mosul

Getty Images

29/30 14 March 2017

A member of the Iraqi forces carries two grenades carrying feathers, which are to be fired from a drone in the fight against Islamic State (IS) group jihadists in the northern Iraqi city of Mosul

Getty Images

30/30 13 March 2017

Members of the Iraqi forces advance towards the Old City in western Mosul, during an offensive to retake the city from Islamic State (IS) group fighters

Getty
Pakistan's Christian population is claimed to face much of the alleged abuse of blasphemy laws. "Christians face a lot of discrimination in society and the bigotry against them often ends up using the vehicle of blasphemy allegations motivated either by designs to take over land or by personal enmity or ego," Sundas Hoorain, a lawyer who has worked on blasphemy cases, said.
Rubina Bibi, a Christian, and her family have also been forced into hiding by blasphemy laws. Now in Islamabad, she was forced to flee Ali Pur Chattha, a town in Punjab province, after being accused of blasphemy five years ago by a bystander observing her argument with a local woman who had allegedly sold her substandard butter. 
Now working as a house maid, Ms Bibi spent months in prison with her one-year-old baby while the case was being decided, she said. Eventually freed, she was left bitter by the whole experience. She blamed the people of Pakistan for not allowing Christians like her to enjoy the right to free speech.