Most people hold their breath for an empty seat next to them on the aeroplane.
One man had only empty seats however, when he was the sole passenger on a domestic Philippines Airlines flight from Manila to beach island Boracay.
Austrian travel blogger Alex Simon, 28, had a private jet for the price of one ticket, with the aircraft's two flight attendants and two pilots the only other people on board.
One flight attendant said to Mr Simon "you can sit anywhere, because you're the only passenger", he told MailOnline.
The cabin crew took turns filming Mr Simon for a video of his journey, which he posted online in February 2015.
"It was an unforgettable feeling to take a flight to one of the most beautiful islands of the world, but to be alone and to feel like a superstar made it more special," he said.
"I just had luck, I think, that no one else was interested on this day to fly to paradise."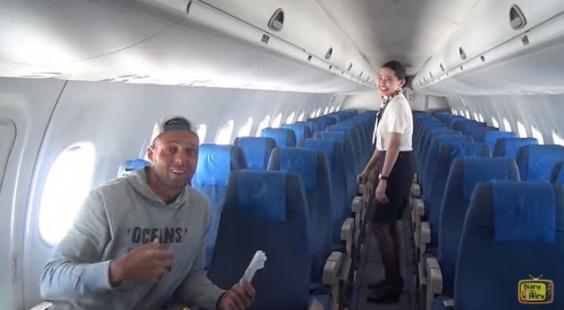 When he was told he was to be the sole passenger onboard, Mr Simon said he was "surprised" and thought he was dreaming.
"Later while boarding I just realised that it's gonna be a special flight because this time I didn´t even need to line up," he said.
The world's safest low-cost airlines
The world's safest low-cost airlines
1/8

WestJet, a low cost Canadian carrier, was voted one of the safest low-cost airlines

Alasdair McLellan/Creative Commons

2/8

Virgin America was named as a low cost carrier by airlineratings.com

Virginamerica.com

3/8

Thomas Cook airlines were ranked highly on the world's best low cost carriers by airlineratings.com

4/8 Boeing 737

Boeing 737 is part of TUI Fly, a German based subsidiary of Thomas Cook

Tuifly.com

5/8

Volaris, a low-cost Mexican carrier, has been rated one of the safest airlines to fly

Volaris/Carribeanairlinenews

6/8

HK Express was rated highly in the rankings

HKExpress

7/8

Aer Lingus was rated as one of the safest low-cost airlines in the world.

8/8

America's low-cost carrier has been rated as super safe.
Boracay is a small island almost 200 miles south of the Filipino capital Manila. Its four kilometre White Beach is frequently ranked as one of the world's best beaches.