President Rodrigo Duterte has said he was "not aware" US special forces had joined the battle to defeat Isis militants besieging a town in the southern Philippines.
Mr Duterte said he had "never approached America" for help and was "not aware of that until they arrived," when he was asked about US support to fight the pro-Isis militants in Marawi City, on the island of Mindanao.
The cooperation between the longtime allies in the battle is significant because Mr Duterte, who came to power a year ago, has taken a hostile stance towards Washington and has vowed to eject US military trainers and advisers from his country.
It is unclear whether the pro-American military went over his head in seeking US help.
The Philippines military had said US forces were providing technical assistance but had no "boots on the ground", confirming a statement from the US embassy in Manila, which said the support had been requested by the government.
Mr Duterte, who declared martial law on Mindanao – an island the size of South Korea – after the Islamist fighters overran Marawi, said that under martial law he has authority over the defence department.
He did not say the armed forces had gone over his head but noted that, because of years of training from the United States, "our soldiers are pro-American, that I cannot deny."
The most controversial quotes from Rodrigo Duterte
The most controversial quotes from Rodrigo Duterte
1/9 On killing drug addicts

"These sons of whores are destroying our children. I warn you, don't go into that, even if you're a policeman, because I will really kill you. If you know of any addicts, go ahead and kill them yourself as getting their parents to do it would be too painful"

2/9 Message to China

"I will go there on my own with a Jet Ski, bringing along with me a [Phillipino] flag and a pole, and once I disembark, I will plant the flag on the runway and tell the Chinese authorities, 'Kill me' "

AP

3/9 Christmas message to law-breakers

"If you do not want to stop, and just continue committing crimes, then this would be your last Merry Christmas"

AP

4/9 On sex life

"I was separated from my wife. I'm not impotent. What am I supposed to do? Let this hang forever? When I take Viagra, it stands up"

AFP/Getty Images

5/9 On the drugs trade

"None of my children are into illegal drugs. But my order is, even if it is a member of my family, 'kill him'"

AP

6/9 Insulting the Pope

"We were affected by the traffic. It took us five hours. I asked why, they said it was closed. I asked who is coming. They answered, the pope. I wanted to call him: 'Pope, son of a wh**e, go home. Do not visit us again'"

AFP/Getty Images

7/9 Joke about rape

"I saw her face and I thought, 'What a pity... they raped her, they all lined up. I was mad she was raped but she was so beautiful. I thought, the mayor should have been first"

AFP/Getty

8/9 Insulting Barack Obama

"Mr Obama should be respectful and refrain from throwing questions at me about the killings, or son of a bitch, I will swear at you in that forum"

REUTERS

9/9 On Abu Sayyaf Islamic militants

"If I have to face them, you know I can eat humans. I will really open up your body. Just give me vinegar and salt, and I will eat you. If you annoy me to the fullest... I will eat you alive. Raw"

EPA
Presidential spokesperson Ernesto Abella said in a statement US forces were participating directly in combat operations, which is prohibited by Philippines law.
"The fight against terrorism, however, is not only the concern of the Philippines or the United States but it is a concern of many nations around the world," he said.
"The Philippines is open to assistance from other countries if they offer it."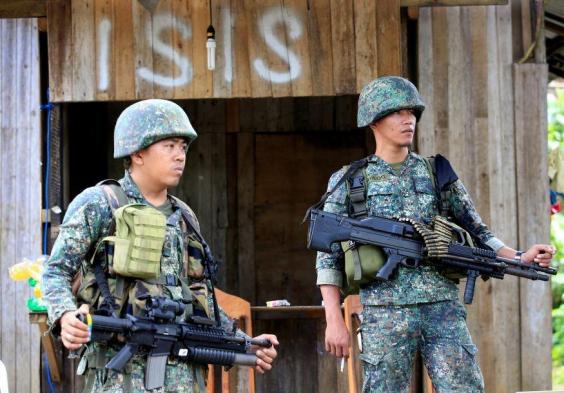 Marawi was seized on 23 May by hundreds of local and foreign fighters.
The move has alarmed Southeast Asian nations, which fear Isis is trying to establish a stronghold on Mindanao that could threaten their region.
The Pentagon, which has no permanent presence in the Philippines but for years has kept 50 to 100 special forces troops in the south of the country on rotational exercises, confirmed it was helping the Philippine military in Marawi.
It said in a statement on Saturday it was providing Philippines forces with security assistance and training in the areas of intelligence, surveillance and reconnaissance.
It said it had an additional 300 to 500 troops in the country to support regular training and activities, without giving further details.
A US official, speaking on condition of anonymity, said support included aerial surveillance and targeting, electronic eavesdropping, communications assistance and training.
A US P-3 Orion surveillance plane was seen over the town on Friday.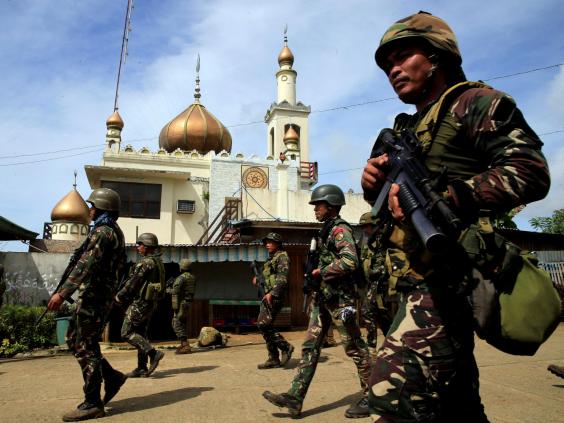 As of Saturday, the number of security forces killed in the battle for Marawi stood at 58. The death toll for civilians was 20 and more than 100 had been killed overall.
At least 200 militants are holed up in a corner of the town. An estimated 500 to 1,000 civilians are trapped there, some being held as human shields, while others are hiding in their homes with no access to running water, electricity or food.
One of the main Islamist factions dug in around the heart of the city is the Maute group, a relative newcomer amid the throng of insurgents, separatists and bandits on Mindanao.
Maute joined forces with Isnilon Hapilon, who was last year proclaimed by Isis as its Southeast Asia "emir". Military officials believe Hapilon is still in the town.
The military has said it is aiming to end the siege by Monday, the Philippines' independence day.
Additional reporting by Reuters
Reuse content