The President of the Philippines has said he does not "give a s***" about human rights while dismissing the deaths of innocent civilians and children in his brutal war on drugs.
More than 3,500 people have been killed in the first 100 days of Rodrigo Duterte's presidency, including suspected drug users, addicts, dealers and smugglers shot by security forces and vigilante gangs.
But international observers have warned that many of the dead are innocent people caught in the crossfire or murdered over personal scores.
Mr Duterte has been unrepentant about his calls for supporters to kill criminals, sparking alarm from the United Nations and international community, as well as a cooling of relations with the US after the President hit back at criticism by calling Barack Obama a "son of a whore".
In an interview with Al Jazeera, he claimed there was "no crime" in threatening to kill the three million drug addicts he believes live in the Philippines.
Mr Duterte said he had launched his bloody war on drugs "because of the sheer number of people contaminated will pull my country down – it will destroy the next generation of Filipinos."
"You destroy my country, I'll kill you," he added. "And it's a legitimate thing. If you destroy our young children, I will kill you. 
"That is a very correct statement. There is nothing wrong in trying to preserve the interest of the next generation."
Mr Duterte said the deaths of children and innocent people would be investigated but said there was "no criminal liability" for security forces who kill innocent bystanders in operations, comparing them to the US-led coalition's bombing of Isis territory.
"The West say it's collateral damage [for them] but for us it's murder," he added.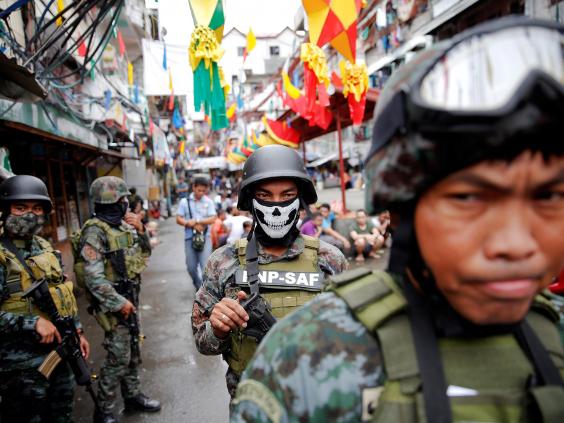 "I would rather intimidate and strike fear into the hearts of the criminals [than fund drugs rehabilitation centres].
"If it involves human rights, I don't give a s***. I have to strike fear because the enemies of the state are out there to destroy children."
The President added that he did not regret his remarks about Mr Obama and threatened to withdraw from defence treaties with the US, as well as ending joint military exercises.
Mr Duterte was nicknamed "The Punisher" in his former post as mayor of Davao because of his violent rhetoric and alleged links to vigilante gangs but has denied any direct role in extrajudicial killings.
"We're the ninth safest city - how do you think I did it?" Mr Duterte said in May 2015. "How did I reach that title among the world's safest cities? Kill them all [criminals]."
The UN has repeatedly condemned his policies, as has the EU, human rights groups and the Roman Catholic Church, the dominant religion in the Philippines.
The most controversial quotes from Rodrigo Duterte
The most controversial quotes from Rodrigo Duterte
1/9 On killing drug addicts

"These sons of whores are destroying our children. I warn you, don't go into that, even if you're a policeman, because I will really kill you. If you know of any addicts, go ahead and kill them yourself as getting their parents to do it would be too painful"

2/9 Message to China

"I will go there on my own with a Jet Ski, bringing along with me a [Phillipino] flag and a pole, and once I disembark, I will plant the flag on the runway and tell the Chinese authorities, 'Kill me' "

AP

3/9 Christmas message to law-breakers

"If you do not want to stop, and just continue committing crimes, then this would be your last Merry Christmas"

AP

4/9 On sex life

"I was separated from my wife. I'm not impotent. What am I supposed to do? Let this hang forever? When I take Viagra, it stands up"

AFP/Getty Images

5/9 On the drugs trade

"None of my children are into illegal drugs. But my order is, even if it is a member of my family, 'kill him'"

AP

6/9 Insulting the Pope

"We were affected by the traffic. It took us five hours. I asked why, they said it was closed. I asked who is coming. They answered, the pope. I wanted to call him: 'Pope, son of a wh**e, go home. Do not visit us again'"

AFP/Getty Images

7/9 Joke about rape

"I saw her face and I thought, 'What a pity... they raped her, they all lined up. I was mad she was raped but she was so beautiful. I thought, the mayor should have been first"

AFP/Getty

8/9 Insulting Barack Obama

"Mr Obama should be respectful and refrain from throwing questions at me about the killings, or son of a bitch, I will swear at you in that forum"

REUTERS

9/9 On Abu Sayyaf Islamic militants

"If I have to face them, you know I can eat humans. I will really open up your body. Just give me vinegar and salt, and I will eat you. If you annoy me to the fullest... I will eat you alive. Raw"

EPA
Earlier this year, the Office of the UN High Commissioner for Human Rights (OHCHR) called on Mr Duterte to end the "wave of extrajudicial executions and killings" and ensure legal process was upheld.
"Claims to fight illicit drug trade do not absolve the government from its international legal obligations and do not shield State actors or others from responsibility for illegal killings," said Agnes Callamard, the new UN Special Rapporteur on summary executions.
She said Mr Duterte had given security forces and vigilantes "a licence to kill", accusing him of "incitement to violence and killing, a crime under international law".
Despite the warnings, the President's approval ratings in the Philippines remain high, standing at 86 per cent against just 3 per cent "disapproval" according to a survey released by Pulse Asia Research on Thursday
Mr Duterte is also currently embroiled in the territorial dispute over construction in the South China Sea, travelling to Beijing for talks with Xi Jinping and other Chinese leaders later this week.
In a speech before his departure, he said that while he will not bargain the Philippines' territorial claims, "there will be no hard impositions" as he tries to renew his nation's strained friendship with China and intensify two-way trade and investment. 
Mr Duterte acknowledged that he could be impeached for conceding any sovereign rights in territorial waters, after The Hague ruled that China's claims to the sea on historical grounds were not valid under a 1982 UN treaty.
Reuse content