Gone are the days when a "Save the Rhino" advert was enough. Only about 25,000 rhinos are left in the wild, and thanks to poaching the species is critically endangered. Now, in an effort to drive down demand, conservationists are working on campaigns to understand what makes rhino horn consumers tick.
The World Wildlife Fund's (WWF's) behavioural-change campaigns are being developed as the world's attention is fixed on combating global wildlife crime. Hundreds of people descended on the Chinese embassy in London yesterday to demand that China bans the trade in elephant ivory, destroys its stocks and closes ivory carving factories.
When the world's leaders gather at the London conference in a few weeks' time to find a solution to wildlife crime, cutting demand will be one of their top priorities. More than 100 African elephants are killed every day. According to a recent South African report, 2013 was the worst year on record for rhino poaching in the country, with 1,004 animals killed – a 50 per cent increase on the previous year.
Sabri Zain, director of Policy at Traffic, the WWF's wildlife trade monitoring programme, said demand-reduction campaigns must focus on the people who are buying illegal wildlife products. "At times we have probably been talking to the wrong people and giving the wrong message," he said. "People might think rhino horn consumers are fairly old traditionalists who believe in the magical power of the rhino horn to cure cancer, but in reality [those ones] are a minute number. The archetypal consumer is young to middle-aged, very well educated and a leader in the corporate world."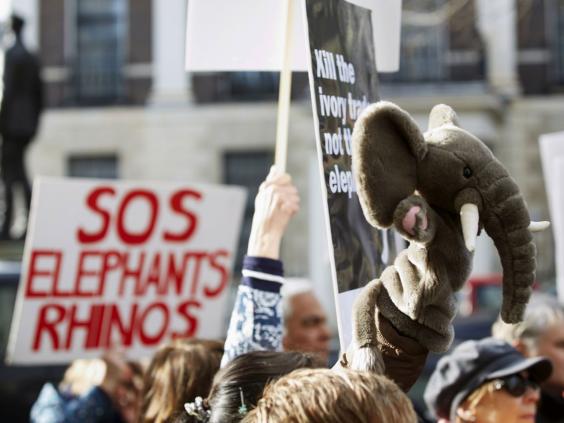 A recent survey by the WWF of more than 700 people in Ho Chi Minh City, Vietnam, found that rhino horn consumers tend to be urban men, over the age of 40, from the upper echelons of society. And the most common reason for buying rhino horn was linked to prestige: it is thought to reaffirm one's social status and is often bought as a gift for family members, colleagues, or those in positions of authority.
Mr Zain added that the typical messaging used by conservationists, depicting rhinos as "magnificent beasts", can actually serve to encourage consumption.
WWF is working on a campaign to change corporate behaviour and attitudes in Vietnam, working with companies to encourage them to penalise staff who give rhino horns as gifts. It also hopes to reach the buyers' children, who are thought to have an influence on their parents.
But it is not only about the rhinos. The appeal in The Independent on Sunday and its sister titles supports Space for Giants, a charity that works to defend Africa's elephants. Its founder, Max Graham, said it costs about £120 a year for each elephant to protect north Kenya's elephant population from armed poachers. He added that it would cost about £50m a year to extend this support to the whole of the continent.
"If demand for ivory were to disappear, then we could invest these resources into more important conservation measures over the long term, such as habitat protection. That is why demand reduction is so critical," he said.
Mary Rice, executive director of the Environmental Investigation Agency, who was at the protest yesterday, said China must exert its authority and ban the ivory trade. "The poaching of these elephants will impact local economies; not only because it will destroy their heritage but [because] it will endanger the tourist economy," she said. "This is a global issue, not just Africa's."
Dominic Dyer, policy adviser for the charity Care for the Wild, said Britain needed to use its influence to protect the animals. "The UK government is in a unique position to promote education into the horrors and dangers of the trade," he said.
Reuse content