The president of the Philippines has pledged to ignore human rights if the breakup of Isis in the Middle East worsens the Islamist insurgency in his country. 
Rodrigo Duterte has frequently voiced his indifference to human rights, most frequently in the context of his ruthless war on drugs, but the Philippines also suffers from a militant Islamist insurgency. 
Speaking to a law enforcement agency, he expressed concern over fighters returning from Iraq and Syria. 
He said: "Once the terrorists of the Middle East are deprived of the land area, the real estate area where they can sleep ... they will wander to other places and they will come here and we have to prepare for that. 
"Remember, these guys, they do not have an iota of what is human rights, believe me. I will not just simply allow my people to be slaughtered for the sake of human rights, that's bullshit."
Mr Duterte was alarmed about "looming terrorism" on his home island of Mindanao, which he said was already extremely lawless. 
In September, a bomb in the Mindanao town of Davao, where Mr Duterte governed as mayor for 22 years, killed 15 people. The attack has been linked to Islamist group Dawlah Islamiyah, allied with the more notorious Abu Sayyaf group – who are linked to Isis. 
"There are various rebel groups in the south [Philippines] who will claim allegiance to anybody who appears radical," said Bill Payton, Associate Fellow on Chatham House's Asia Programme, to The Independent. "It doesn't necessarily mean they subscribe to the ideology."
But some Abu Sayyaf tactics have provoked uncomfortable reminders of extreme jihadism. Earlier this year, two Canadian hostages held by the group, tourists Robert Hall and John Ridsdel, were beheaded on video by the group while wearing orange overalls.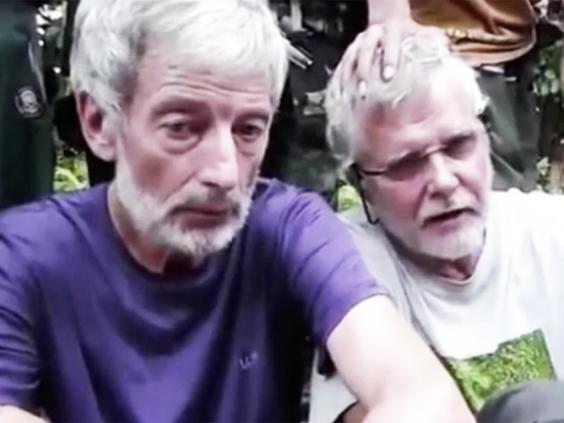 Most south east Asian countries are worried about the possibility of jihadis returning home from the Middle East, according to Mr Payton, though it doesn't mean the terrorists will be successful – Indonesia, in particular, has successfully monitored extremists.
Mr Payton said: "They are concerned but not overly concerned. These things are more home grown and long established. The Islamic insurgency in the southern Philippines has been problematic enough without this. 
"Duterte also thinks he can cut a deal with some of the Islamic rebel groups and he doesn't want a terrorism upsurge to derail that." 
The president was in a "tricky position" because he wanted to take care of the Islamist problem by himself, Mr Payton said, rather than give the US free reign. 
World news in pictures
World news in pictures
1/14 5 December 2016

The sun rises behind skyscrapers amidst the clouds on a foggy morning in Dubai

Getty

2/14 5 December 2016

An Iraqi soldier gestures as he steps on the head of the dead body of who Iraqi forces say was an Islamic State militant, in Shayyalah al-Imam near Mosul

Reuters

3/14 5 December 2016

A man checks the damage at a medical clinic following overnight government air strikes on the town of Binnish, in Syria's northwestern Idlib province

Getty

4/14 5 December 2016

A quarantine official disinfects a road leading to a chicken farm in Pyeongtaek, west of Seoul, South Korea. A suspected case of avian influenza was reported at the farm

EPA

5/14 5 December 2016

Rescue workers stand beside the bodies of the victims following a fire at a local hotel, at a hospital in Karachi, Pakistan

EPA

6/14 5 December 2016

Iraqis ride bicycles between Baghdad's Abu Nawas street and the suspension bridge in the capital's Karrada district during an event calling for peace and the eradication of the Islamic State (IS) group

Getty

7/14 5 December 2016

Iraqis gather prior to cycling between Baghdad's Abu Nawas street and the suspension bridge in the capital's Karrada district during an event calling for peace and the eradication of the Islamic State (IS) group

Getty

8/14 5 December 2016

The bust of the late President Park Chung-hee is seen spray painted in a park in Seoul, South Korea. The bust was vandalized in an apparent anonymous act of discontent with his daughter and incumbent President Park Geun-hye who is suspected of having been involved in an unprecedented corruption scandal. The grafitti reads 'Order of Removal'

EPA

9/14 4 December 2016

Young people march around the Plaza de la Revolucion and chant 'Yo soy Fidel,' 'I am Fidel' in English, before the arrival of the remains of former Cuban President Fidel Castro during on their four-day journey across the country in Santiago de Cuba, Cuba

Getty

10/14 4 December 2016

The urn with the ashes of Cuban leader Fidel Castro leaves Revolution Square in Santiago, Cuba on its way to the cemetery

Getty

11/14 4 December 2016

A Honduran soldier confronts fans of Real Espana football team following clashes after Platense qualified for the Honduran Tournament final, outside the Municipal Excelsior stadium in Puerto Cortes, 260 kms north of Tegucigalpa

Getty

12/14 4 December 2016

People take part in a nation-wide protest against corruption at Copacabana beach in Rio de Janeiro, Brazil

Getty

13/14 4 December 2016

Demonstrators protest along Paulista Avenue in Sao Paulo, Brazil against corruption and in support of the Lava Jato anti-corruption operation that investigates the bribes scandal of Petrobras

Getty

14/14 4 December 2016

Cuban President Raul Castro places the urn with the ashes of his brother Fidel Castro in his tomb at the Santa Ifigenia cemetery in Santiago de Cuba

Getty
US Special Forces have operated in the south of the country since 2002 on anti-terrorist operations, though their numbers have decreased in recent years. 
But Mr Duterte has said he wants the remaining troops to leave - not just Mindanao, but the whole country. Military exercises with the US set for 2017 will be the last, the president pledged.  
"By the time I end my term [2022], I do not want to see any—not only the U.S. but even African or Chinese or whatever—I do not want to see foreign military troops in my country," Mr Duterte said shortly after the US election, the Wall Street Journal reported. 
He added: "We are just facing rebellion; I do not expect any war against any country."
The president's recent rhetoric - insulting Barack Obama, in particular - has not been healthy for relations with the US and led observers to speculate he may be pivoting towards China.  
Reuse content