At least six people have reportedly been shot in Bangkok during anti-government demonstrations.
Protesters and journalists ran for cover as the violence broke out during a stand-off between supporters and opponents of Prime Minister Yingluck Shinawatra ahead of tomorrow's planned election.
James Nachtwey, an award-winning American photographer, was reportedly among those caught up in the chaos.
He is believed to have suffered only minor injuries when a bullet grazed his leg.
It is unclear who fired the shots, which came as anti-government demonstrators blockaded a building where ballot papers were being stored in an attempt to disrupt distribution, according to the BBC.
A car was also attacked and several small bombs detonated before the gunfire broke out in Bangkok's Laksi district, a stronghold of ruling Pheu Thai party.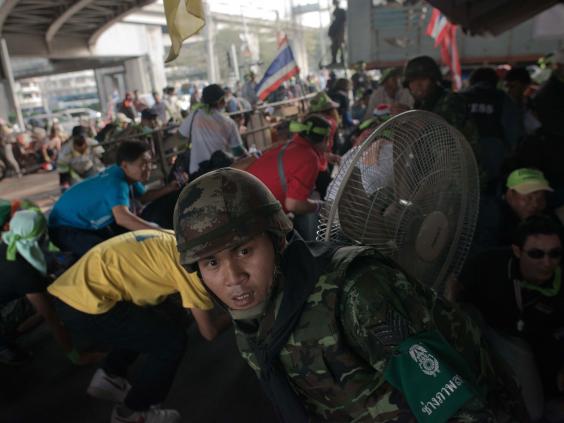 Protests began in November and have intensified towards tomorrow's election, prompting warnings from the Foreign and Commonwealth Office for tourists to stay inside.
Anti-government protestors, known as "yellow shirts" have accused the Prime Minister of being controlled by her brother, who was ousted in a military in 2006.
Faced with a prison sentence for corruption charges in Thailand, he now lives in voluntary exile.
Calling for an unelected "people's council", they have vowed to boycott Sunday's elections, which Ms Yingluck is expected to win.
There have been several clashes between the group and the pro-government "red shirts".
A two-month state of emergency in Bangkok and neighbouring provinces was declared on 21 January in response to the violence, which has seen at least nine people killed and hundreds injured.
It allows security forces to detain suspects without charge, impose curfews, censor the media, close off areas and prevent political gatherings.
The latest shootings have increased fears of violence at Sunday's polls. Thousands of army troops and police officers have been deployed to the Thai capital to keep order.
In pictures: Gunfire and explosions at Thai pre-election protests
In pictures: Gunfire and explosions at Thai pre-election protests
1/13 A rally in Bankok

Thai soldiers stand guard to block anti-government protesters (left) during a rally outside the office of the permanent secretary for defense where Prime Minister Yingluck Shinawatra was reportedly working inside

AP

2/13 Anti-government protesters

Thai anti-government protesters cut barbed wire set up outside the office of the permanent secretary for defense where Prime Minister Yingluck Shinawatra was reportedly working inside

AP

3/13 Pre-election protests in Bangkok

A Thai anti-government protester holds a protest placard during a rally at China town in Bangkok on 1 February.

Getty/AFP

4/13 Gunfire breaks out

Protesters run for cover as gunmen open fire at the protests in Bangkok.

Getty/AFP

5/13 Tensions running high

Pro-government red shirt protesters march as violence escalates before the controversial elections in Bangkok, Thailand.

Getty/AFP

6/13 Pro-election protesters

A Thai pro-election activist holds a placard that reads 'respect my vote' in Laksi.

Getty/AFP

7/13 Pro-election protesters

Thai pro-election activists shout slogans and march in Laksi.

Getty/AFP

8/13 Protest march

Thai pro-election activists shout slogans and march in Laksii.

Getty/AFP

9/13 Anti-government protestor

A Thai anti-government protester looks on while taking cover as anti-government and pro-election protesters clash with gunfire and homemade explosives in Bangkok.

Getty/AFP

10/13 People run for cover

A man helps a police officer to take cover as Thai anti-government protesters and Thai pro-election protesters clash in a gun fight and small home made explosive devices in Bangkok.

Getty/AFP

11/13 Thousands on the streets

Thai anti-government protesters wave national flags as they parade during a rally at China town in Bangkok on 1 Februar.

Getty/AFP

12/13 Gunfire at protest

A Thai army soldier and anti-government protesters takes cover as explosions and gun shots are fired during clashes with Thai pro-election protesters (not seen)..

Getty

13/13 Gunfire breaks out

A Thai anti-government protester takes cover and aims his gun before shooting towards Thai pro-election protesters (not seen) in Bangkok.

Getty
Reuse content