Passengers on the South Korea ferry that capsized were told to stay where they were before the ship sank, several survivors said, as it emerged schoolchildren trapped on board sent heart-breaking text messages to their parents as they realised what was happening.
Teams of divers worked through the night to search for the 290 people who remained unaccounted for after the MV Sewol sank off the south-western coast of South Korea. Some 325 school children were among the 475 people on board the vessel.
"Mom, this might be my last chance to tell you I love you," one youth said in a text message, according to the Los Angeles Times. His mother replied, but did not get an answer. Another pupil texted his father to say "Dad, I can't walk out because the ship is tilted too much, and I don't see anyone in the corridor", according to South Korea's YTN news channel.
And an 18-year-old girl reportedly sent a message to her father saying: "Don't worry too much dad, I am wearing a life vest and with my friends. I am inside. Still in the hallway." He replied asking whether she should go outside, but she said: "No dad, I can't go outside. There are many kids in the hallway, and it is tilted too high."
Several survivors said passengers were told to remain where they were after the ferry struck the reef. Initially it did not appear the vessel was in immediate danger of sinking.
Cha Eun-ok, who was on the deck taking photographs at the time, said an "on-board announcement told people to stay put... people who stayed are trapped".
And a 57-year-old man, named as Yoo, told Yonhap News: "A broadcast said: 'Stay where you are.' But I couldn't because the water level was rising. I wore the safety jacket and came out. If they told us to evacuate immediately, it would have been better."
Koo Bon-hee, a 36-year-old businessman, said he and other passengers had waited for 30 minutes as the ferry filled with water and listed to one side, before floating to an exit and swimming to a fishing boat.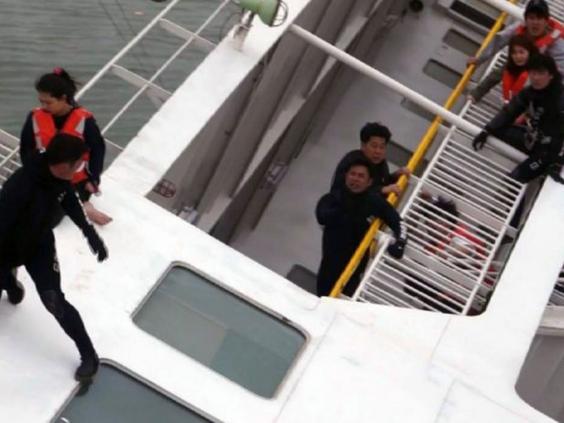 "The rescue wasn't done well. We were wearing life jackets. We had time," Mr Koo said from his hospital bed. "If people had jumped into the water... they could have been rescued. But we were told not to go out."
Officials said 174 people had been rescued, after initially reporting a much higher figure. Six people were confirmed dead and 55 were injured.
A sign of the difficulty of the search was that only four bodies had been recovered by nightfall - all picked up from the water, not the ship. The currents around the ferry impeded the search and, by early Wednesday, rescuers still were not able to get inside to see what had happened.
The school children and 15 teachers had boarded the vessel on Tuesday night at the west coast port of Incheon and slept on board. The ship was two hours away from its destination, the tourist island of Jeju. The children were due to spend a three-day holiday there.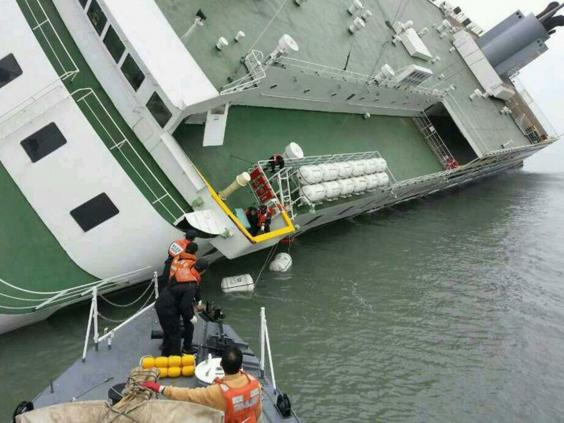 Many of those rescued were children who had been ordered to line up and get into waiting boats. Others were told by the captain - believed to be among the survivors - to put on life jackets and jump into the sea.
Officials said that some of the missing may have stayed alive in air pockets in the submerged vessel as parents and relatives gathered in reception centres, schools and government buildings demanding answers and clutching at any shred of hope.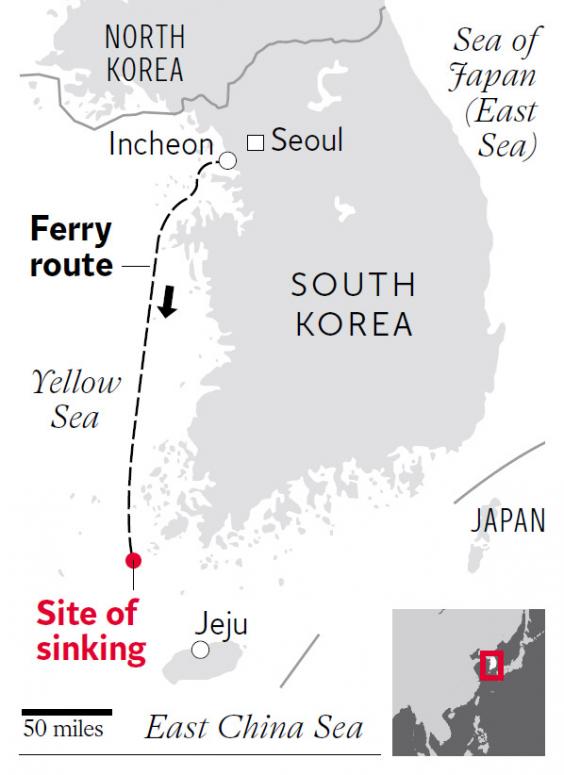 Reuse content