A South Korean pupil has angrily responded to his school's "absurd" survey on students' attitudes to homosexuality – later posting the questionnaire online, where his attitude was celebrated.
The unidentified school's survey, asking for students' thoughts on homosexuality and asking if they thought any students were gay or lesbian, appeared on Reddit Korea after the student posted it on his Facebook page last week.
It appears that the school conducted the anonymous questionnaire after it appeared that there was a lesbian couple at the establishment, according to Pink News.
The final question allegedly asks students for the "appropriate" way to "deal with homosexual students".
In the questionnaire posted online, which The Independent has no way of independently verifying, one student angrily wrote: "Homosexuality is a student's personal characteristic that a school cannot interfere with."
They continued: "This survey itself, created for the purpose of punishing such activities, is absurd."
English-speaking Reddit users have translated the response, commenting that much of the anger directed towards the school is lost in the language transition.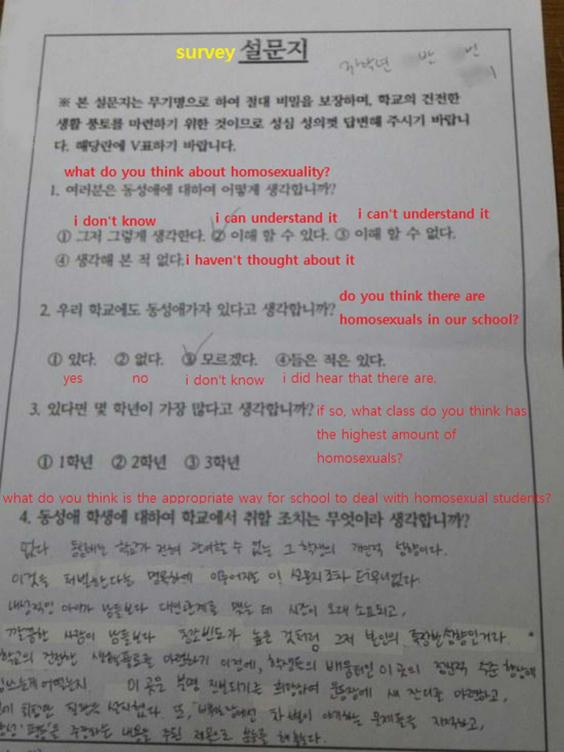 According to the online translation, the student advises the school to "work on its own mental level". They finish by claiming the survey is a "primitive concept" and "incredibly discriminatory".
LGBT individuals face significant discrimination in South Korea. Although same-sex relationships are legal, same-sex couples and households are denied equivalent legal protections afforded to heterosexual couples.
Many LGBT (lesbian, gay, bi-sexual and transgender) individuals choose to not reveal their sexual orientation to family, co-workers and friends as general awareness and acceptability remains low.
Reuse content