After a bitterly fought comeback bid to become Prime Minister in Monday's general election in Sri Lanka, the former President Mahinda Rajapaksa was defeated by his rival, the sitting PM, Ranil Wickremesinghe.
Even before the final poll results had rolled in, Mr Wickremesinghe's United National Party (UNP) was celebrating victory, after a harrowingly close election. It brought an apparent end to the political career of Mr Rajapaksa, who is being investigated by the United Nations for alleged war crimes and human-rights abuses.
By late Tuesday, the UNP had clinched 107 of the 225 parliamentary seats, just six short to form a majority parliament – but enough for the President, Maithripala Sirisena, to appoint him Prime Minister once again, as he did in December. Riding on the loyalty of the rural Sinhalese masses, Mr Rajapaksa's United People's Freedom Alliance party (UPFA) secured 95 seats. Although Mr Rajapaksa's defeat did not come as a surprise, a heavy UPFA victory in Sinhala-dominant areas on the island during the early hours of gave hope to the Rajapaksa campaign.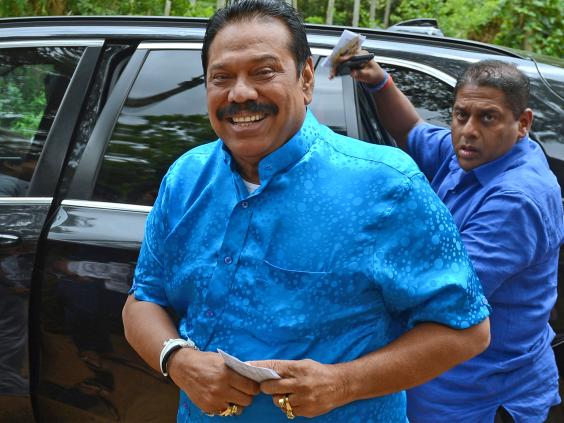 But by mid afternoon, with the capital, Colombo, and Kandy voting heavily in favour of the UNP, there was little doubt that Mr Rajapaksa would lose. "The majority of people of this country have approved the continuance of good governance and consensual politics endorsed by the people through the silent revolution of 8 January," Mr Wickremesinghe said, referring to the January presidential election, when Sri Lankans voted Mr Rajapaksa out.
However, even Wickremesinghe supporters are worried about the Western suit-clad, English-speaking premier's ability to reach out to the Sinhalese masses. "The rural Sinhala masses don't trust Mr Wickremesinghe," said Shiral Lakthilaka, a presidential spokesman. "When it comes to the economy or international relations this could be a problem because Rajapaksa elements could whip up their [the rural masses'] feelings in a negative way," he said.
Although he is still revered as king by most Sinhalese for ending a three-decade bloody ethnic war that claimed more than 100,000 lives, Mr Rajapaksa fell from grace during the latter part of his nine-year rule. His popularity dipped further after he and close members of his family were recently investigated for corruption, misuse of power – and even murder.
But Rajapaksa supporters insist the former President will not give up easily, suggesting the highly unlikely move of forming a coalition with the Tamil National Alliance, which won 16 seats, to form a parliamentary majority.
Reuse content