The alleged leader of the 2008 Mumbai terror attacks may walk free from jail after a Pakistani prosecutor suspended a detention order keeping him in jail.
Zaki-ur-Rahman Lakhvi's lawyers claimed that the government detention order issued last week, after he had been granted bail by another court, infringed his human rights in the latest twist in the on-going legal drama.
Depending on paperwork Mr Lakhvi, one of seven men jailed awaiting trials for the 2008 attack which killed 166 people, may be free.
Nine other men have already been charged in absentia.
A Pakistani court granted him bail on 18 December, claiming there was not enough evidence to hold him but this ruling was overturned just hours afterwards when the government issued a three-month detention order and promised to appeal the decision.
Although now technically free to leave jail, Mr Lakhvi – who was accused of heading the terrorist organisation Lashkar-e-Taliba – has been ordered to appear in court for every hearing concerning his case.
The latest judicial ruling may prove highly uncomfortable for Pakistan's government, who have promised a crackdown on militant activity in the wake of the Peshawar school tragedy.
Prime Minister Nawaz Sharif has promised – in an attempt to placate widespread anger and disillusionment – to strongly respond to the Taliban attack which killed 141 people, most of them children, earlier this month.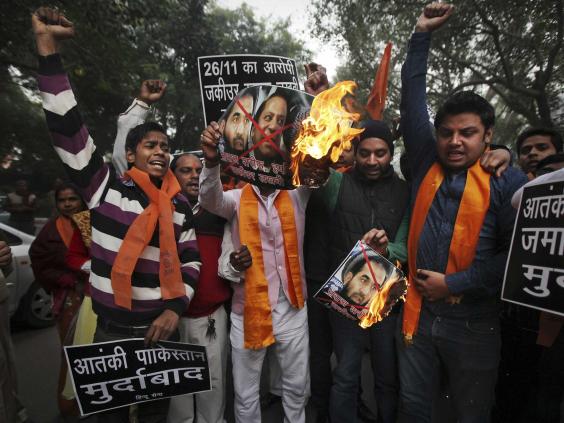 The legal wrangling may cause international ructions as India has long criticised Pakistan for failing to prosecute any of the suspects, summoning the Pakistani high commissioner to discuss Mr Lakhvi's case.
The 2008 Mumbai attacks saw 166 dead after a four-day coordinated shooting and bombing attack in the south Indian city.
At least 308 people were wounded in the widespread attacks, which were later linked back to Pakistan after the only surviving attacker Ajmal Kasab confessed under interrogation that the attacks were allegedly partially supported by the Pakistani government's intelligence agency ISI.
Additional reporting by Associated Press
Reuse content