A British Citizen and at least two others, have been killed after a suicide car bomber rammed a European Union vehicle in Kabul on Sunday.
In a statement Philip Hammond, the Foreign Secretary, expressed his sorrow for the family of the British man killed, who was working as a security contractor in the country.
The attack, which also injured as many as 20 people, took place near the Kabul airport, with the Taliban claiming responsibility for the attack on the European Police Mission in Afghanistan (EUPOL).
The bombing is the latest in a wave of attacks that have taken place since last year's drawdown of foreign troops to a small training force.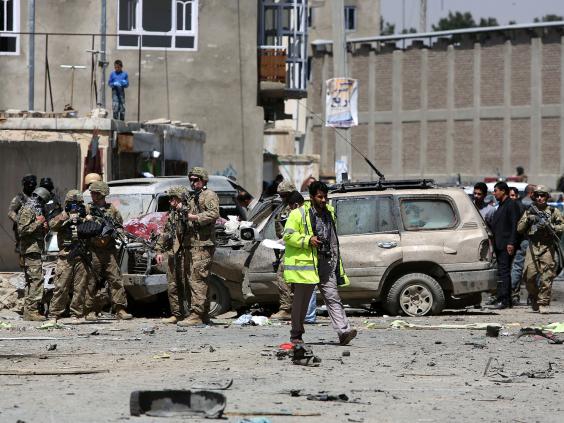 A EUPOL spokeswoman confirmed that one of the mission's vehicles was hit by an explosion saying that all EUPOL personnel "are in a safe place" with non-fatal injuries, but another person travelling in the vehicle was killed. She did not give the person's nationality.
Ebadullah Karimi, a police spokesman, said that a bomber in a Toyota Corolla rammed a foreign vehicle on the road from Kabul's main airport to a NATO military installation nearby.
The car bomb was detonated around 200 metres from the airport's main entrance, towards NATO's base.
Rescuers tended to wounded Afghans at the scene, where police established a cordon.
The Taliban insurgents have sought to re-establish a hard-line Islamist regime in the country since the drawdown of foreign forces to about 12,500 troops last year, after they were removed more than 13 years ago.
The Afghan police and army have struggled to prevent attacks at present and are currently in a standoff with Taliban fighters in the north of the country.
Mr Hammond said: "This is the second attack in a matter of days for which the Taliban have claimed responsibility and I strongly condemn their cowardly actions.
"I can confirm that a British security contractor is among those killed in the attack. His family has been informed and my thoughts are with them at this incredibly difficult time.
"These attacks must not stop the people of Afghanistan, with the support of the international community, working towards a more peaceful future."
Additional Reporting: Reuters
Reuse content