In the summer of 2011, at the final rally of a exhausting election campaign, Yingluck Shinawatra addressed the crowds a football stadium as the heavens opened with a monsoon deluge. The rain was so persistent that many of her "Red Shirts" supporters found their red shirts stuck to their chests.
"Please give this woman a chance to bring peace to this country, to bring unity and reconciliation to this country," said Mr Yingluck, as her supporters cheered and waved banners.
Less than three years later, the 46-year-old premier, who won that 2011 election convincingly, has her back to the wall. Opponents who want to force her out have launched a series of protests that brought parts of Bangkok to a halt and forced her to dissolve the parliament and call a snap election. Though her opponents boycotted the new poll, thousands remain encamped in the centre of the capital and say they will not move.
At the same time, an anti-corruption body is investigating her in connection with her government's controversial rice subsidy scheme. Her opponents are also seeking to have the results of last Sunday's election nullified.
The attacks against Ms Yingluck, the brother of former prime minister, Thaksin Shinawatra, have become increasingly personal and toxic. Opponents have posted photoshopped images of her on social media and even suggested that a video clip taken from a Japanese pornography film featured her.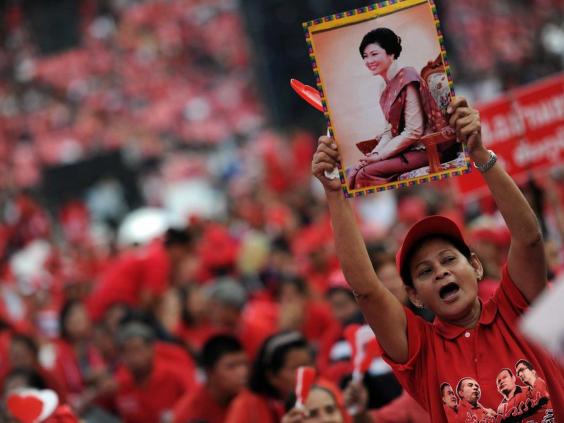 Speeches delivered by opposition leaders have similarly used language that has shocked observers of Thai politics. One piece of video footage shows the Eton-educated former Prime Minister Abhisit Vejjajiva, leader of the opposition Democrat Party, referring to Ms Yingluck as "a stupid bitch". (Mr Abhisit could not be contacted yesterday.)
"The only reason an educated person like Abhisit can use these words is because he cannot beat her," said Khattiyah Sawasdipol, a parliamentarian and member of Ms Yingluck's Pheu Thai party. "I think that Abhisit feels that he cannot compete with her."?
The protesters who have camped out for months in an an effort to dislodge the government, accuse Ms Yingluck and her party of corruption and say she is a front for her brother, Mr Thaksin, who remains a central, powerful force in the country's politics even though he lives in exile in Dubai to avoid corruption charges.
Recently, the anti-government protesters have been joined by farmers, particularly from the south of the country, who say they have been waiting for months for payments promised by the government under the rice purchasing programme. The scheme was part of Ms Yingluck's 2011 campaign manifesto but it has created huge stockpiles of rice and a bill for the tax-payer of 3.6bn a year.
"I want to get rid of the government. The government is cheating. I think there is a lot of corruption," said Winit, a 68-year-old man from the southern Hat Yai who was among protesters at a site that has blocked a major junction.
Asked why he and other anti-government protesters had refused to take part in the recent election, he said: "If the Democrat party took part in the election if would lose because the government has the power [to control things]."
All around him people were camped out on chairs or lying on bedspreads next to tents. On a stage, a singer was performing Thai pop songs that were being blasted through speakers at a deafening volume. People were selling snacks, clothes, souvenirs and sunglasses.
The turmoil playing out on the streets of Bangkok, and in several other cities to the south, dates back to Mr Thaksin's ousting in a 2006 coup and involves a series of social and economic factors and a debate about the direction the country should follow.
Yet the most recent protests were triggered by a decision by the government to introduce an amnesty bill. The bill was initially designed to help people from both camps who had been prosecuted in relation to "political events" over the last decade.
Yet the bill was later expanded to include Mr Thaksin himself and Democrat leaders Mr Abhisit and his one-time deputy Suthep Thaugsuban. The latter two face murder charges over their alleged role in the crackdown on Red Shirts in 2010 that left more than 90 people dead.
The plan angered both opponents of Mr Thaksin, who do not want him to return to Thailand, as well as senior Red Shirts, who insist Mr Abhisit and Mr Suthep should not escape prosecution. Several reports recently suggested that that Ms Yingluck and her elder brother had fallen out over the issue.
Suranand Vejjajiva, the secretary-general to Ms Yingluck, said she had always been cautions about the bill but that it had been pushed by Mr Thaksin's supporters within the party. He said the Prime Minister was prepared to back it if it was a way to achieve a degree of national reconciliation.
Observers say Mr Thaksin, who was first elected in 2001, cannot resign himself to remaining in Dubai or London or Hong Kong, where is currently staying.
"He wants to come home. He is homesick. But he also wants justice. He feels he did not get justice," Mr Suranand told The Independent on Sunday. "The Prime Minister sympathises with her brother. If there was a way for her to bring him back, I think she would do so."
For now, Ms Yingluck is staying put. Mr Suranand said she was determined to complete polling for those areas where up to two million people were prevented from voting and then try and form a government.
Speaking to reporters on Friday, Mr Yingluck rejected demands made in an open letter by a former finance minister for her to resign and allow a neutral government take over.
"It would involve tearing up the constitution," she said. "All of us need to protect democracy and its mechanisms to keep the democratic system going."
Reuse content