Thailand looked to be racing towards a cliff edge after the military took control of the country, imposed martial law and curtailed the rights of the media. While the army said it was just a temporary measure taken to ensure order, many said its behaviour amounted to a de facto coup in a nation that has seen many.
With jeeps bearing machine guns taking up positions in the capital, the army chief General Prayuth Chan-ocha announced that, for the 19th occasion, the military was imposing martial law after a stand-off between the government and anti-government protesters. It has left an enfeebled caretaker civilian government in place, but it remains unclear how long it will stay in power.
With pro-government supporters and foreign governments calling for the military to honour its commitment that this will be only a short-term measure, it is likely the next 24 hours will be crucial in determining whether or not the army intends fully to take charge of the country. The army has said it is going to try to bring together both sides, but warned that martial law would remain until the situation had calmed.
"The army has said it is going to be holding meetings today and trying to negotiate a deal," said one Western diplomat in Thailand.
Thailand protests: Thai army declares martial law
Thailand protests: Thai army declares martial law
1/25 Thailand

A Thai soldier stands in front of a portrait of Thai King Bhumibol Adulyadej as he patrols near government buildings in Bangkok

2/25 Thailand

A pro-government protester points at a soldier during a cleanup at a pro-government demonstration site on the outskirts of Bangkok

3/25 Thailand

Thai soldiers patrol near government buildings in Bangkok

4/25 Thailand

A soldier walks past barefoot Buddhist monks begging for alms outside a temple near Government House in Bangkok

5/25 Thailand

Thai police and army soldiers stand guard outside a military compound before former Prime Minister Yingluck Shinawatra arrives to report to Thailand's ruling military in Bangkok

6/25 Thailand

Thai soldiers stand guard at a roadblock outside the Defence Ministry building (background) after Thailand's army chief announced that the armed forces were seizing power in Bangkok

7/25 Thailand

Thai soldiers patrol after army chief General Prayut Chan-O-Cha met with anti-government and pro-government leaders at the Army Club in Bangkok

8/25 Thailand

Thai police and military display a haul of weapons seized during recent raids since the imposition of martial law, at a press conference at the Army Club in Bangkok

9/25 Thailand

Thai soldiers stand next to the portrait of King Bhumibol Adulyadej after the declaration of martial law at the Army Club in Bangkok. Thai Army Chief Prayuth Chan-ocha, declared martial law giving the military full control to prevent further protest-related violence in the country

10/25 Thailand

Anti-government protest leader Suthep Thaugsuban (R) gives a traditional greeting to a soldier before leaving Government House in Bangkok. Thailand's army chief said rival political groups should talk to each other and that the martial law imposed would last until peace and order had been restored

11/25 Thailand

A Thai soldier stands outside the Government Public Relations Department in Bangkok

Getty Images

12/25 Thailand

Thai soldiers man a checkpoint near pro-government "red shirt" supporters encampment in suburbs of Bangkok

13/25 Thailand

(L-R) Thai Police Chief Adul Saengsingkaew, Navy Chief Adm Narong Pipattanasai, Army Chief General Prayuth Chan-ocha and Air Chief Marshall Prachin Chantong during a meeting at the Army Club in Bangkok. Thailand has been wracked by six months of non-stop protests seeking to topple the government. At least 25 people have died in political-related violence and more than 700 injured

14/25 Thailand

Motorists on their way as Thai soldiers take to the streets with a heavy machine gun on a Humvee military vehicle at a main road outside the Royal Thai Police Sports Club in Bangkok

15/25 Thailand

Outside police headquarters in Bangkok

Getty Images

16/25 Thailand

An anti-government protester waves a Thai national flag during a rally outside the Government House in Bangkok. Thailand's Senate said it was ready to choose an interim prime minister to end a political deadlock but stopped short of throwing out a beleaguered caretaker government and risking a violent backlash by its supporters

17/25 Thailand

Thai anti-government protesters shout slogans during a rally in front of the Parliament as senators debate to find and end to the country's political conflict in Bangkok. Thousands of anti-government protesters rallied the area surrounding parliament and Government House to pressure the Senate to appoint an interim government to institute political reforms before new elections while key Thai institutions are resisting the opposition's demands

18/25 Thailand

Thai anti-government protesters gather in front of the Parliament in Bangkok

19/25 Thailand

Thai riot policemen stand guard during an anti-government protest rally at the Air Force auditorium in Bangkok. Thailand's Election Commission called for the postponement of key parliamentary polls due to be held on 20 July 2014 because of political unrest shaking the kingdom

20/25 Thailand

Anti-government protesters leave an air force base after breaking into its grounds in Bangkok. Protesters seeking to oust Thailand's government broke into the grounds of an air force compound where the acting prime minister was meeting the Election Commission to fix a date for new polls, forcing him to flee

21/25 Thailand

Thai Air Force military (L) face anti-government protesters after they broke into the Royal Thai Air Force base in Bangkok. Hundreds of anti-government protesters broke into the meeting between the election commission and the caretaker government as they discussed for the planned next elections on 15 May 2014, after the results of the 02 February general elections were annulled. According to media reports, Thailand's Election Commission said that the 20 July polling is no longer possible due to political turmoil

22/25 Thailand

Thai anti-government protesters leader Suthep Thaugsuban (C-L) cheers his followers during a street rally march toward Government House and Parliament in Bangkok

23/25 Thailand

An anti-government protester (C) gives instructions to a fellow protester on how to wave a huge Thai flag from atop a barricade near the Government House in Bangkok. Thailand's beleaguered government warned people to stay away from anti-government protests, saying it had to step up security as the two sides in a lengthy political crisis squared off over who is running the country

24/25 Thailand

An anti-government protester looks at a damaged telephone booth after a grenade attack at a protest site outside Government House in Bangkok. Supporters of Thailand's embattled government warned the country's judiciary and Senate against any attempt to install an unelected prime minister, saying it would be a disaster for the nation that could spark civil war

25/25 Thailand

Anti-government protesters making a fist and waving a giant Thai flag, the symbol of the protest, on top of a truck as they rally outside Thai Parliament in a call for the final battle in Bangkok. Protesters marched on many key sites in Bangkok, police fired tear gas and some protesters have been injured. Protest leaders say they are hoping to strike the final blow at the weakened government and usher in a people's council to reform the government
Gen Prayuth claimed his decision to impose martial law was based on a 1914 law, from a time when the country was an absolute monarchy. The current constitution, formulated in 2007, has no provision for such action. "The army intends to bring peace to the beloved country of all Thais as soon as possible," he said in a televised address. "We urge people from every group to stop their movement in order to quickly find a sustainable solution for the country."
The senior officer insisted he had not launched a coup and that the caretaker government, headed by Niwatthamrong Boonsongphaisan, remained in place. Yet the army issued a flurry of decrees – threatening the media, banning demonstrations – and shut down more than 10 television channels associated with the pro and anti-government sides. Mr Niwatthamrong called an emergency cabinet meeting. Afterwards, he issued a statement saying the government hoped the military action will "bring peace back to the people of every group".
Human Rights Watch said that for the all the claims to the contrary by the military, it had enacted a "de facto coup". "The military has pulled a 100-year-old law off the shelf that makes the civilian administration subordinate to the military, effectively rendering the executive, legislative and judicial branches powerless," said HRW's Brad Adams.
A government adviser, Sean Boonpracong, told The Independent that the military had not informed the government of its plans in advance. "There was nothing like that," he said.
The military's action follow the ousting last month by a court of Prime Minister Yingluck Shinawatra, sister of Thaksin Shinawatra, a former premier who himself was ousted in a coup in 2006. The court's decision that led to Ms Yingluck's departure followed months of debilitating protests by anti-government demonstrators who have boycotted elections and demanded the appointment of a "neutral" premier.
The unrest dates back to the 2006 ousting of Mr Thaksin, a former telecommunications tycoon. His so-called Red Shirt supporters consist largely, but not exclusively, of working-class Thais, particularly from the north and east.
On the other hand, the anti-government protesters, the People's Democratic Reform Committee, consist of middle-class residents of Bangkok, farmers from the south, and elements of the establishment that surrounds Thailand's monarchy. They are being led Suthep Thaugsuban, a former parliamentarian and deputy prime minister who quit the opposition Democrat Party to head the protests.

"I hope that this move helps Mr Suthep," said Nita Yingyoskanjornchai, a retired jewellery shop worker who was among protesters at an anti-government site in Bangkok.
This evening, Bangkok appeared calm and the army had not imposed any curfews. But the veneer of normality hides a political crisis that appears to have no easy solution and which has previously turned all-too bloody. Twenty-eight people have been killed and 700 injured since the most recent round of anti-government protests began last year.
Currently, both pro and anti-government protesters are camping at different places in the capital and, to prevent clashes, the army told them they had to stay put and could not march.
The pro-government Red Shirts know they will win any election, which is why the anti-government protesters do not want to have one, at least until a series of reforms have been carried out. Meanwhile, Mr Thaksin, living in exile in Dubai, continues to pull the strings of both the Pheu Thai government and its associated Red Shirt movement.
It was reported that a senior leader of the Red Shirts, or the United Front for Democracy against Dictatorship, had expressed his willingness to meet Mr Suthep. Jatuporn Prompan told a rally that he was happy to meet, as long as Gen Prayuth was mediating.
"I and my group have no personal conflict with Suthep," he said, according to the Bangkok Post.
Yet Mr Suthep, who was seen shaking hands with a military officer today, appeared less keen. In a message posted on social media he urged his supporters to keep up the pressure to try and force out the government. "Don't cheer yet – we have not yet won. We still don't have a new PM," he said.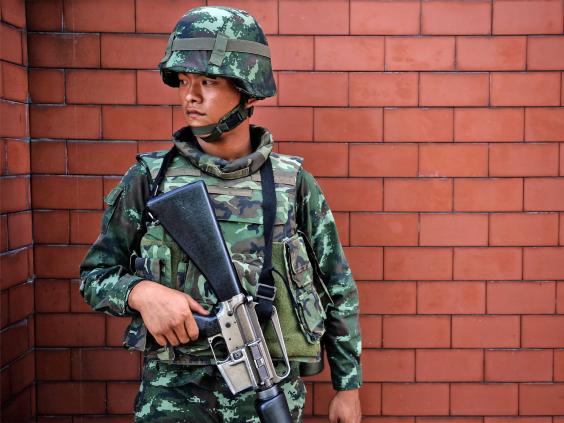 The international community has called for elections to be held as soon as possible. "The priority now is to set a clear timetable for early elections and establish as soon as possible a fully functioning government with democratic legitimacy," the EU said in a statement.
A total of 73 foreign diplomats who were briefed about the situation by Thailand's foreign ministry were told the army only intended to retain martial law for a limited time. Yet there was no indication of how long that might take and no mention of a possible election.
The US, which is the main backer of Thailand's military, called on Gen Prayuth to stand by his undertaking that this was a short measure. After the coup of 2006, the US halted aid to Thailand. "We expect the army to honour its commitment to make this a temporary action to prevent violence, and to not undermine democratic institutions," said a spokeswoman for the US State Department.
Reuse content