A new craze across China has seen female university graduates do away with the traditional graduation caps for, of all things, wedding dresses.
Unlike Britain, where ingrained traditions of tearful parents, gowned lecturers and celebrity speakers  are all part of graduation day, in China there are fewer set in stone traditions and this has given birth to new ideas and rituals, including the wearing of wedding dresses.
During this summer's graduation ceremonies, more and more of China's female graduates have been adorning white gowns and tiaras to pose for the all-important graduation photo.
According to Liu Xiangping a student from Xi'an Polytechnic University in central China "The wedding dress makes things feel more meaningful."
Liu, who along with her classmates and thousands of other female graduates rent their gowns for up to and above $7 dollars a day to wear during their graduation.
With parents generally not attending, the importance of the graduation photo with classmates has become the most important aspect of the day, with those groups that have spent year's together seeing their final pictures as the reward for their achievement.
Zang Xuehui, a 24-year-old senior at the Northeast Forestery University in Harbin pooled money together with five roommates to hire a photographer to shoot their graduation pictures. In total it cost the friends, who had lived together ever since their first year, the equivalent of $16 for three hours to take their photos.
She says that to graduate from university is something "full of significance" and believes that the wedding dresses and photos are a "unique way of celebrating this" with friends.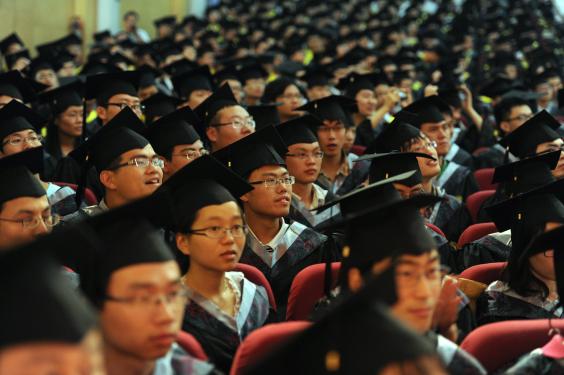 Nevertheless, it is not only wedding dresses that have become customary attire for Chinese graduates. Other interesting outfits worn by graduates for their final photos have included students dressed up as pirates and builders, while other classes have seen students wearing Qing dynasty attire.
Despite the students believing that the wearing of wedding dresses for graduation is all in the name of fun, Lu Xiaowen, deputy director of the Institute of Sociology at the Shanghai Academy of Social Sciences, believes the decision to wear a wedding dress has a more symbolic meaning.
For Lu she believes that wearing wedding dresses and other special outfits during graduation shows the last expression of creativity by Chinese students.
She believes that with massive competition facing grads for jobs, the decision to wear wedding dresses is seen as the final manifestation of freedom before entering the working world.
Reuse content