Twin baby pandas have been born in China after their mother was artificially inseminated as part of efforts to ensure their survival.
The tiny animals were shown to members of the public for the first time on Tuesday, still mostly hairless and bright pink.
The newborn sisters were just a day old and kept their eyes tightly shut, stumbling around their incubator and huddling together in a pile.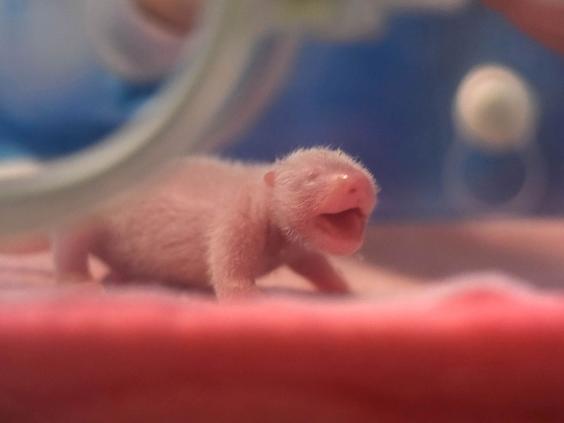 The new arrivals were a boost for the Chengdu Research Base of Giant Panda Breeding, which is aiming to increase the panda population until they can be reintroduced to the wild and left to breed naturally.
Wu Kongju, the chief administrator, said the twins were in good condition based on their milk consumption and normal body temperature.
Their mother, seven-year old Kelin, gave birth to the babies weighing just 118g and 70g each on Monday, after being artificially inseminated in January.
Critically endangered species
Critically endangered species
1/10 Yangtze Finless Porpoise

There are as few as 1,000 of this highly intelligent dolphin from the Chinese river of Yangtze.

Wikmedia

2/10 Cross River Gorilla

There are around 200-300 left in the wild.

Wikmedia

3/10 The Amur Leopard

There are only around 30 left, exclusively in the Russian Far East.

Wikmedia

4/10 Black Rhino

Improving numbers, but with fewer than 5,000 left in central Africa, it is critically endangered.

Wikmedia

5/10 Hawskbill Sea Turtle

Mostly threatened by wildlife trade; their shells highly valued.

Wikmedia

6/10 Javan Rhino

The most threatened rhino species - there are as few as 35 in Ujung Kulon National Park in Java, Indonesia.

Wikmedia

7/10 Leatherback Turtle

Having lost many of its habitable beaches, and impacted by fishing operations, this seaturtle is considered by WWF to be 'critically endangered'.

Wikmedia

8/10 South China Tiger

It is believed to be 'functionally extinct', with none of the species left in the wild.

Wikmedia

9/10 Sumatran Elephant

There are between 2,400 - 2,800 of this elephant native to Borneo and Sumatra.

Wikmedia

10/10 Sumatran Orangutan

There are an est. 7,300 but the gradual deforestation of their Sumatran habitat may threaten further.

Wikmedia
They are the world's first set of panda twins born in 2015, Chinese state media reported.
Giant pandas were once spread through China, Vietnam and Burma but are now endangered, with only 1,800 animals believed to remain in the wild.
Additional reporting by AP
Reuse content