More than 1,200 people are feared dead in the Philippines after one of the most powerful storms ever recorded left a trail of destruction across large parts of the archipelago.
Click here or "view gallery" to see the Typhoon Haiyan in pictures
About 1,000 people are believed to have died in the city of Tacloban when Typhoon Haiyan swept through it on Friday, according to the Philippines Red Cross. About 200 people also died in the Samar province, the Red Cross said.
Sandy Torotoro, a Tacloban resident, said that he was swept away when his house was ripped from its moorings by the 147mph winds.
"When we were being swept by the water, many people were floating and raising their hands and yelling for help. But what can we do? We also needed to be helped," he said.
Sebastian Rhodes Stampa, head of the UN Disaster Assessment Coordination Team sent to Tacloban, said: "The last time I saw something of this scale was in the aftermath of the Indian Ocean Tsunami.
"This is destruction on a massive scale. There are cars thrown like tumbleweed and the streets are strewn with debris."
Tacloban, a city of 220,000 people on Leyte Island about 360 miles southeast of the capital Manila, appears to have been the area worst affected by the storm. Its airport was also badly damaged although relief helicopter flights were operating from there on Saturday.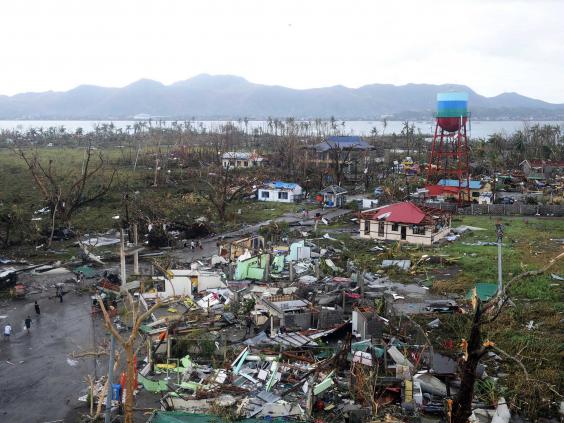 Captain John Andrews, deputy director general of the Civil Aviation Authority, said: "Bodies are lying on the street."
Major Rey Balido, a spokesman for the national disaster agency, said: "Almost all houses were destroyed, many are totally damaged. Only a few are left standing."
On Friday Typhoon Haiyan's winds triggered major landslides and knocked out power supplies, forcing 800,000 people to flee their homes. About 4 million people have been affected by the typhoon, the Philippines national disaster agency said.
At least 138 people have been confirmed dead by the Philippines' Disaster Risk Reduction and Management Council and at least 118 of the confirmed deaths were on Leyte Island, national disaster agency spokesman Maj. Reynaldo Balido said.
In the western Palawan province, officials said three fishermen died after jumping off their anchored boat when it was battered by big waves. One fisherman survived.
At least two people were killed on the tourist destination island of Cebu, according to reports.
Officials started evacuating residents from low-lying areas, coastlines and hilly villages as early as Tuesday, but some people stayed behind, despite the warnings.
"I saw those big waves and immediately told my neighbours to flee. We thought it was a tsunami," said Floremil Mazo, a villager in southeastern Davao Oriental province.
The category 5 "super typhoon" hit the Philippines on Friday morning local time with waves 15m high battering the shoreline. The storm's estimated wind speeds of 147mph at landfall were 24mph stronger than those of Hurricane Katrina, one of the deadliest storms in history, which killed 1,833 people. Haiyan weakened to a category 4 storm on Saturday.
Relief workers said they were struggling to find ways to deliver food and other supplies, with roads and airports affected by flooding and debris.
The UK has sent a team of three experts to the country to assess the extent of the damage, after which the Government will decide upon its response, a spokeswoman for the Department for International Development (Dfid) said. The team is expected to land in the Philippines on Saturday.
Ben Webster, disaster response manager for the Red Cross, said: "Preparedness is strengthening over the years as agencies become more proficient at preparing for disasters, technology is improving so we can forecast a bit more reliably, so it is getting better in terms of preparation."
The British Red Cross has already contributed more than £100,000 to the relief effort from its Disaster Fund.
Haiyan was the second category 5 typhoon to hit the Philippines this year after Typhoon Usagi in September. An average of 20 typhoons strike every year, and Haiyan was the 24th so far this year.
The typhoon is forecast to make landfall at about 10 am (03:00 GMT) Sunday on the northeast coast of Vietnam and meteorologists have warned that the storm could pick up strength as it moves over the South China Sea.
Reuse content