Exactly one year ago, the Philippines was devastated by one of the most powerful storms in living memory — Typhoon Haiyan.
On November 8, 2013, with waves of 7 metres, and winds of 235 miles-per-hour, Haiyan caused the Philippines more than £8 billion of damage, devastated its local economy, left more than four million people displaced and claimed the lives of at least 7,000.
Thousands of people marked the anniversary with a memorial march through Tacloban, the city worst hit by the cyclone, staged with a backdrop of sirens and bells.
Candles were lit, and names inscribed on newly planted white crosses in the cities outskirts, where 2,300 people are buried.
At a city hall commemoration, 1,000 white balloons were released to signify acceptance of the human loss.
In pictures: The main extreme weather events of 2013
In pictures: The main extreme weather events of 2013
1/5 CENTRAL EUROPE

Local residences use a water pump against the incoming water in front of their family house nearby the flood water of River Danube at Dunabogdany village, about 40 kms north from Hungarian capiyal Budapest on June 9, 2013.

AFP

2/5 US

A sign warns of extreme heat as tourists enter Death Valley National Park in California June 29, 2013. The high temperature reached 128 degrees fahrenheit in June 2013

Reuters

3/5 PHILIPPINES

A survivor walks among the debris of houses destroyed by Super Typhoon Haiyan in Tacloban in the eastern Philippine island of Leyte on November 11, 2013

AP

4/5 PHILIPPINES

Survivors walk by a large ship after it was washed ashore by strong waves caused by powerful Typhoon Haiyan in Tacloban city, Leyte province, central Philippines on Sunday, Nov. 10, 2013

AP

5/5 AUSTRALIA

During hottest year on record, temperatures peaked at 46.9°C in Moomba, South Australia in January. Pictured is seen Moomba gas plant

Reuters
"I'll only overcome this tragedy when I die myself," Ben Pedrero, 61, told Associated Press, the storm having killed his wife and son, along with dozens of his extended family.
Like him, Agnes Bacsal, who lost her husband to Haiyan, still relies on financial support  from relatives and friends.
She lives with her six children in a shack built from storm debris, though she claims they have been given fresh hope by 7-month-old John William, the latest addition to the family.
"He gives me joy, just by being beside me," Bacsal said.

Her 14-year-old daughter, Maria Jean, beamed with optimism. "I'll be the best businesswoman in Asia and bring them out of here someday," she said when asked about her plans.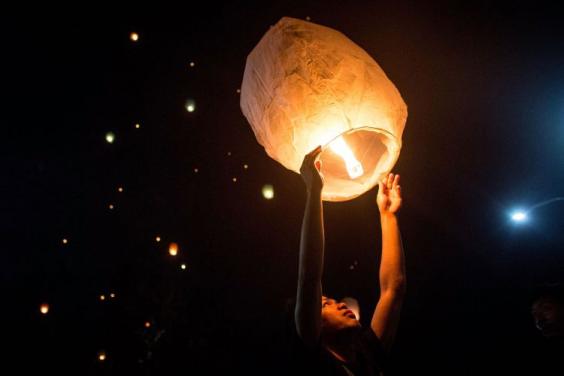 Anti-government protests were also held, claiming that the rebuilding process is too slow; President Benigno Aquino says this is not the case.
Slow thought it may be, rebuilding is happening; shopping malls, hotels, and offices have reopened, with cars, taxis and motorcycles causing typical congestion on the highstreets.
In Tacloban, however, there remains 3,000 people living tents, hoping that the government can find a home for them by the end of the year.
President Aquino, whose government intends on building more than 200,000 homes for those left by Haiyan with nothing, is determined to install better Typhoon protection — including an elevated road connecting Tacloban to two coastal towns that also will serve as a dike.
"Like you, I am impatient," President Benigno Aquino III told residents during a visit Friday to nearby Eastern Samar province. 

He added, however, "We can't be reckless as we build back better."
Additional reporting by AP
Reuse content